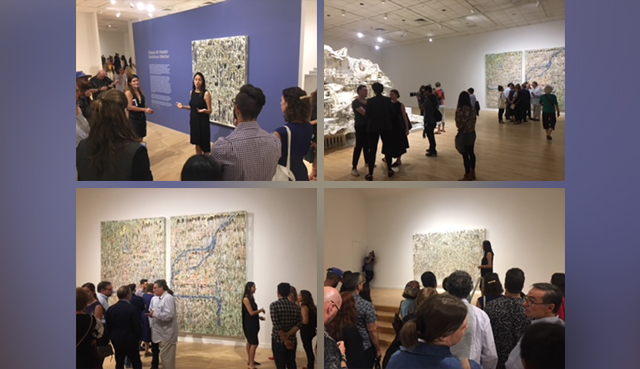 Diana Al-Hadid at the Bronx Museum of the Arts
Lauren Schell Dickens, curator, gives a tour of Diana Al-Hadid: Delirious Matter at the Bronx Museum of Arts, July 18, 2018.
On Wednesday, July 18, 2018, S. Sayre Batton, Oshman Executive Director at SJMA, and Lauren Schell Dickens, curator, attended the opening of Diana Al-Hadid: Delirious Matter at the Bronx Museum of Arts, New York. Organized by Dickens, the exhibition is an extension of SJMA's critically acclaimed 2017 exhibition Diana Al-Hadid: LIquid City.

The exhibition features the monumental sculpture Nolli's Orders (2012), which references Giambattista Nolli's landmark 1748 map of Rome, the first of its kind to show the public spaces of the city. In it, Al-Hadid used voids and solids, transparency and opaqueness, to convey public and private spaces, figure and ground. Also included is South East North West (2017), two cartographic wall-panels made from the artist's signature polymer gypsum, which was recently acquired by the San José Museum of Art through a gift of the Lipman Family Foundation.

Diana Al-Hadid: Delirious Matter will be shown concurrently with a special commission by the Madison Square Park Conservancy of new sculptural works by Al-Hadid, and it will feature additional works and primary source materials, including a reprinted folio of Nolli's map and works on paper by old masters from the Metropolitan Museum collection.

Diana Al-Hadid: Delirious Matter has been organized in collaboration with San José Museum of Art curator Lauren Schell Dickens.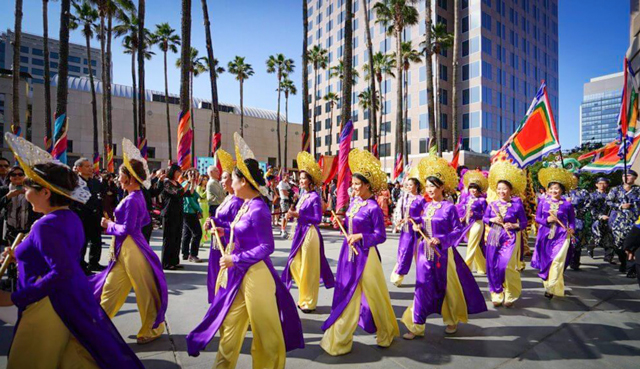 SJMA at Áo Dài Festival V
Saturday, May 12, 2018
11 AM – 5 PM

SJMA will bring its mobile art studio, Art Portal, to the Áo Dài Festival V, which showcases Vietnamese traditional dress, culture, and art in the Circle of Palms in front of SJMA.

Enjoy a free community art-making activity in SJMA's lobby from 11 AM - 3:30 PM. The Vietnamese weaving and embroidery project will be incorporated into an Áo Dài that will be worn in the festival's fashion show. At 4 PM, head for the Circle of Palms Plaza in front of SJMA where SJMA's Art Portal will be the backdrop for a free showcase of the colors of an Áo Dài procession and a dragon dance, the sounds of taiko drums and zithers, and traditional Vietnamese court costumes.

For more information, check out Áo Dài Festival V.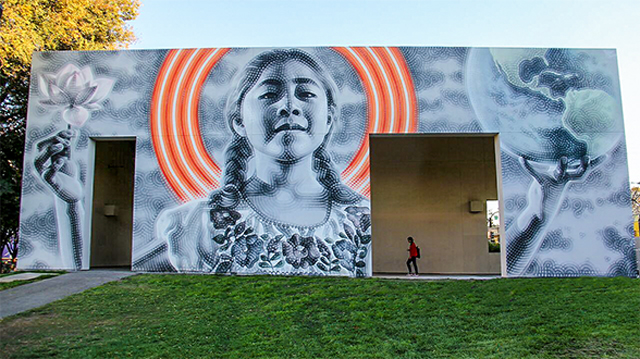 A Mural of Hope
El Mac in collaboration with The Propeller Group
Part of Viet Nam: The World Tour
Sophie Holding the World Together, 2017
Permanent public mural
Commissioned by the San José Museum of Art, in partnership with Empire Seven Studios and the Children's Discovery Museum, with support provided by The John S. and James L. Knight Foundation,
University Art, Tad Freese and Brook Hartzell, Beverly and Peter Lipman, Lubliner, Dipti and Rakesh Mathur, Ian Reinhard, SGSR, and 156 backers on Kickstarter
Photograph courtesy of Eric Heights
This photograph shows the ninth iteration of The Propeller Group's ongoing project Viet Nam: The World Tour, a permanent public mural that was commissioned on the occasion of the group's exhibition at SJMA October 27, 2017 – March 25, 2018. The mural is installed on the portico of the Children's Discovery Museum on West San Carlos Street, only a ten minute walk from SJMA. Viet Nam: The World Tour is envisioned as a nation "unbranding" campaign. The intention is to rethink how media influences ideas about nationalism, and to create opportunities for connections across borders. Previous iterations of the project have been presented in Saigon, Kabul, Singapore, Brisbane, Los Angeles, Paris, Lyon, and Amsterdam.

Sophie Holding the World Together is a portrait of seven-year-old Sophie Cruz. Born in Los Angeles to undocumented immigrants from Oaxaca, Mexico, she has become the face of the American immigration reform movement. In her frequent speeches, she has quoted poet Mario Benedetti's words of hope and resilience in trying times. On a plaque accompanying the mural, Sophie's words in Spanish and English have been translated into Vietnamese by the Saigon-based artist collective The Propeller Group.

No Te Rindas/ Esta es la Hora y el Mejor Momento
Don't Give Up/ This is the Hour and the Best Moment
Đừng Bỏ Cuộc/ Bây giờ là phút giây và khoảnh khắc tuyệt vời nhất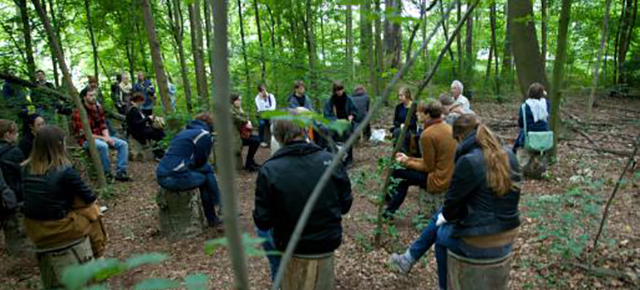 FOREST (for a thousand years…) at University of California, Santa Cruz's Arboretum and Botanic Garden
Image: Janet Cardiff & George Bures Miller, FOREST (for a thousand years...), 2012. Installation view from dOCUMENTA (13), Kassel Germany.
April 7 – June 30, 2018
SJMA is pleased to collaborate with the Institute of the Arts and Sciences of the University of California, Santa Cruz, Arts Division on its presentation at the university's Arboretum and Botanic Garden of: FOREST (for a thousand years...), the beguiling and uncanny audio installation by renowned Canadian artists Janet Cardiff and George Bures Miller.
FOREST (for a thousand years...) will be installed in the redwood grove of UC Santa Cruz's Arboretum and Botanic Garden. This will be the West Coast debut of the 28-minute sound installation, originally commissioned for dOCUMENTA 13 in Kassel, Germany.
To experience the piece, you follow a path through a densely forested redwood grove. Branches crunch under your feet until you reach a small clearing populated by tree stumps. As you sit down, the sounds of rustling trees, crackling branches, and bird calls subtly intensify. An airplane passes overhead. Someone laughs. It is nearly impossible to determine which sounds are coming from a recording and which sounds are live. When machine guns begin to fire and an explosion detonates, the eeriness of the experience becomes laced with quickly amplifying uneasiness. An indeterminate history merges with the present, filled with both horrors and the sublime, and becomes an audible presence in the shadowy forest.
About the Artists: Janet Cardiff and George Bures Miller are internationally recognized artists known for their immersive multimedia sound installations and their audio and video walks. Their recent solo exhibitions include: 21st Century Museum, Kanazawa, Japan (2017); ARoS Aarhus Art Museum (2015); Museo Nacional Centro de ArteReina Sofia, Madrid (2015); and The Menil Collection, Houston(2015). Recent group exhibitions include Being Modern: MoMA in Paris, Fondation Louis Vuitton, Paris (2017); 19th Biennale of Sydney (2014); and dOCUMENTA (13), Kassel, Germany. In 2011, Cardiff and Miller won Germany's prestigious Kathe Kollwitz Prize. They also represented Canada at the 2001 Venice Biennale, for which they received the Biennale's Premio Speciale (Special Prize) and the Benesse Prize.
Read more at the Institute for Arts and Sciences site.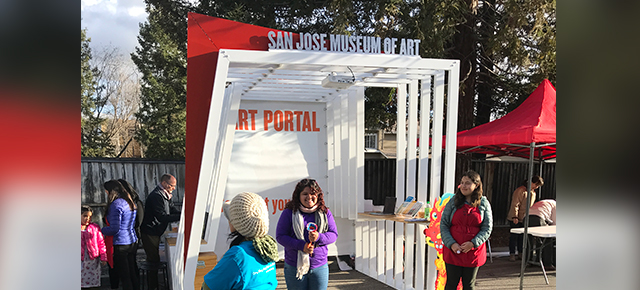 Art Portal Brings Arts Activity into the Community
This February, SJMA launched its new Art Portal, a mobile art studio that brings arts activities into the community. Part of the Museum's Vietnamese Community Outreach Initiative, a two-year long effort to engage multi-generational audiences with the mobile art studio at festivals, shopping malls, and libraries within the Vietnamese community, the Art Portal debuted at the Tết Festival at the Vietnamese American Community Center, where some 450 people enjoyed making clay figures inspired by The Year of the Dog.
Based on SJMA's popular community days, the Art Portal will support a variety of pop-up visual, literary, and performing arts activities by Vietnamese artisans. These events will include lectures, demonstrations, and workshops by traditional artists such as ceramicists, musicians, brush painters, and poets as well as contemporary artists. Demonstrations are accompanied by related hands-on activities from SJMA's educational staff and volunteers. The Art Portal will extend SJMA's reach into other parts of the community as well.
Upcoming appearances will be at Celebrating San José's New Celebrating San José's New Mural of Hope and SJMA at Áo Dài Festival V in the Circle of Palms, San José on May 12, 2018.
The Vietnamese Community Outreach Initiative is supported by a grant from the James Irvine Foundation.