The Dr. Jerry Hiura Next Gen Visual Artist Award honors Dr. Jerry's passions through a scholarship that celebrates young visionary artists and supports their artistic practice and goals as they pursue higher education.
ABOUT DR. JERRY HIURA
The San José Museum of Art Dr. Jerry Hiura Next Gen Visual Artist Award was created in honor of former Trustee Dr. Jerry Hiura, known affectionately as "Dr. Jerry," a gifted individual dedicated to service, community, and the arts. A passionate advocate for multi-cultural arts, he served as chair of San José's Arts Commission and as president of the Arts Council of Silicon Valley. Dr. Jerry's commitment towards advancing the local arts community in San José also included co-founding the Contemporary Asian Theater Scene (CATS), the Japantown Community Congress of San José (JCCsj) and establishing the Three Japantown Landmarks Public Arts projects and Ikoinoba, quiet resting places, throughout Japantown. As a board member for Chopsticks Alley Art, he furthered the creative dialogue between Japanese and Vietnamese American art and history. Dr. Jerry's countless contributions were recognized Statewide when he was appointed in 2002 by Governor Gray Davis to the California State Arts Council, where he served as vice-chair.
Dr. Jerry and his wife, fellow Trustee Lucia Cha, joined the Board of Trustees of the San José Museum of Art (SJMA) in 2017. He served on the Executive Committee and was a key partner in SJMA's engagement initiatives with San José's Vietnamese community. 
As a dedicated artist himself, Dr. Jerry explored his creative endeavors inexpressive forms. His paintings and drawings utilized a variety of media, including oils, watercolor, and acrylics – and ranged from whimsical topics to portraiture. As an author, poet, and editor, he published The Hawk's Well in 1986, a unique collection of Japanese American art and literature.
2022 APPLICATION
The 2022 application period has ended.
Please enjoy the below submissions from the 2022 application period.
Dr. Jerry Hiura Next Gen Visual Artist Award
The Dr. Jerry Hiura Next Gen Visual Artist Award is open to high school students in Santa Clara County. 
SCHOLARSHIP ABSTRACT
Theme/Prompt
Our world is shaped by the youth of today. With ever-evolving changes to our landscape, technology, and cultures we are constantly adapting to what the future holds. 
Create an artwork that responds to the future you want to live in. You can explore potential challenges we will be facing, solutions to problems you see now, or respond to what you imagine the world will be like.
Timeline
Call for submissions  (January 2022–May 1, 2022)
Recipients notified  (May 31, 2022)
Award ceremony  (June 4, 2022–Community Day: Maker Day) 
Jurors
Image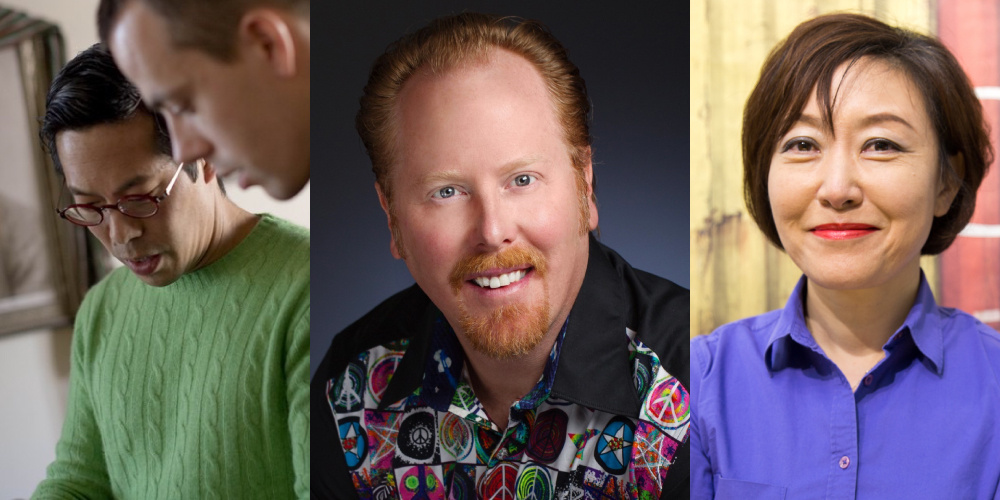 Lance Fung
Lance Fung is a lecturer at San José State University and the chief curator for Fung Collaboratives, an organization that conceives and realizes art exhibitions around the world and its non-profit partner FC (Fung Collaboratives) Projects. Fung is currently developing a cultural village as well as Sink, an underwater exhibition about marine conservation in Bali, and a public art exhibition on the San Francisco Bay Trail that encircles the San Francisco Bay. 
Michael Ogilvie
Michael Ogilvie is an inventive cartoonist, and the Public Arts director of San José, and formerly director of Publics Arts for Las Vegas and Clark County. Ogilvie has exhibited his art nationally and internationally and has been published in numerous magazines and newspapers. He has also self-published five graphic novels, including CHUM, in 2013.
Jimin Lee
Professor and department chair at UCSC, Professor Jimin Lee's work explores themes of mobility, displacement, and labor on the personal and social level as seen in traffic, places of transport, or objects that move or are "in transit"— travel in both the daily and in the migratory sense. Professor Lee's work has been exhibited internationally and published in 10 catalogs. 
Sudents in need of materials to enter the Dr. Jerry Hiura Next Gen Visual Artists Award are invited to contact us at Education@sjmusart.org.