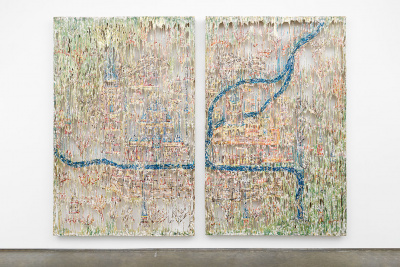 Reflecting the high-tech interests, lively cultural diversity, and innovative spirit of Silicon Valley, this exhibition features artworks by 30 artists from 11 countries, from internationally renowned figures to those working in California and the Bay Area as well as emerging practitioners. The exhibition highlights a dynamic array of paintings, sculptures, photographs, works on paper, and new media acquired by SJMA in the last five years.
The exhibition explores open world video games and features artworks by artists who reference a broad cross-section of games, ranging from early text adventure and arcade games to modern massive multi-player online role-playing games and first-person shooters. The exhibition presents paintings, sculptures, textiles, works on paper, animations, video games, video game modifications, and game-based performances and interventions by makers who self-identify as artists.
Saturday, October 24, 2020
–
Sunday, March 14, 2021
Barring Freedom, co-organized by the UC Santa Cruz Institute of the Arts and Sciences, brings together contemporary artists confronting the historical and structural racism embedded in the criminal justice and mass incarceration systems.