SJMA celebrates creativity at every turn, and the SJMA Store is no exception. Our artful wares include a varied selection of art books and stationery, stunning jewelry, and enticing contemporary gifts. Shopping for kids? Find activity kits, art supplies, books, toys, and puzzles in our children's section.
SJMA Store provides free gift-wrapping on most items—select a gift and tour the galleries while we wrap your packages.
Store Hours
No admission ticket required to visit the store.
Tuesday–Sunday, 11am–5pm
Closed Monday
Phone: 408.271.6878
Fax: 408.294.2977
Members of the San José Museum of Art save 10% on all SJMA Store purchases! In addition, SJMA Members can take advantage of special, members-only, double discount days. Store discounts are just one of the many benefits of membership, so become a member today!
Exhibition Catalogues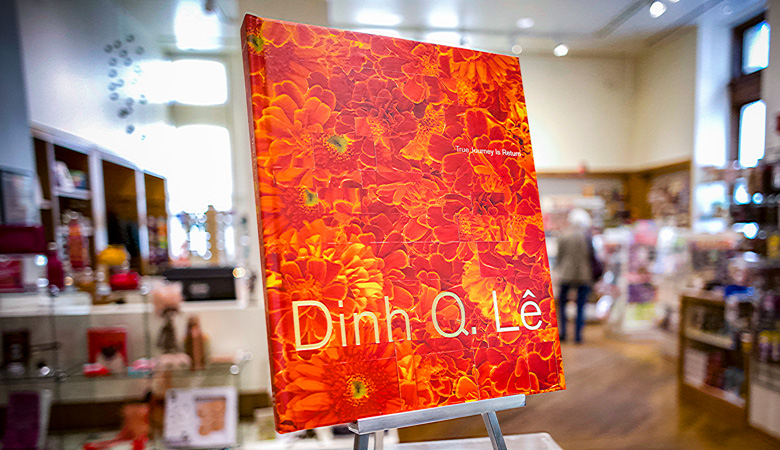 Dinh Q. Lê: True Journey Is Return – Available now!
On view through Apr 7, 2019
Published by SJMA, the fully illustrated exhibition catalogue includes documentation of the exhibition; a transcribed conversation between Dinh Q. Lê and Moira Roth, Trefethen Professor Emerita of Art History, Mills College, Oakland; and essays by Rory Padeken, SJMA associate curator and curator of the exhibition; Kieu-Linh Caroline Valverde, associate professor of Asian American Studies, University of California, Davis; and Nora A. Taylor, Alsdorf Professor of South and Southeast Asian Art History, School of the Art Institute of Chicago.
Undersoul: Jay DeFeo – Coming soon!
On view Mar 8–Jul 7, 2019
A full color illustrated catalogue will be published in conjunction with the exhibition. Presenting new scholarship and previously unpublished works from The Jay DeFeo Foundation, the catalogue will feature contributions by Lauren Schell Dickens, curator, and Kathryn Wade, curatorial associate.
Rina Banerjee: Make Me a Summary of the World – Coming soon!
On view May 16–Oct 6, 2019 
A full-color catalogue was co-published by SJMA and Pennsylvania Academy of Fine Art. It illuminates the crossover contexts in which Banerjee works and includes illustrations, a detailed chronology of the artist's life and work, and essays by co-curators Lauren Schell Dickens (SJMA) and Jodi Throckmorton (Pennsylvania Academy of Fine Art); Rachel Kent, chief curator at the Museum of Contemporary Art, Sydney; and writer Allie Biswas.