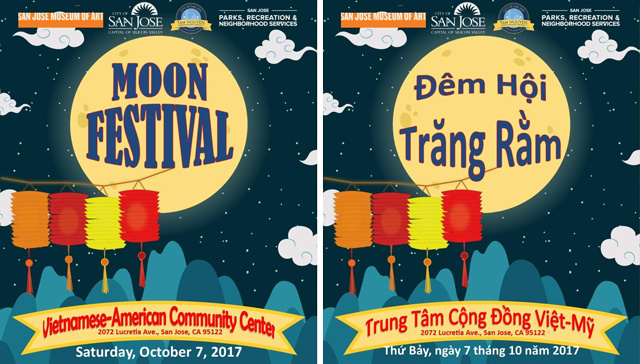 3 – 7:30 PM
The program is free of charge
Stop by SJMA's booth at this special event presented by the Vietnamese American Community Center. Activities include a lion dance, lantern contest, a moonlight procession, folk games, and more.
Vietnamese American Community Center
2072 Lucretia Ave.
San Jose, CA 95122
The program is free of charge and is sponsored by the Office of the President Nguyen Tam Area 7, Sam Liccardo Mayor's Office, the San José Museum of Art, ICAN, and other organizations.
For more information, call 408.794.6552 or go directly to the Center.
The San José Museum of Art's Vietnamese Community Engagement Initiative is supported through funding from the James Irvine Foundation and by an award from the National Endowment for the Arts.