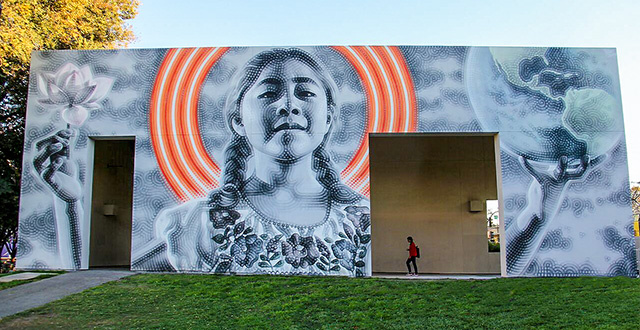 2 – 4 PM. Admission is FREE
Discovery Meadow (180 Woz Way, San José)
Join San José Museum of Art, Empire 7 Studios, and the Children's Discovery Museum to celebrate the new public mural,
Sophie Holding the World Together
by El Mac in collaboration with The Propeller Group, at Discovery Meadow. Enjoy live music family-friendly activities, SJMA's new Art Portal, and appearances by the artists and the subject of the mural, nine-year-old activist Sophie Cruz.
Schedule of events
2 PM
Sayre Batton (emcee)
Kerry Adams Hapner
Jazmin Amezcua Orellana
Sophie Cruz
2:45 PM
Marilee Jennings
Juan Carlos, Empire 7
El Mac
Tuan Andrew Nguyen
2:15 – 2:45 PM
and
3 – 3:30 PM
Live music by
MaKrú
(a fusion of Rumba, Flamenca, Ska, Cumbia, and other global beats)
2 – 4 PM
– Family-friendly activities from the Children's Discovery Museum and San Jose Jazz
– Monopoly in the Park, courtesy of Friends of San Jose
– Make some art in SJMA's new mobile art studio, the
Art Portal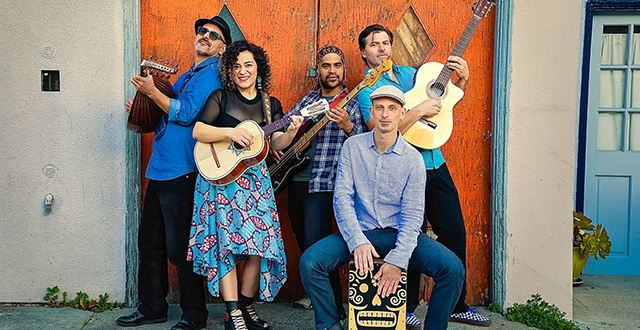 Sophie Holding the World Together is a portrait of nine-year-old Sophie Cruz, who has become a face of the American immigration reform movement. Born in Los Angeles to immigrants from Oaxaca, Mexico, Sophie first made headlines in 2015 when she crossed a police barrier during Pope Francis's visit to Washington, DC, to hand the pontiff a letter asking him to help all immigrant children.

The mural is collaboration between El Mac and The Propeller Group, as part of the collective's ongoing project, Viet Nam The World Tour. It is commissioned by SJMA, in partnership with Empire 7 Studios and the Children's Discovery Museum, in connection with the current exhibition, The Propeller Group, on view through March 25, 2018.
Support for the mural was provided by Tad Freese and Brook Hartzell, Beverly and Peter Lipman, Lubliner, Dipti and Rakesh Mathur, Ian Reinhard, SGSR, and 156 backers on Kickstarter. San Jose Jazz will provide its Boom Box stage for the event. MaKrú's performance is made possible in part by the City of San José Office of Cultural Affairs.

Photos by Eric Heights and Marc Hors.