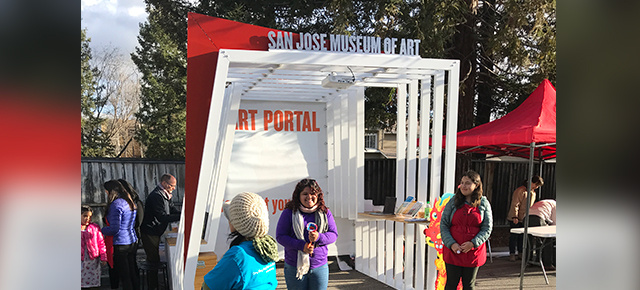 This February, SJMA launched its new Art Portal, a mobile art studio that brings arts activities into the community. Part of the Museum's Vietnamese Community Outreach Initiative, a two-year long effort to engage multi-generational audiences with the mobile art studio at festivals, shopping malls, and libraries within the Vietnamese community, the Art Portal debuted at the Tết Festival at the Vietnamese American Community Center, where some 450 people enjoyed making clay figures inspired by The Year of the Dog.
Based on SJMA's popular community days, the Art Portal will support a variety of pop-up visual, literary, and performing arts activities by Vietnamese artisans. These events will include lectures, demonstrations, and workshops by traditional artists such as ceramicists, musicians, brush painters, and poets as well as contemporary artists. Demonstrations are accompanied by related hands-on activities from SJMA's educational staff and volunteers. The Art Portal will extend SJMA's reach into other parts of the community as well.
Upcoming appearances will be at Celebrating San José's New Celebrating San José's New Mural of Hope and SJMA at Áo Dài Festival V in the Circle of Palms, San José on May 12, 2018.
The Vietnamese Community Outreach Initiative is supported by a grant from the James Irvine Foundation.
SJMA is committed to being a borderless museum, essential to creative life throughout the diverse communities of San José and beyond.