–
REVISITED ONLINE: May 26, 2020 – Ongoing
Organized by Rory Padeken, associate curator
Image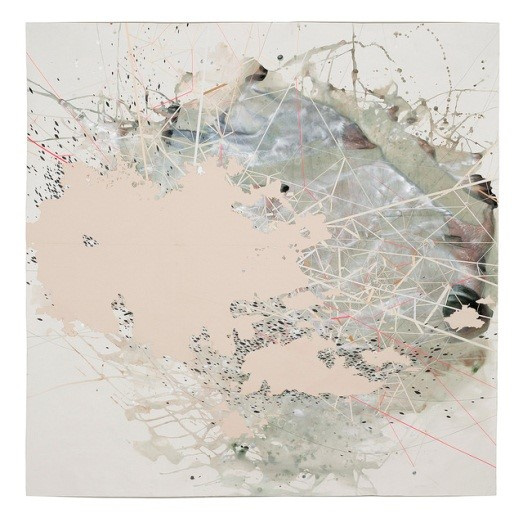 Val Britton
Born 1977, Livingstone, New Jersey
Lives and works in San Francisco, California
Fascinated with the symbolism and abstract space of maps, Val Britton pieces together real and imaginary passageways using delicate lattices and billowing folds of paper. Her works convey the fleeting moments of everyday life and the fragility of human existence. As she explained, "Mapping serves as a metaphor for searching, an implication of the unknown in wide, open spaces, and a trace of how we see where we've been."
Britton is inspired by Rachel Carson's writings on underwater exploration and environmental conservation from the 1950s. She investigated these ideas in relation to concepts of memory and loss in a body of work that began with The Sea Within. To make her work, Britton starts by pouring acrylic inks and water onto a large sheet of paper where the pools became a watery metaphor for the deep well or what she calls the "vault of experiences" that exists within each person. In The Sea Within, Britton invigorated her mazelike configuration with allusions to neural synapses and oceanic pathways.
Image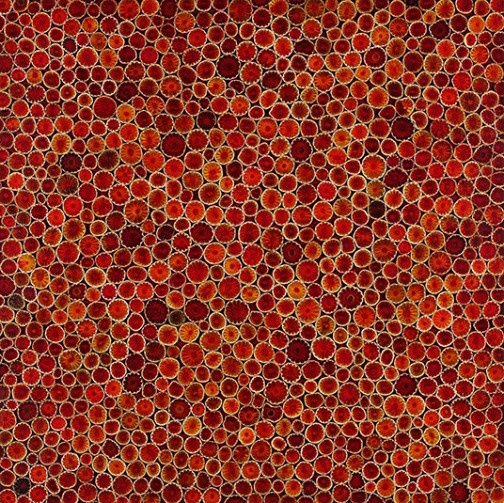 Mayme Kratz
Born 1958, San Diego, California
Lives and works in Phoenix, Arizona
Inspired by nature, Mayme Kratz explores the complexity of human experience. A passionate wanderer and garden lover, Kratz collects organic fragments—insect wings, flower petals, animal bones, abandoned bird's nests, and seed pods—on hikes through the high deserts of the American southwest or in her own backyard. She embeds her luminous, cast-resin wall panels and vessels with her found objects, sometimes spliced or broken apart and arranged in precise patterns. Gradually, Kratz sands and grinds the surface of her work until the interior structure of her gathered materials emerges in the form of abstract lines, circles, and spirals that reveal a kinship to the vastness of the ocean or a night sky. Kratz remarked:
I'm always searching for the light in the objects that I'm collecting and finding a way to celebrate the life or light of that spirit. It's a way of exploring the transformation that takes place during the process of decay, and finding the beauty in that.
Image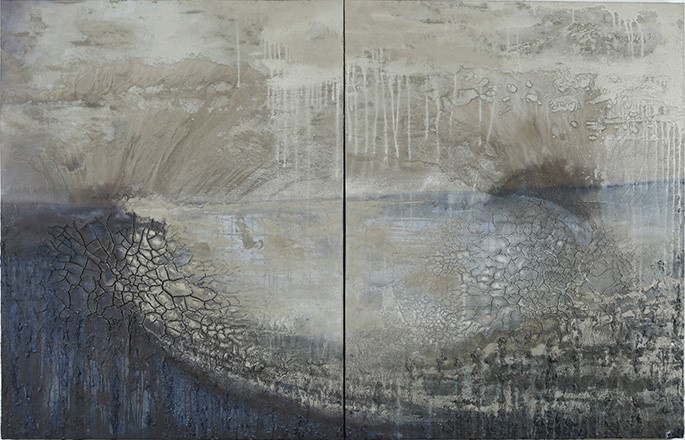 Danae Mattes
Born 1958, Rochester, Pennslyvania
Lives and works in Oakland, California
Danae Mattes creates ceramic sculptural abstractions and paintings that "map" her time spent in nature by welcoming natural processes into her work: alluvial actions, erosion, and evaporation. She tempers clay with elements like water, air, and the sun to expose its numerous physical states such as cracked surfaces to residue left from evaporation. As Mattes stated, "I set the conditions and let the material freely act within its own properties."
To create Horizon, a Deepening Therein, Mattes laid an unprimed canvas on the floor of her studio and flooded it with layers of clay, slip, water, and glue, sprinkling the surface with powdered clays to add gorgeous, varied textures. Mattes associates the permeability of clay by natural forces with the similar permeability of the human body. In her paintings, she seeks to depict a poetic experience of moving through the natural world.