REVISITED ONLINE: May 26, 2020 – Ongoing
Organized by Rory Padeken, associate curator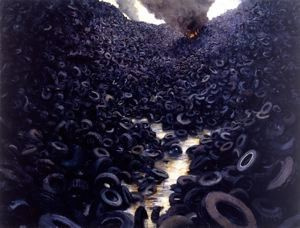 Chester Arnold
Born 1952, Santa Monica
Lives and works in Sonoma, California
Chester Arnold creates dramatic, large-scale oil paintings that address human actions and events that negatively affect the natural world. While concept and content take the lead roles in his work, Arnold does not overlook painterly technique or formal considerations. He strikes a balance between social and political responsibility and aesthetic drama. 
Fascinated with catastrophe as it relates to environmental destruction, Arnold filled Entropic Landscape with heaping mounds of rubber tires, some of which are on fire. The flames, a common motif in the artist's work, reinforce his message about the looming negative effects of man-made waste. Arnold's painting is startlingly beautiful—despite its bleak subject and explicit warning about the implications of human abuse of the natural world.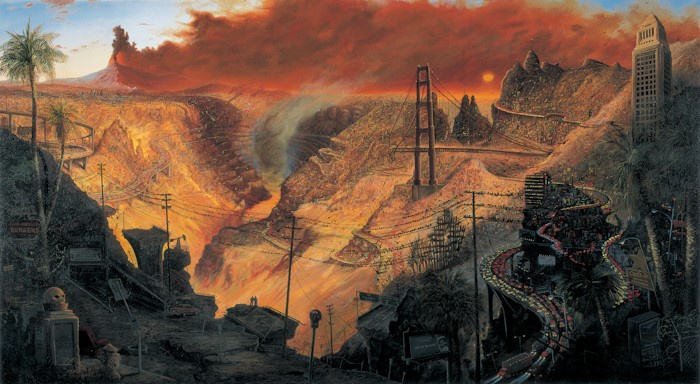 Sandow Birk
Born 1962, Detroit
Lives and works in Long Beach, California
Sandow Birk uses the drama and narrative pull of realism in his clever updates of historical masterpieces. Over the course of five years, Birk produced an epic series of paintings and illustrations based on Dante Alighieri's literary masterpiece The Divine Comedy (1308 – 21). This epic poem recounts Dante's imagined journey through hell, purgatory, and heaven and offers a medieval perspective on sin, piety, and the gradual revelation of God.
In Inferno (Birk's vision of hell), the West and East coasts implausibly collide. Remains of the Golden Gate Bridge stand over a burned-out canyon rimmed with Los Angeles's ubiquitous traffic jams and billboards; the ruins of New York's World Trade Center smolder in the foreground. Birk modeled his painting in part on Frederic Edwin Church's volcanic landscape Cotopaxi (1862). Like Church, who painted his threatening landscape in response to the ravaging American Civil War, Birk depicted an apocalyptic vision of the nation should rampant urbanization and globalization remain unchecked.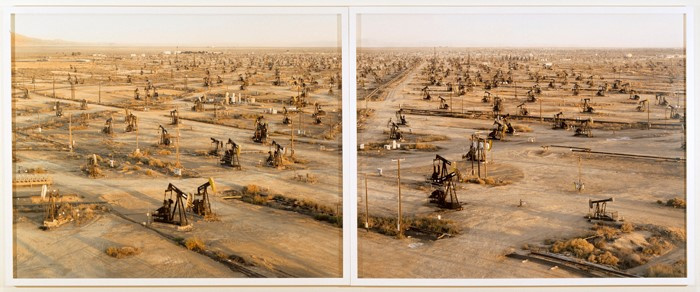 Edward Burtynsky
Born 1955, Saint Catharines, Ontario, Canada
Lives and works in Toronto, Canada
While trying to accommodate the growing needs of an expanding, and very thirsty civilization, we are reshaping the Earth in colossal ways.
—Edward Burtynsky
Photographer Edward Burtynsky chronicles complex and controversial issues of land use around the world. His overriding interest in the environment has led to long-term photographic essays on subjects such as oil, mining, quarries, and water, which raise environmental and ethical questions about humanity's alteration of the land. In Oil Fields #19a, Belridge, California and Oil Fields #19b, Belridge, California, Burtynsky showed the interface of industry and central California's landscape, where acres of oil rigs methodically hammer the ground. Burtynsky strikes an intricate balance between somber reportage and a powerfully seductive aesthetic that subverts usual notions of the sublime in nature and leads to a new awareness of the landscape of our times.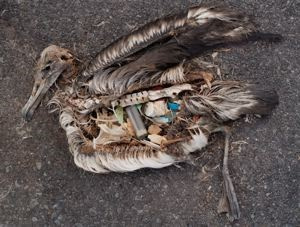 Chris Jordan
Born 1963, San Francisco, California
Lives and works in Seattle, Washington
Preoccupied with worldwide consumption of manufactured consumer goods, Chris Jordan photographs the negative effects of product waste on the natural environment. Since 2009, Jordan has been making visits to Midway Atoll located at the northwest end of the Hawaiian archipelago, located within one of the largest protected marine areas in the world. On the tiny atoll, Jordan discovered decaying carcasses of albatross chicks filled with lighters, bottle caps, and other nonbiodegradable plastics. The plastics most likely come from the so-called "Great Pacific Garbage Patch," a vortex of synthetic materials (mostly microscopic in scale) suspended in the ocean north of Midway. The albatross mistake the colorful pieces for food and feed them to their chicks. As the artist reflected:
Looking into the stomachs of those dead birds is like looking into a mirror. It's a perfect macabre, kind of viscerally horrible reflection of our broken relationship with the natural world…I did a lot of grieving on Midway. Grief is the same as love. Feeling our grief for what's being lost in our world reconnects us with our love for the world.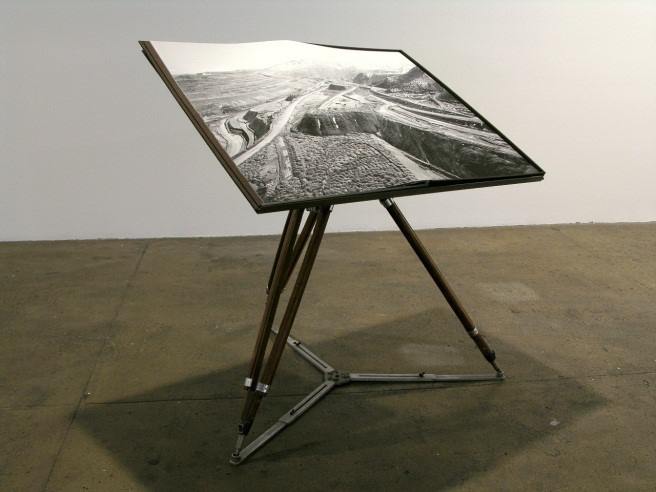 Michael Light
Born 1963, Clearwater, Florida
Lives and works in San Francisco, California
Michael Light is a photographer who also makes artist's books. A pilot himself, he takes aerial views of settled and unsettled landscapes of the American West to examine environmental exploitation. To create Bingham Mine/Garfield Stack 04.21.06, Light photographed, in the course of a single afternoon, the expanse of the Bingham Canyon Mine, located southwest of Salt Lake City. Designated a national historic landmark in 1966, the copper mine is the largest man-made excavation on the planet, reaching more than half a mile deep and three miles wide. The mine's Garfield smelter stack, which disperses exhaust gases from metal extraction processes, is the tallest free-standing structure west of the Mississippi River. Presented in a large-format photography book, Light's images subtly reveal a geologic history of the United States that is as much about exploitation as it is about preservation.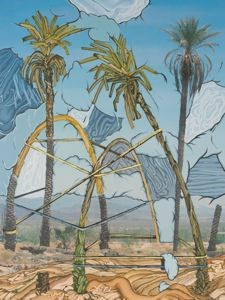 Nathan Redwood
Born 1978, Phoenix, Arizona
Lives and works in Los Angeles, California
Nathan Redwood depicts landscapes bearing traces of human destruction: scattered debris from former construction sites, barren ground lacerated by trucks, abandoned buildings left to rot. To create Fixed Palm, Redwood photographed his surroundings on trips between his native Phoenix and Los Angeles, where he currently lives. The desolate, smoggy countryside in the photograph for the painting is highlighted by palm trees that have been cut in half. Redwood used watery paint to literally "fix" the trees and make them whole again—an ironic effort to "heal" environmental problems with paint.