–
REVISITED ONLINE: May 26, 2020 – Ongoing
Organized by Rory Padeken, associate curator
Image

Anne Appleby
Born 1953, Harrisburg, Pennsylvania 
Lives and works in Jefferson City, Montana
Anne Appleby uses the spare visual language of minimalism to record the subtle beauty of nature—primarily trees, shrubs, plants, and flowers that grow in Montana and coastal California. Appleby (who has some Native American ancestry) apprenticed for fifteen years with an Ojibwe elder who taught her the virtue of patience and value of observation. Comprising as many as sixty layers of paint, her seemingly monochromatic canvases illustrate points of transition in the natural world that mark the journey from germination to fruition to decay. For example, this depiction of the life cycle of a sage plant alludes poetically to the perennial succession of life, death, and renewal. "The world is constantly moving and changing, reinventing itself," the artist remarked. "These are the moments I try to express through painting."
Image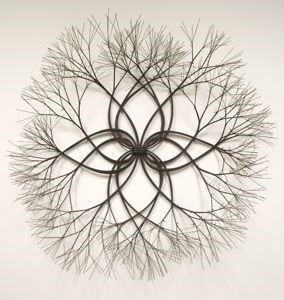 Ruth Asawa
Born 1926, Norwalk, California
Died 2013, San Francisco, California 
In lattices of woven or entwined wire,  Ruth Asawa merged industrial materials with domestic craft traditions to create defined volumes almost without mass. Associations to natural phenomena, from cell division and snowflakes to trees and seaweed, emerge in the artist's wire sculptures. Inspired by the hexagonal structures of desert plants and the crocheted baskets she learned to make in Mexico, Asawa created her intricate wireworks after she found that drawing did not allow her to capture the spatial complexities of her organic subjects.
Untitled is a tied-wire sculpture from the late 1960s. Curvilinear tangents branch out from the center with each extension splitting off into successively smaller and thinner offshoots. The form becomes a circular decorative relief with a strong core that dissolves into radiating, fragile strands. With machine-made components and synthetic materials, Asawa created a metaphor of nature.
Image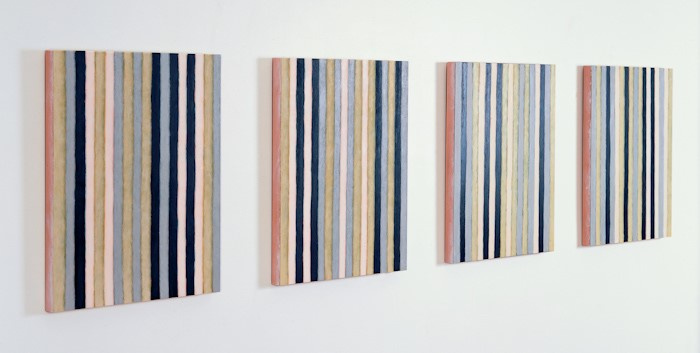 Amy Kaufman
Born 1956, White Plains, New York
Lives and works in Oakland, California 
Amy Kaufman creates bold abstractions inspired by patterns found in nature. Though Kaufman does not cite her references, the lines that fill her canvases may suggest anything from tall stalks of grass and horizontal furrows in a field to ripples in water or the path of fireflies at night. She builds her relationship to nature by exploring proportion, rhythm, and repetition. While the dynamic and mesmerizing pattern of Ice and Shoots alludes undeniably to forms found in nature, Kaufman encourages viewers to make their own interpretations, thereby reinforcing the uniqueness of each person's relationship to, and interaction with, the natural world.
Image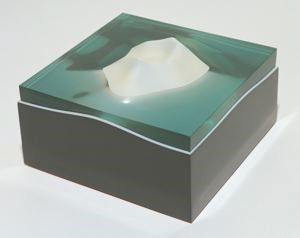 Sam Richardson
Born 1934, Oakland, California
Died 2013 in Seattle, Washington
Prompted by his love of nature, Sam Richardson painted and sculpted representational landscapes, which are often square in format, using shaped plastics and acrylics. In That's a Small Island with Snow and Frozen Water, Richardson fabricated a section of contoured land from Plexiglas. Emerging from a sea of cerulean blue, the snow-capped island is marked by delicate shadows that appear on its gentle slopes. The sculpture's rolling contours bring to mind the geographic terrain familiar from aerial photography, while its square configuration recalls the gridlike conventions of topographical maps. But Richardson's landscapes always hover on the verge of the imaginary. As the artist declared:
I'm a landscape artist, but rather than simply record the natural, I seek to use nature by taking landscapes as a visual theme within which to treat surfaces, make marks, paint colors, manipulate scale, and play shapes one on another.