Momentum: an experiment in the unexpected
–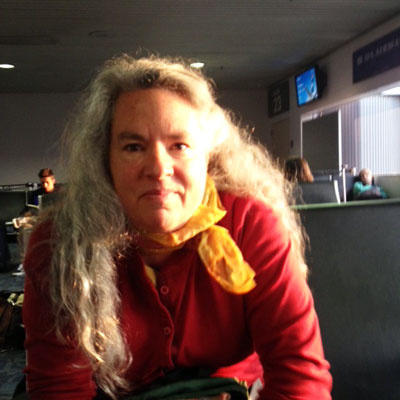 Born 1959, Rochester, New York
Lives and works in Berkeley, California
Everything's Changed, 2014
Felt, cardboard, and staples
Chosen artwork: Most Secret Butterfly (2009) by Tam Van Tran
When the yarn-bomber known as Streetcolor first considered Tam Van Tran's Most Secret Butterfly, it stopped her in her tracks. Deeply affected by the strong core and exhilarating, sweeping energy of the side panels, she found a visual aesthetic that shifted her creative viewpoint and pushed her practice in a new direction. Streetcolor was surprised by the scale and presence of the sculpture; the allure of all those glittering staples left the most lasting impression. 
According to Streetcolor, yarn-bombing—an art born on and of the streets—is a temporary, nondestructive form of graffiti. Yarn is used in place of ink or paint, and eventually yields to the forces of nature, leaving no trace behind. Everything's Changed, however, exists indoors, a permanent presence secure from outdoor exposure. Colors and lines embedded in the soft textures of felted fiber twist upward with restrained energy, an echo of the undulating shapes in Most Secret Butterfly as well as the twisting nature of hand-spun yarn. 
After many years of working in ceramics and textiles, in 2009 Streetcolor succumbed to her deep infatuation with street art and knitting and began yarn-bombing. Spinning most of her own yarn and shedding the rules of the art world, she left her knitted graffiti everywhere she went. Working on an increasingly large scale, she spent the summer of 2014 bombing a twenty-building installation in the downtown core of Mendocino, California.