Momentum: an experiment in the unexpected
–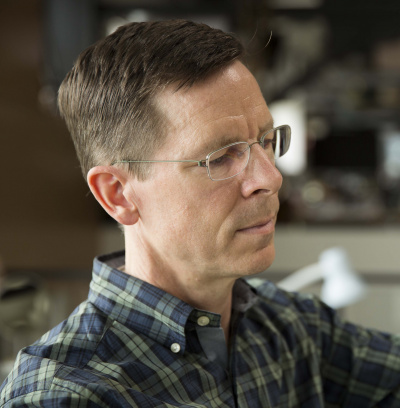 Born 1965, Seattle
Lives and works in Palo Alto, California
Shadow Play, 2014
Arduino microcontroller with LumiGeek shield, LED lights, and vinyl projection screen
Chosen artwork: Big Red (1959) by Alexander Calder
John Edmark's decision to intervene with Big Red was nearly instantaneous and twofold: he has had a lifelong appreciation for mobiles and is intrigued by the fact that no one thought of such a device until Alexander Calder came along. The opportunity to collaborate with Calder, albeit indirectly, was irresistible. 
Shadow Play addresses the inevitable tension inherent in a kinetic work of art: it achieves its fullest expression only when moving, yet that movement causes wear and hastens its destruction—a condition at odds with archival and conservation concerns. 
In response to this dilemma, Edmark explored ways of animating the mobile through the use of illusion. By positioning lights behind the mobile, he has presented Big Red to viewers initially as soft gray shadows seen on a semisheer scrim placed in front of the sculpture. He programmed the lights to cycle slowly on and off in variable sequences that create the illusion that the mobile is dancing gently in the air. However, as viewers approach, the sculpture is revealed behind the screen, nearly motionless and iconically red. 
John Edmark is an inventor, designer, and artist. He teaches design in the department of Art and Art History at Stanford University, Palo Alto. His art and design pursuits range from organically inspired kinetic works to products for storage, kitchen, and creative play. He is the named inventor on nine US and foreign utility patents.