Rina Banerjee: Make Me a Summary of the World is the first mid-career retrospective of the artist's work. Co-organized by the Pennsylvania Academy of the Fine Arts, Philadelphia, and San José Museum of Art, the exhibition presents almost twenty years of Banerjee's large-scale installations, sculptures, and paintings—including a re-creation of her work from the 2000 Whitney Biennial; sculptures featured in the 2017 Venice Biennale; and recent work for the Prospect 4 New Orleans biennial.
Banerjee creates vivid sculptures and installations made from materials sourced throughout the world. She is a voracious gatherer of objects—in a single sculpture one can find African tribal jewelry, colorful feathers, light bulbs, Murano glass, and South Asian antiques in conflict and conversation with one another. These sensuous assemblages reverberate with bright colors and surprising textures present simultaneously as familiar and unfamiliar.
Rina Banerjee: Make Me a Summary of the World focuses on four interdependent themes in Banerjee's work that coincide with important issues of our time: immigration and identity; the lasting effects of colonialism and its relationship to globalization; feminism; and climate change.
Exhibition Catalogue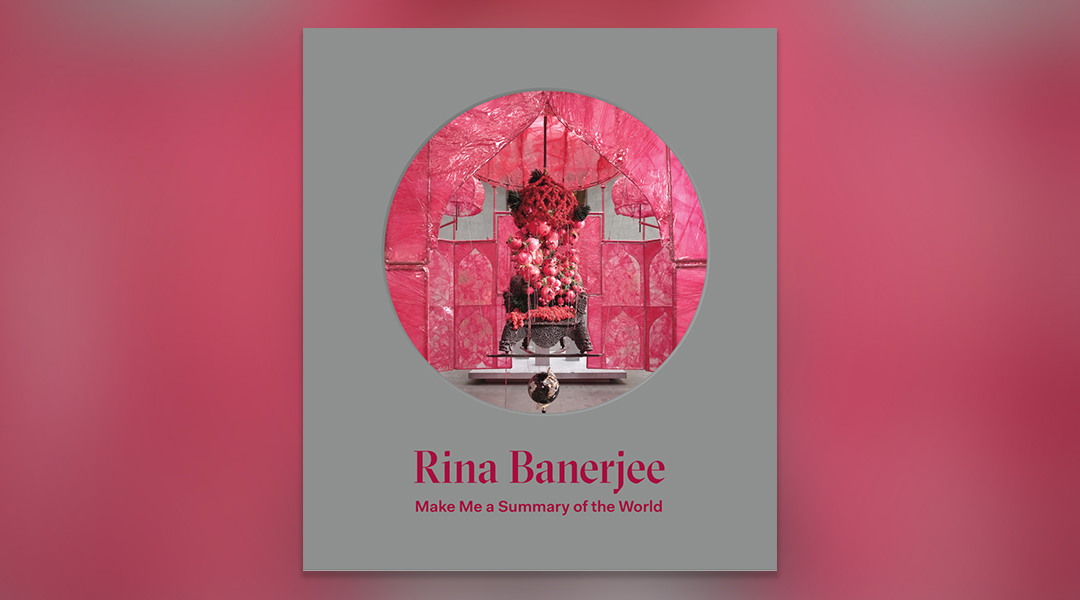 A full-color, 160-page catalogue was co-published by SJMA and Pennsylvania Academy of the Fine Arts, Philadelphia, on the occasion of this exhibition. It illumines the crossover contexts in which Banerjee works—as an American artist, a native of India, a global citizen, and a feminist. It includes full color illustrations, a detailed chronology of the artist's life and work, and essays by co-curators Lauren Schell Dickens (SJMA) and Jodi Throckmorton (Pennsylvania Academy of the Fine Arts); Rachel Kent, chief curator at the Museum of Contemporary Art, Sydney; and writer Allie Biswas.
$45, available for purchase at the Museum Store.
Rina Banerjee Invites You into her Studio
Rina Banerjee Takes You Shopping
Artist Biography
Born in Calcutta, India in 1963, Banerjee grew up in London and eventually moved to New York. She received her BS degree in Polymer Engineering at Case Western University in 1993 and took a job as a polymer research chemist upon graduation. She left the science profession to receive her MFA from Yale University in 1995. Banerjee's work has been exhibited internationally, including but not limited to New York City; Paris; London; Tokyo; Los Angeles; New Delhi; Milan; Singapore; and notably an installation at the Smithsonian in Washington, DC in 2013. The artist's works are also included in many private and public collections such as the Whitney Museum of American Art, New York City; San Francisco Museum of Modern Art; Centre George Pompidou, Paris; Pennsylvania Academy of the Fine Arts, Philadelphia; Queens Museum, New York City; and the Brooklyn Museum, New York City. Her work was recently featured in Viva Art Viva at the 2017 Venice Biennale and Prospect.4 in New Orleans. Rina Banerjee currently lives and works in New York City and Philadelphia.
Exhibition Schedule
San José Museum of Art (May 16, 2019–October 6, 2019)
Co-organizer Pennsylvania Academy of the Fine Arts, Philadelphia (October 27, 2018–March 31, 2019)
Travel Venues
Fowler Museum at University of California, Los Angeles (December 8, 2019–May 31, 2020)
Frist Art Museum, Nashville, Tennessee (July 24–October 25, 2020)
Nasher Museum of Art at Duke University, Durham, North Carolina (February 18–July 11, 2021)
Press
Exhibition Surveys Work of Sculptor Rina Banerjee, Hi-Fructose
May 9, 2019
Famed Indian artist Rina Banerjee's 1st major exhibit showing in San Jose, The Mercury News
May 20, 2019
Rina Banerjee's Worldview, Metroactive
June 19, 2019
Surreal cityscapes? Candy wrapper ball gowns? Binge on creativity all summer via these local art exhibits., The Six Fifty
June 19, 2019
Forms of Exchange: Rina Banerjee Interviewed by Tausif Noor, Bomb Magazine
July 29, 2019
An early start to celebrating the US centennial of women's suffrage, The Art Newspaper
August 20, 2019
At SJMA, Rina Banerjee's Retrospective Embraces a Fluid Complexity, KQED Arts
September 6, 2019
Rina Banerjee turns the Taj Mahal a soft red at the San José Museum of Art, Stir World
September 10, 2019
Best of 2019, Squarecylinder.com
December 24, 2019
Sponsors
Exhibition co-organized by the Pennsylvania Academy of the Fine Arts, Philadelphia, and San José Museum of Art. Sponsored by The Andy Warhol Foundation for the Visual Arts, the Richard A. Karp Charitable Foundation, the Lipman Family Foundation, Tad Freese and Brook Hartzell, Marsha and Jon Witkin, Melanie and Peter Cross, Hosfelt Gallery, Cheryl and Bruce Kiddoo, McManis Faulkner, Latham & Watkins, Shruti and Pawan Tewari, Peggy and Yogen Dalal, Elaine Cardinale, and Lisa and Keith Lubliner. Additional support provided by Leela de Souza Bransten and Peter Bransten, Lucia Cha and Dr. Jerrold Hiura, Christie's, Glenda and Gary Dorchak, Pamela Hornik, Wanda Kownacki, Elena Lebedeva and Alvin Smith, Rachel and Simon Segars, and Sotheby's. Supported, in part, by a Cultural Affairs grant from the City of San José. The catalogue is supported by Hosfelt Gallery, San Francisco, CA, and L.A. Louver, Venice, CA.
Programs at SJMA are made possible by generous support from a Cultural Affairs Grant from the City of San José, The Lipman Family Foundation, Yvonne and Mike Nevens, The David and Lucile Packard Foundation, and the San José Museum of Art Endowment Fund established by the John S. and James L. Knight Foundation at the Silicon Valley Community Foundation. Creative Minds (May 15, 2019): Sponsored by Christie's and Bay 101.
Creative Minds: Rina Banerjee