Our whole, unruly selves celebrates the boundlessness of human beings through an exploration of artistic figuration. The human form has inspired artists throughout history, and the desire to represent and respond to the nuanced experience of existing within a specific body continues to drive new visual languages and approaches. While the inclusion of underrepresented bodies has been a critical step in diversifying museum walls and collections, many artists who experience oppression and erasure—whether due to race, sexual orientation, disability, or immigration status—resist or recast the burden of representation, as the pressures of both hypervisibility and invisibility can eclipse the complexity of lived experience.
Centering artists of color as well as queer, immigrant, disabled, and undocumented artists, Our whole, unruly selves features over 90 works from the 1960s to the present, largely drawn from the Museum's permanent collection. Demonstrating an alignment with philosopher and poet Fred Moten's "consent not to be a single being," the artists on view—including Laura Aguilar, Benny Andrews, Felipe Baeza, Rina Banerjee, Huma Bhabha, Woody De Othello, Carlee Fernandez, Genevieve Gaignard, Tim Hawkinson, Kenyatta A.C. Hinkle, Oliver Lee Jackson, Steffani Jemison, Hayv Kahraman, Wardell Milan, Senga Nengudi, Kambui Olujimi, Christina Quarles, Miljohn Ruperto, Alison Saar, Aislinn Thomas, Axis Dance Company, and many others—insistently bring their whole selves, uncontainable and irreducible. Each of their artworks embodies strategies for a complex figuration, highlighting forms of resistance, flexibility, openness, and an embrace of opacity.
Aislinn Thomas: "As I am and as I become"
Aislinn Thomas works through creative possibilities for accessibility, approaching disability as a valuable and generative disruption to mainstream culture. As part of Our whole, unruly selves, she was invited to create a sound work of experimental, visual descriptions for artworks on view in the exhibition. Thomas collaborated with an intergenerational group of twenty contributors from Teatro Visión, San José's Latinx theater company.
Learn more
See + Be Seen
A.L.L. | Art Learning Lab for Our Whole, Unruly Selves
This Art Learning Lab located in the exhibition and accessible digitally here offers a moment of pause and reflection. We invite you to consider themes raised in the exhibition and share perspectives on your whole, unruly self. Think about how you view yourself, how others view you, and what your ideal version of yourself might be.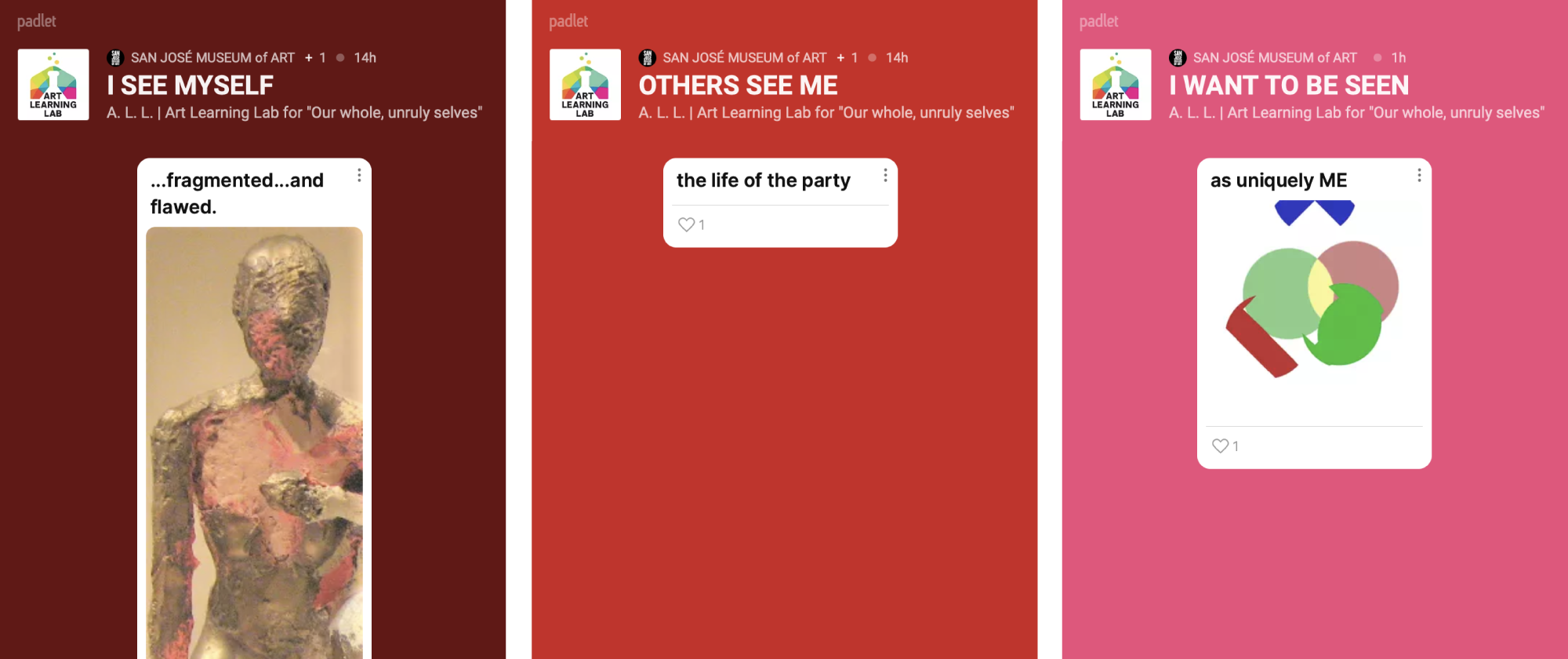 Join the conversation
Exhibition Reading List
Support
Our whole, unruly selves is supported by the SJMA Exhibitions Fund, with generous contributions from the Richard A. Karp Charitable Foundation, the Lipman Family Foundation, Mr. Cole Harrell and Dr. Tai-Heng Cheng, McManis Faulkner, Rita and Kent Norton, and Diane Jonte-Pace in memory of David Pace.
Operations and programs at the San José Museum of Art are made possible by generous support from the Museum's Board of Trustees, a Cultural Affairs Grant from the City of San José, the Lipman Family Foundation, The Andrew W. Mellon Foundation, the Richard A. Karp Charitable Foundation, Yvonne and Mike Nevens, The David and Lucile Packard Foundation, The Yellow Chair Foundation, the John S. and James L. Knight Foundation, the SJMA Director's Council and Council of 100, the San José Museum of Art Endowment Fund established by the John S. and James L. Knight Foundation at the Silicon Valley Community Foundation, and The William Randolph Hearst Foundation. 

Press
Fall Arts Guide 2021, Metroactive
August 25, 2021
Bay Area art spaces back on feet for fall, focusing on the traditionally underrepresented, San Francisco Chronicle Datebook
September 8, 2021
Our Whole, Unruly Selves at SJMA, Metro Silicon Valley
December 1, 2021
Your December Guide to Latinx Art in the SF Bay Area, Latina Magazine
December 17, 2021
Our whole, unruly selves, SF/ARTS