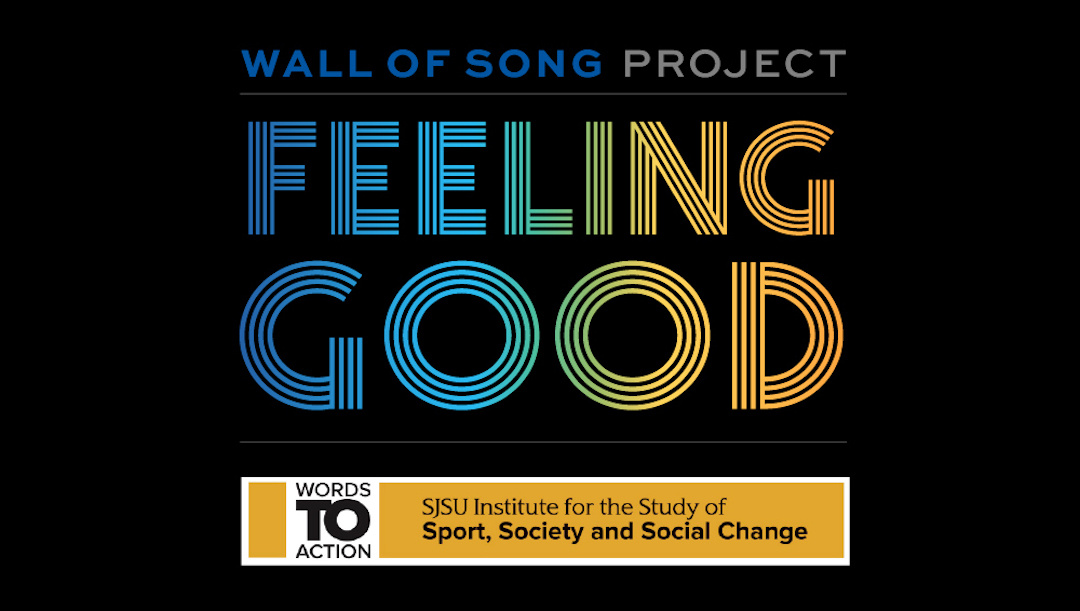 7–8:30pm PST | Online
Free; registration required.
FEELING GOOD: Celebrating National Girls and Women in Sports Day Through a Wall of Song is presented by San José Museum of Art, San Jose Jazz, Institute for the Study of Sport, Society and Social Change (ISSSSC), and the Wall of Song Project.
Join in and explore the power of art, sport, and the rituals of collective singing to create positive social change. In celebration of National Girls and Women in Sports Day (NGWSD), FEELING GOOD is an online and multidisciplinary event featuring an interview with Grammy-nominated jazz powerhouse Ledisi, a solo by special guest soprano Danielle Marie, and Dr. Akilah Carter-Francique, PhD (ISSSSC) hosting a Sport Conversation for Change, focusing on the importance of NGWSD to "inspire girls and women to play… and realize their full power." Everyone is invited to add their voices to the Wall of Song Project by singing "Feeling Good"—the song made famous by Nina Simone—as a call-to-action, an anthem of solidarity, mental and physical wellbeing for all, and advocacy for women's athletics and a more equitable, racially just community.
Featuring

Ledisi
Ledisi is a twelve-time Grammy nominated powerhouse vocalist with a career spanning almost two decades. Since arriving on the scene in the late 1990's, she's garnered three Soul Train Music awards, an NAACP Theater Award and 6 NAACP Image Award nominations. Most recently, Ledisi received two LA Alliance Ovation Award nominations one for Best Featured Actress in a Musical. Ledisi is extremely passionate about being an advocate for the Arts. Lobbying for young musicians and protecting the rights of creatives. She is also a playwright and author, releasing her first book Better Than Alright: Finding Peace, Love and Power, a collaboration with Essence Magazine. Her latest book, Don't Ever Lose Your Walk: How to Embrace Your Journey is released through her own Chinweya Publishing Company. Her first play, "Legend of Little Girl Blue" made what was supposed to be a subtle premiere at The Wallis Theatre in Beverly Hills CA. Seven shows grew into 19 sold-out nights, already Legend of Little Girl Blue has been asked to premiere on a bigger stage coming in Spring 2021.
Utilizing and developing her versatile skills as a singer/ songwriter, music producer, author, playwright, film producer and now CEO of her record label Listen Back Entertainment/BMG. Ledisi is excited about launching her new project, "The Wild Card" August 28, 2020 on her new label and many other future projects later this year. When you speak of women in entertainment Ledisi is on her way to becoming a crucial part of that conversation. "I am finally realizing my limitless potential as a creative and now as a businesswoman."
Special Guest

Danielle Marie, Soprano, Executive Director of Class Act Music Academy
Soprano Danielle Marie is located in the South Bay area of Northern California. Nothing is more fulfilling to Danielle than singing oratorio, spirituals, and sacred works. Danielle received her Master's Degree in Voice Performance at San Jose State University, studying under Professor Layna Chianakas and her Bachelors Degree in Music Education with an emphasis in Choral Conducting from California State University Fullerton.  Prior voice instructors include Sandra Bengochea, Dr. Nicole Baker, and Mary Scheibe. Danielle has been the soprano soloist for a number of major works, including Orff's Carmina Burana, Mozart Requiem, Mozart Vesperae solennes de confessore, Brahms Requiem, Haydn's Lord Nelson Mass, Kim Andre Arnensen's "Magnificat," and Schubert's Mass in G with various groups in the Bay Area including Dr. Jeffrey Benson and the following chorus': Peninsula Cantare, the Bay Area Singers, San Jose State University Symphonic Chorus, Michael DiGiacinto and the Winchester Orchestra, Lou De La Rosa and the Winchester Orchestra, and Kristina Nakagawa and Resounding Achord. 
Organizers

Dr. Akilah Carter-Francique, ISSSSC (Moderator)
Dr. Akilah R. Carter-Francique (Ph.D., University of Georgia) is the Executive Director for the Institute for the Study of Sport, Society, and Social Change (ISSSSC) at San Jose State University. She is also an Associate Professor at SJSU in the Department of African American Studies. Her scholarly endeavors and field of focus encompasses the intersection of sport, society, and social justice that is inclusive of issues of diversity, social movements, and the dynamics of social change and development. Carter-Francique served as the 2018-2019 President of the North American Society for the Sociology of Sport (NASSS), currently serves as a member of Laureus "Sport for Good" Research Council in the U.S., and she is the co-editor of Athletic Experience at Historically Black Colleges and Universities: Past, Present, and Persistence and Critical Race Theory: Black Athletic Experiences in the United States.
Mel Day, Artist + Co-founder of Wall of Song Project
Mel Day is a SF Bay Area-based British-Canadian interdisciplinary artist, former college athlete, art lecturer in the Department of Art & Art History at San José State University and co-founder of The Wall of Song Project. Launched on Inauguration Day, 2017 in Washington, D.C and at the San Jose Institute of Contemporary Art, Wall of Song's ongoing collaborative project, FEELING GOOD, explores the expressive possibilities of art, song, and sport for women's athletics and a more equitable, racially just community with The Institute for the Study of Sport, Society & Social Change and a number of partners and participants.
Recently awarded the 2019 Silicon Valley Creates Artist Laureate Nexus Award, Day has shared her work at venues including Provident Credit Union Event Center (San Jose), Grace Cathedral, Yerba Buena Center for the Arts (San Francisco) and Berkeley Art Museum. Residencies include Stanford University's Experimental Media Arts Lab, Headlands Center for the Arts Alumni New Works Award and UC Berkeley MFA Fellowship, Oberpfälzer Künstlerhaus (Schwandorf, Germany) and The Lab (San Francisco). As part of her inclusive practice, Day founded an IDEO-Awarded Youth Fellowship in collaboration with the Djerassi Resident Artist Program and has curated exhibitions including an experimental video program for V-tape's Curatorial Incubator in Toronto, Canada. Currently teaching at San José State, she holds an MFA from UC Berkeley, a BFA from Queen's University, Canada with a year's scholarship to Glasgow School of Art, Scotland.