Prom Night at the Museum [Online]
Wednesday, April 29, 2020
7pm | Free; online registration required.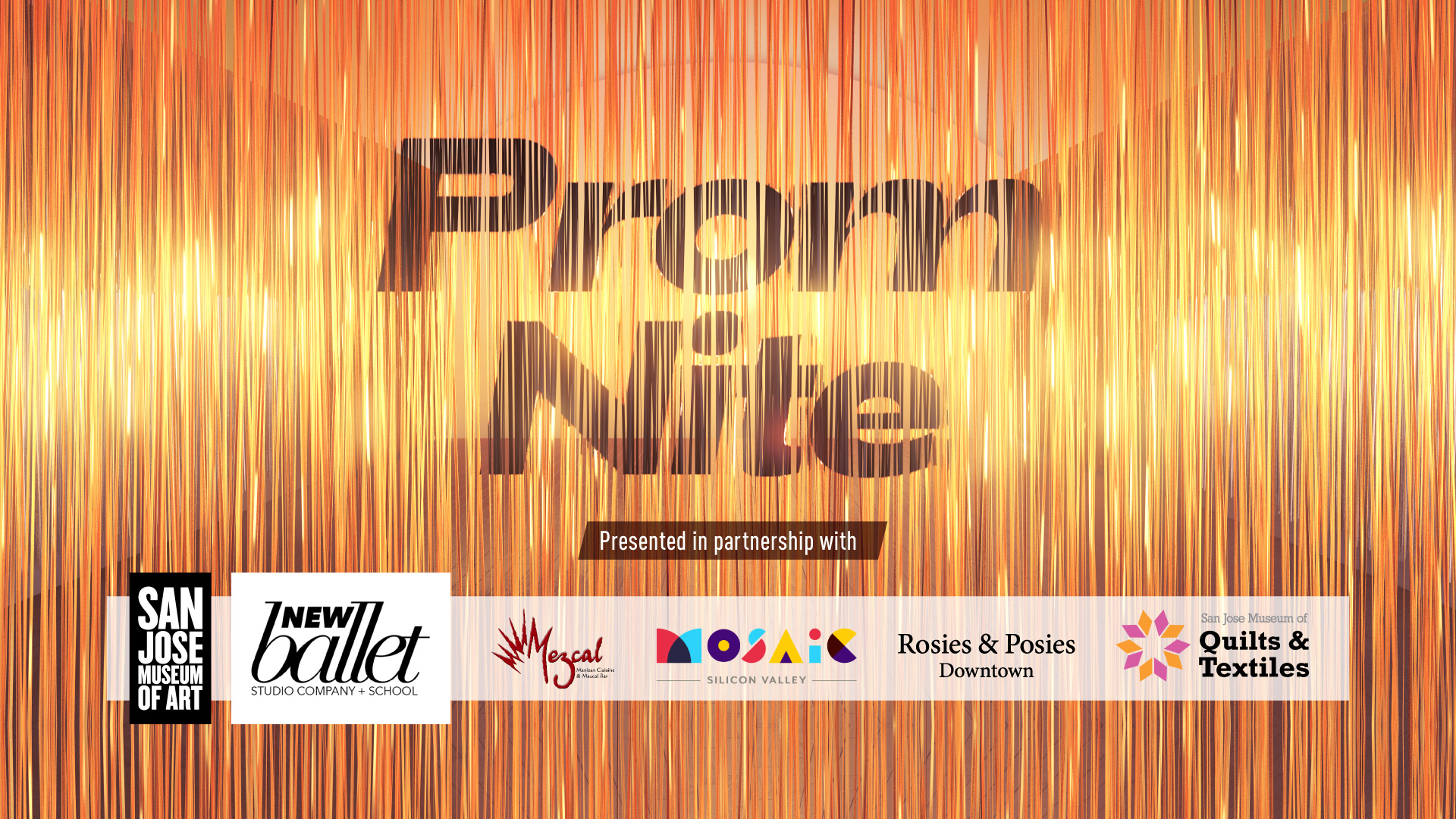 Celebrate International Dance Day with SJMA and New Ballet in solidarity with all of the high schoolers whose proms have been canceled—and individuals of all ages who are sheltering at home around the world!
Join us on Zoom for a virtual dance party with DJ Yas and special flash mob led by Emmy Award-winning choreographer Ben Needham-Wood. No previous dance experience required!
Enjoy pre-event video tutorials for DIY corsages, crowns, punch and snack recipes, makeovers, and flash-mob choreography. Post your prom pics at #PromNightAtTheMuseum to be featured on the night of the event!
Presented in partnership with Mezcal, Mosaic Silicon Valley, New Ballet, Persia, Rosies & Posies, and San Jose Museum of Quilt & Textiles.
Invitation
Will you go to the prom with us?
Flash Mob Tutorial
Emmy Award-winning choreographer Ben Needham-Wood leads a pre-event dance tutorial for New Ballet. Important choreography note: this video is like a mirror!
Mezcal Punch Recipe
Mix and sip your own fruit punch, courtesy of Mezcal. Serves 4-6 people.
Also check out Mezcal's Guacamole Recipe!
Crown-Making Tutorial
Everyone that attends the Prom Night at the Museum is crowned Prom Royalty! Make your own crowns by watching this crown-making tutorial, specially created for us by our partners at the San Jose Museum of Quilt & Textiles.
Materials: cereal box (or other lightweight cardboard), paint/brush (optional), cardstock (optional), decorations (glitter, feathers, gems, foil), yarn, and gluestick.
Tools: scissors and hole punch.
Makeup Tutorial
Thinking of being glammed up for the evening? Drag queen and educator Persia leads a quick and easy makeup tutorial.
Mosaic Silicon Valley
Receive a dance lesson at prom with Mosaic Silicon Valley!
Corsage Tutorial
Learn how to make your own corsage with Andy, floral designer at Rosies & Posies.
Virtual Backgrounds
Enliven your prom night with these virtual backgrounds!

To download to your computer, right click on the the desired virtual background below and then select 'Save As.' To add a background to your Zoom call, just follow the instructions listed HERE.