Facebook First Fridays: Museum with Pride [Live Online] – New date!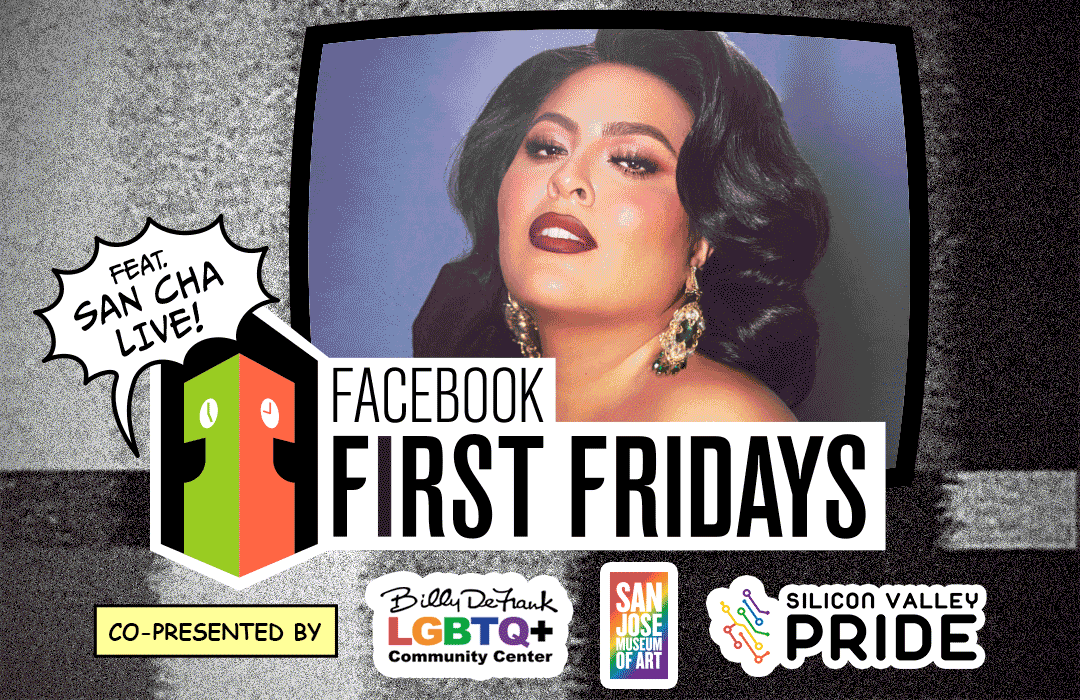 Friday, August 7, 6–9pm | Free!
Celebrate Silicon Valley Pride online with your nearest and dearest and geographically furthest, as we move our Pride Celebration online! SJMA honors Silicon Valley Pride with an evening of community, art, laughter, and music.

Long-time friends Alpha Andromeda and Gabrielle Antolovich co-host the evening, offering queer readings of work from SJMA's permanent collection. Artist Marcela Pardo Ariza joins for a lively discussion about what it's like to be an artist creating work in this specific moment in time. Finally, San José native and Latinx star performer San Cha brings her gothic cumbias live from her apartment in LA. Produced by Silicon Valley Pride's Saldy Suriben.

Get dressed up, send us a selfie, and share the night!  Join in on the fun here:
Facebook
Twitch
Live Performance | San Cha

San Cha is a singer-songwriter, based in the City of Angels, increasingly known for her visceral and explosive live performances. Fans of cumbia and punk, bolero and electro, flock to see San Cha's emotional renditions of traditional Mexican rancheras and original songs that queer conventions of identity, power, and love. San Cha was the headlining act at the kickoff of the 2019 Red Bull Music Festival, with recent performances at the Getty Museum, Santa Monica Pier, and more. Her latest album, La Luz De La Esperanza, is written in the form of a surrealist telenovela and sounds like what Pitchfork described as 'modernized ranchera with a rock edge and goth sensibility'.
With your co-hosts | Alpha Andromeda + Gabrielle Antolovich

Alpha Andromeda (middle) is a San Jose-based drag queen, who is instantly recognizable through her signature "fashion clown" looks! The self-proclaimed "Most Gorgeous 'Woman' On Earth," has made a name for herself through her ridiculous live performances—and as a host of Silicon Valley Pride's Drag Brunch.

Gabrielle Antolovich (left) is the Board President for the Billy DeFrank LGBTQ+ Community Center. She was part of the early Women's + Gay Liberation movements in the 1960s and 70s in Australia, and is still advocating for those same issues today in America.

Guest Artist: Marcela Pardo Ariza (right) is a queer Latinx visual artist and curator that explores transhistorical and intergenerational kinship, and alternate forms of representation while celebrating the erroneous through constructed photography and site-specific installations. Ariza has exhibited and collaborated with YBCA, SFMOMA, SOMArts, San José Institute of Contemporary Art, and more. Ariza is a former member of the Curatorial Council at Southern Exposure, a co-founder of Womxn Art Handlers and works with the Artist in Residence program at Facebook.
Thank you to our partners
The Billy DeFrank LGBTQ+ Community Center strives to be the community's premier resource hub and a recognized leader in promoting health, strength, diversity, and inclusiveness. Through collaboration and unity, the Billy DeFrank LGBT Community Center provides a diverse platform for our community to meet, learn, be challenged, and grow.

Silicon Valley Pride is a celebration of the LGBTQ+ community and our allies. It began in 1975 as a gay rights rally and evolved into San José Pride Festival in 1976. The following year, 1977, San José added its first parade to the celebration. In 2014 San José Pride was changed to Silicon Valley Pride to include neighboring cities to encourage unity. It is now the largest Pride celebration of the South Bay and is a family-friendly event.