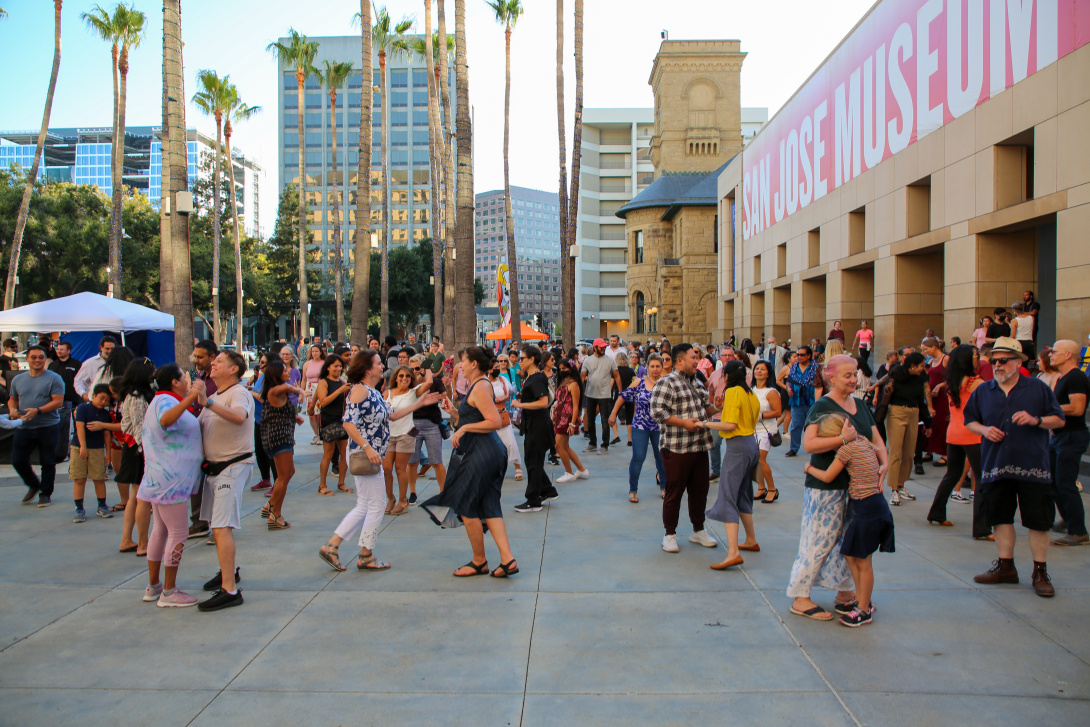 6–9pm • Circle of Palms Plaza
Free
Mosaic America presents CityDance San José: World Dance Mosaic, a vibrant showcase of dance genres from across the globe featuring performances and dance instruction by New Age Theatrics (modern dance and hip/hop), Boffa Bofarata Ballet (Guinean dance), Starrz Dance (Bollywood), and DJ Nam (free dance DJ). 
Community partners at the event include Creative Ambassadors Suhita Shirodkar and Patron Paule, Luna Park Arts Foundation, Mosaic America, New Ballet, New Museum Los Gatos, Sacred Heart Community Service, San José Dance Theatre, San José Museum of Art Let's Look at Art Program, Silicon Valley Pride, and Simply Shelter.
CityDance San José is an evening of socializing, music, and open-air dancing at the Circle of Palms and the San José Museum of Art. With live bands and a professional dance instructor, you can tune your skills, learn something new, or just show off! The event and Museum galleries are open, 4–9pm, and free to the public.
FREE MUSEUM Admission 4–9pm
CityDance San Jose is presented by the City of San José Office of Cultural Affairs, the San José Museum of Art, Valley Transportation Authority, and El Cafecito by Mezcal Restaurant.
Performing artists
New Age Theatrics 
Founded and choreographed by husband and wife duo Francis and Erika Tyrell, New Age Theatrics is a performing arts dance company that fuses high-energy dance choreography with thrilling visuals and storytelling. With 30+ years of dance experience put together, Francis and Erika continue to use their talents and New Age Theatrics to give back to their communities that helped raise them into the artists they are today with their commitment to the four Cs, to Create and Cultivate with Care and Compassion!
Mohammed Bangoura 
Mohammed Music is dedicated to preserving and sharing the rich cultural heritage of Guinea through traditional dance and music. With years of experience, Mohamed brings the authentic rhythms and movements of Guinea to life.
Akshay Savale, Starrz Dance 
Akshay returns after last year's success at CityDance: Bollywood! He is the director of the well-established Bay Area Bollywood dance company Starrz Dance.
El Cafecito Menu  
Beverages Menu
Beer
Modelo Especial 6.40
Blue Moon 6.40
Sierra Nevada 6.40  
Coors Light 6.40 
Make any beer a Chavela/Michelada, add 2.74 
Wine
Smoke Tre Chardonnay, Sonoma 9.14  
Terraza Reserva Malbec, Argentina 9.14  
Sodas and Bottle Water 2.74  
Plus Tax
Food Menu
City Dance Specials
Tinga Tostadas (2)                             9.14 
Chipotle chicken, onions, tomatoes, and corn tortillas 
Nachos
Chicken Nachos 9.14  
Grilled chicken, cheese, and pico de gallo.  
without chicken (V) 7.31 
Sandwiches
Torta 9.14 
Serve on a french bread, ham, lettuce, tomato, onion and mayonnaise. 
Quesadilla
Cheese (V)  or Chicken Quesadilla 9.14 
Flour tortilla filled with Oaxacan cheese. 
Wraps
Vegetarian Wrap (V) 7.31 
Butter lettuce, tortilla, chipotle aioli, avocado, tomato, roasted peppers. 
Add Chicken 1.83  
Plus Tax