50x50: Stories of Visionary Artists from the Collection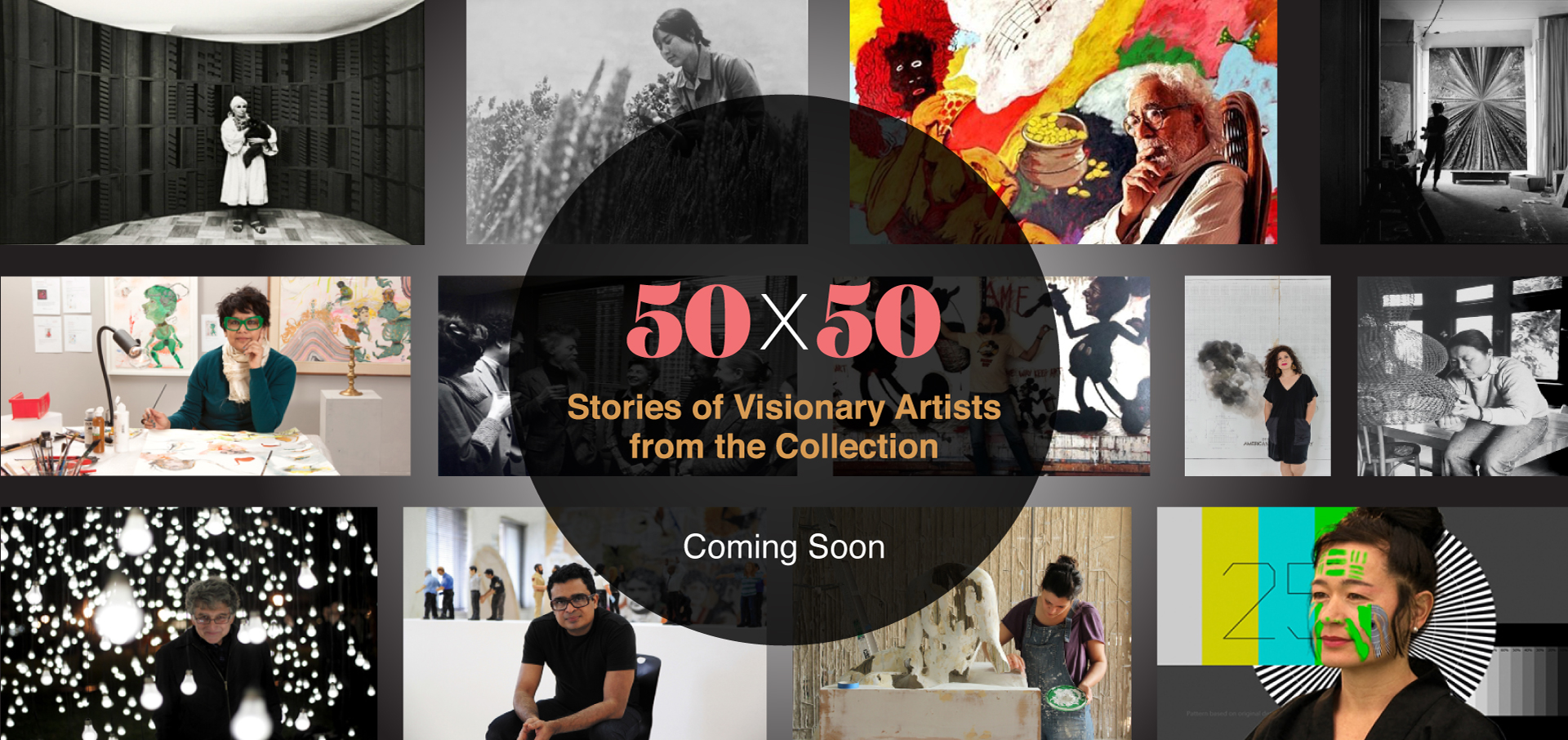 A Digital Publication of San José Museum of Art on the 50th Anniversary Launches June
In celebration of its 50th anniversary, the San José Museum of Art presents a FREE digital publication titled 50X50: Stories of Visionary Artists from the Collection,  highlighting fifty artists from the permanent collection.
Discover more about the lifelong work of celebrated artists like Diana Thater, Alan Rath, Ruth Asawa, Leo Villareal, Louise Nevelson, and more through multimedia content—including interviews, video, and audio. Explore documentation of artworks, exhibitions, and studios to learn more about the professional and private lives of artists, as well as their ideas, creative processes, and lasting influences.
These in-depth explorations introduce new scholarship and fresh insight into the artist psyche. Additionally, the selection of artists reflects the gender parity inherent within SJMA's collection: the publication features 25 men and 25 women.
SJMA is committed to equitable access to the arts, and
50X50
will further SJMA's vision to become a borderless museum, offering anyone with an internet connection the chance to gain deeper understanding of iconic artists in our permanent collection.
Stay tuned for the launch of this exciting initiative June 2020!
Visionary Artists Highlighted:
Diana Al-Hadid, Benny Andrews, Robert Arneson, Ruth Asawa, Judy Baca, Firelei Báez, Rina Banerjee, Ruth Bernhard, Elmer Bischoff, Barbara Bloom, Joan Brown, Jim Campbell, Enrique Chagoya, Robert Colescott, Mary Corse, Roy De Forest, Jay DeFeo Llyn Foulkes, Gauri Gill, Andy Goldsworthy, Doug Hall, Mona Hatoum, Tim Hawkinson, Lynn Hershman Leeson, Mildred Howard, Jitish Kallat, Dinh Q. Lê, David Levinthal, Hung Liu, Frank Lobdell, Richard Misrach, Lee Mullican, Louise Nevelson, Manuel Ocampo, Nathan Oliveira, Tony Oursler, Alan Rath, Alison Saar, Raymond Saunders, Jennifer Steinkamp, Hito Steyerl, Stephanie Syjuco, Tabaimo, Masami Teraoka, Diana Thater, Leo Villareal, Bill Viola, Catherine Wagner, William T. Wiley, and Betty Woodman.
This open access publication will be made available for free online and in multiple downloadable formats, including PDF and EPUB.
---
Image: A selection of SJMA's 50X50 artists (left to right): Louise Nevelson, Hung Liu, Elmer Bischoff, Jay DeFeo, Rina Banerjee, Benny Andrews, Enrique Chagoya, Firelei Báez, Ruth Asawa, Jim Campbell, Jitish Kallat, Diana Al-Hadid, Hito Steyerl.
50x50: Stories of Visionary Artists from the Collection
This publication is made possible in part by the Institute of Museum and Library Services (IMLS grant #MA-10-16-0002-16). 
Sponsored by the John S. and James L. Knight Foundation, the Lipman Family Foundation, the Richard A. Karp Charitable Foundation, Cheryl and Bruce Kiddoo, Yvonne and Mike Nevens, Peggy and Yogen Dalal, Evelyn and Rick Neely, Rita and Kent Norton, Elizabeth and Byron Ryono, Marge and Ken Nissly, Elaine Cardinale, George Crow in honor of Susan Crow, Toby and Barry Fernald, Tad Freese and Brook Hartzell, Elena Lebedeva and Alvin Smith, Roselyne C. Swig, Marsha and Jon Witkin, and the SJMA Docent Council Alumni.
Programs at the San José Museum of Art are made possible by generous support from the Museum's Board of Trustees, a Cultural Affairs Grant from the City of San José, the Lipman Family Foundation, Yvonne and Mike Nevens, Facebook Art Department, the Richard A. Karp Charitable Foundation, The David and Lucile Packard Foundation, Adobe, Yellow Chair Foundation, the SJMA Director's Council and Council of 100, the San José Museum of Art Endowment Fund established by the John S. and James L. Knight Foundation at the Silicon Valley Community Foundation, and The William Randolph Hearst Foundation.