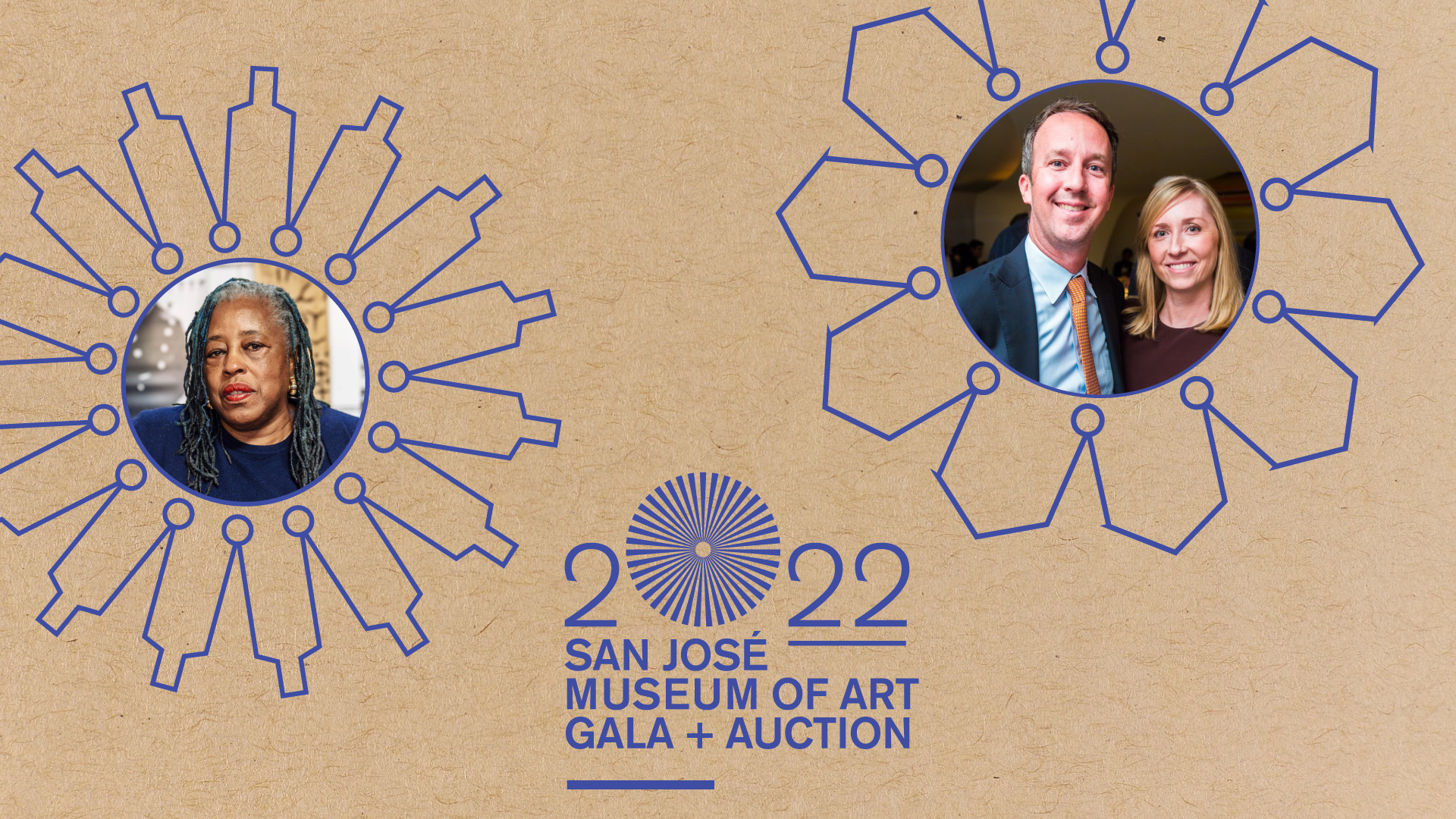 Mildred Howard
"Changing the world is up to the people who look at my art.  I'm hoping they will feel something as a result of looking at the work … it's what the viewer and the spectator bring to the work." –Mildred Howard
Mildred Howard is a beloved Bay Area artist, born in San Francisco in 1945 and raised in South Berkeley. Over the span of her long career, she has engaged in nuanced examinations of the history and politics of gender, race, and major contemporary issues including themes of home and belonging. San José Museum of Art has been a champion of Mildred's work for two decades through exhibitions and acquisitions, including her major collection work Adobe: Sanctuary for the Familia(r) (1994), most recently installed in the 2018 SJMA exhibition The House Imaginary. As Leah Ollman wrote in Art in America in 1998, "Howard has worked in assemblage, collage and installation for more than a decade, but her real medium is memory, which permeates her work with vitality and poignancy."   
She has received numerous awards for her critically acclaimed work, including the prestigious Lee Krasner Award in recognition of her lifetime of artistic achievement. She has also been the recipient of the Douglas G. MacAgy Distinguished Achievement Award at San Francisco Art Institute (2018), the Nancy Graves Grant for Visual Artists (2017), the Joan Mitchell Foundation Award (2004/5), a fellowship from the California Arts Council (2003), and the Adaline Kent Award from San Francisco Art Institute (1991).  
Howard has exhibited throughout the United States and international art venues including Creative Time, New York; InSITE, San Diego, CA; National Museum of Women in the Arts, Washington, DC; New Museum, New York; City of Oakland, CA; and San Francisco Arts Commission and International Airport. Her works reside in the permanent collections of the Berkeley Art Museum, Berkeley, CA; de Young Museum, San Francisco; Los Angeles County Museum of Art, Los Angeles; Museum of Contemporary Art San Diego, CA; Museum of Glass and Contemporary Art, Tacoma, WA; Oakland Museum of California; San Francisco Museum of Modern Art; and SJMA, among others. 
Howard's large-scale installations invoke both collective history and personal narrative. Her artwork Parenthetically Speaking, It's Only a Figure of Speech, a series of punctuation marks rendered in opaque black and red glass and inspired by a poem by Quincy Troupe, was nominated for the 2013 Arte Laguna Prize in Sculpture, exhibited at the Arsenal Venezia in Venice. In addition, she has created public installation works in collaboration with poets and writers, including Three Shades of Blue (2003), in which lines by Quincy Troupe were etched into blue glass panels on Fillmore Street, and The Music of Language (2008), with San Francisco Poet Laureate Janice Mirikatani to render lines from her poetry on the building's exterior. Howard's Moving Richmond (2014), a work in which a poem by MacArthur Fellow Ishmael Reed was incised into two forty-foot walls of faceted steel, can be seen at Richmond, CA's BART Station. Her eighteen-foot bronze tryptic Promissory Note (2022) was recently installed at the newly built Southeast Community Center in San Francisco.  
Recently, Howard's large-scale installation, The House That Will Not Pass for Any Color Than Its Own (2011), was on view along the promenade of Battery Park, facing the Statue of Liberty, sponsored by Battery Park City Authority. Her most recent exhibition is titled Poetic Justice, a group exhibition at the New Mexico Museum of Art, Santa Fe, with Judy Baca and Jaune Quick-to-See Smith.  
As an educator and activist, Howard taught at major universities and art institutions including Stanford University, San Francisco Art Institute, Exploratorium Institute, and California College of Art; and lectured and served as a visiting artist at national and international universities. 
The first artist honoree at the annual San José Museum of Art Gala was Hung Liu, Mildred's dear friend and sister, and we remember Hung's legacy with this honor. 
Brook Hartzell and Tad Freese
When Tad Freese accepted the invitation of Yvonne and Mike Nevens to attend his first gala at the San José Museum of Art (SJMA) in 2010, he never imagined the extraordinary creative and philanthropic journey that lay ahead. A first-time lender of art to SJMA for the exhibition of Roots in the Air, Branches Below: Modern and Contemporary Art from India in 2011 and a prominent collector of contemporary art, Freese placed the winning bid on a studio tour with artist Hung Liu during SJMA's Gala Auction. That tour—the diverse people he met at SJMA—compelled him to get involved at the Museum. He soon joined SJMA's Board of Trustees in 2011. He believed in SJMA's mission to bring international contemporary art to Silicon Valley and in the Museum's ability to push beyond the borders of its physical walls and engage directly with its diverse communities.  
Over the following decade, Freese enthusiastically served on the Gala Auction committee—which he chaired from 2015 through 2021—exceeding fundraising goals year over year. Beloved by the Museum's staff and fellow Trustees for his commitment to the institution and vision for a strategic plan that would establish SJMA as an empathic, collaborative, and welcoming museum for all, Freese served as co-president of SJMA's Board from 2017 to 2020. During his tenure, the Museum's 50th Anniversary Gala secured a gross total of $1M in 2019 and was immediately  followed by record-breaking net proceeds at SJMA's first-ever virtual Gala in 2020. Under Freese's leadership, the Museum retained all full-time staff members during the COVID-19 shutdown. Freese also joined SJMA's Founders Society with a promised gift to ensure the enduring legacy of his support for the Museum. 
On their second date, Freese brought Brook Hartzell on a day trip with the Council of 100, and she too quickly found her passion for SJMA. The couple are dedicated patrons of the arts throughout the Bay Area. Freese threw Hartzell's surprise 40th birthday dinner at SJMA. They traveled with the Museum's Council of 100 to Houston and later exchanged their wedding vows at the Headlands Center for the Arts. Their shared commitment to the careers of women and BIPOC artists is apparent in their collecting practice and the organizations they support together. 
Freese and Hartzell invest generously in the Museum's general operations—where support is needed most--because they believe that SJMA is an essential resource to the South Bay community, Santa Clara County schools, and the contemporary art world at large. They have helped SJMA find greater financial security, which has allowed the upward trajectory of the Museum's exhibitions program as well as its community impact.  
They, along with Freese's son Jackson (who has also donated his time as a volunteer at the Museum) have contributed to the rapid growth of SJMA's permanent collection by supporting the acquisition of works by artists including Firelei Baez, Jitish Kallat, Woody De Othello, Maria Cruz Palileo, Liliana Porter, Pae White, and Huang Yan, as well as by donating significant works from their own collection. They also support the Museum's exhibitions through their loans of artwork as well as generous sponsorships for projects such as Beauty: Cooper Hewitt Design Triennial, Break + Bleed, Catherine Wagner: Paradox Observed, Diana Al-Hadid: Liquid City, Jean Conner: Collage, Postdate: Photography and Inherited History in India, Rina Banerjee: Make me a summary of the world, The Propeller Group, Woody De Othello: Breathing Room, and With Drawn Arms: Glenn Kaino and Tommy Smith.  
In addition to their generosity to SJMA, the Freese-Hartzell Family is dedicated to giving back to their alma maters—University of California, Berkeley, and Washington Lee University, Lexington, Virginia, along with a number of grantees through Tipping Point. Their love of art extends to Bay Area arts organizations including Berkeley Art Museum and Pacific Film Archive, the Fine Arts Museums of San Francisco, FOR-SITE Foundation, Headlands Center for the Arts, Museum of the African Diaspora, Oakland Museum of California, the Institute of Contemporary Art, San José, and beyond. 
On behalf of Freese's fellow Trustees and the entire staff, the San José Museum of Art is thrilled to celebrate Brook Hartzell and Tad Freese as the 2022 Gala Patron Honorees in recognition of their profound and lasting impact at the Museum through their dedicated leadership, fundraising efforts, and transformative investments. We have special appreciation for their generous challenge to anyone who can join them in doubling their support of this year's Gala. Please join them by bidding vigorously during the auction and/or donating an amount that is personally meaningful to the Fund-a-Need portion of the evening!