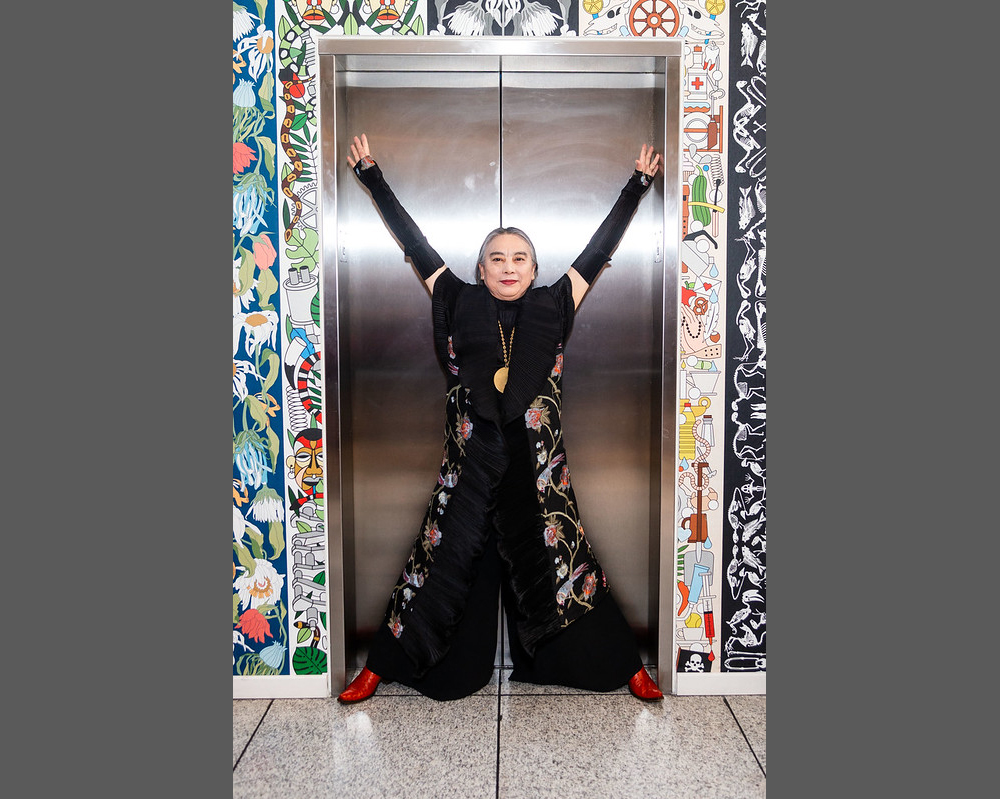 Artist Hung Liu at The Wonder Ball, a gala to support the San José Museum of Art in honor of Toby and Barry Fernald and Hung Liu. Photo by Drew Altizer Photography.
Hung Liu, beloved artist and friend to SJMA, passed away on Saturday, August 7.
A pillar of the Bay Area arts community and an internationally renowned artist, Hung touched the lives of everyone she met through her warmth, grace, and generosity. She exuded light, laughter, and positivity. To meet her once was to make a friend forever.
In her powerful and pathbreaking artworks, Liu championed the lives and experiences of the disenfranchised and the dispossessed. For over three decades, she bore witness to the tribulations of everyday people, past and present, and their hidden stories of social injustice—in lush and remarkable paintings based on historical black and white photographs from China and, most recently, Great Depression–era images taken by Dorothea Lange. Through the process of reimagining these photographs in color, Liu uncovered the cultural and personal narratives that are fixed, but often concealed, in the photographic instant. Her freehand washes and drips added a lens of subjectivity to documentary images, simultaneously bringing the past to life and calling attention to the fallibility of history.
Born in Changchun, China in 1948, Liu grew up during the Maoist regime. She initially trained in the Socialist Realist style and later studied mural painting at the Central Academy of Fine Art in Beijing. In 1984, she was one of the first Chinese-born artists to emigrate to the United States where she received her MFA from University of California, San Diego under the guidance of pioneering performance artist Allan Kaprow. A longtime educator and mentor to countless artists, Liu was professor emerita at Mills College in Oakland, California, where she had taught since 1990. She received the National Endowment for the Arts Fellowship in painting twice (1989 and 1991), the Society for the Encouragement of Contemporary Art (SECA) Award (1992), the Eureka Fellowship from The Fleishhacker Foundation (1993), and a Lifetime Achievement Award in printmaking from the Southern Graphics Council International in 2011.
Liu joined the Board of Trustees of SJMA in 2018 and was the first artist honored at the Museum's annual Gala + Auction in 2019. She was the co-chair of SJMA's 2021 Gala + Auction and previously served on the jury for the Dr. Jerry Hiura Next Gen Visual Artist Award, a scholarship given to promising young artists in San José.
SJMA holds one of the most important collections of Liu's work including Resident Alien (1988), a pivotal self-portrait that explores issues of identity, migration, and belonging. The painting was recently recreated as a massive mural by Magnolia Editions and is currently on view at the de Young Museum in Hung Liu: Golden Gate (金門). Resident Alien and Chinese Profile II (1998), also from SJMA's permanent collection, will be featured in Hung Liu: Portraits of Promised Lands, the artist's first major exhibition on the East Coast organized by the National Portrait Gallery, Smithsonian, Washington, DC and opening later this month. Liu's work is also in the collections of the Kemper Museum of Contemporary Art, Kansas City, Missouri; Los Angeles County Museum of Art; San Francisco Museum of Modern Art; and Whitney Museum of American Art, New York.
The SJMA community sends our condolences to her husband Jeff Kelley and son Ling Chen.