Jay DeFeo (born 1929, Hanover, New Hampshire; died 1989, Oakland, CA) was relentlessly experimental. Though known primarily for her monumental painting The Rose (1958–66), her visual and poetic associations play across a remarkable array of media and material. This focused exhibition highlights DeFeo's prolific use of photographic practices as an under-examined but critical facet of her transmutative process. Building upon four works in SJMA's permanent collection as guiding linchpins, the exhibition draws largely on previously unpublished and unexhibited works from the rich holdings of The Jay DeFeo Foundation to consider this important element of DeFeo's practice within the context of her multimedia work, significantly deepening and extending her important legacy beyond painting and drawing. 
Though used throughout her career to record, compose and revisit, DeFeo's photographic output increased dramatically during the 1970s. DeFeo famously produced no artwork from 1966–1970, resting and recovering after the emotional, physical, and creative toll of The Rose. It was the camera that facilitated her return to artmaking. As DeFeo herself put it, for three years from 1973–75, "I did nothing but photography." (Despite the inaccuracy of this statement, her enthusiasm for the medium is clear.) Rather than signaling a new direction, however, the large body of photography DeFeo produced during the 1970s is both reflective of and integral to her painting and drawing process. "More so than most artists, I maintain a kind of consciousness of everything I've ever done while I'm engaged on a current work," DeFeo wrote in 1978. Her photographic work operates within a prolonged consideration of primal forms and elemental symbols, an exploration of the mythological and symbolic links uniting the cosmos to studio objects and to life around her: the undersoul, as her friend Beat poet Michael McClure termed it. DeFeo used the camera to capture symbolic resonances in formal qualities—texture, line, and shape—of objects and artworks in her studio and the world around her, which then transmute across media. 
Undersoul: Jay DeFeo features unique photographs, photo collages, photocopies, drawings, and paintings from the 1970s and 1980s that track the artist's visual vocabulary across media and subject matter.
EXHIBITION CATALOGUE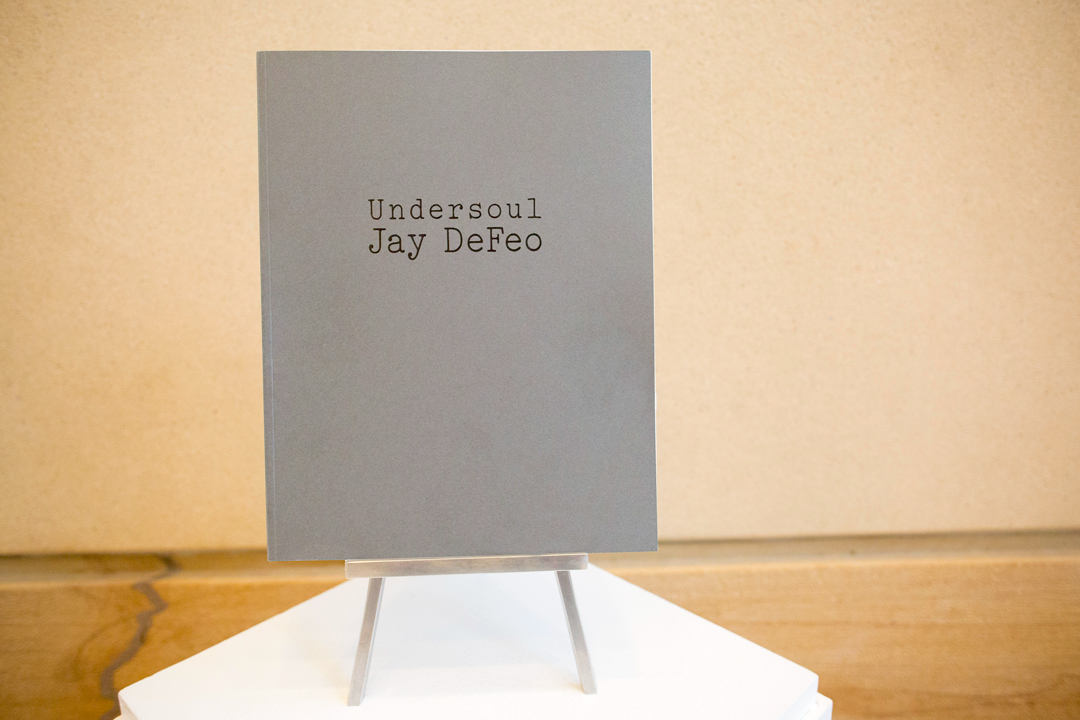 A full color illustrated catalogue was published in conjunction with the exhibition. Presenting new scholarship and previously unpublished works from The Jay DeFeo Foundation, the catalogue features an essay by Lauren Schell Dickens, curator.
The catalogue is available for purchase at the Museum Store.
ARTIST BIOGRAPHY
Jay DeFeo (1929-1989) was born in Hanover, New Hampshire and grew up in the San Francisco Bay Area, where she lived in San Francisco and San José. She received her BA in 1950 and MA in 1951 from the University of California, Berkeley. DeFeo was a pivotal figure in the historic Beat community of artists, poets, and jazz musicians in San Francisco. She worked with unorthodox materials to explore the broadest definitions of sculpture, drawing, collage, and painting. DeFeo's first major solo exhibition was held at the Dilexi Gallery, San Francisco in 1959 and she was included in Dorothy Miller's historic exhibition Sixteen Americans at the Museum of Modern Art, New York the same year. She completed her seminal work The Rose in 1966. Throughout her career, DeFeo taught at San Francisco Arts Institute; California College of the Arts, Oakland; and Mills College, Oakland, where she was tenured faculty from 1981–1989. Her work has been featured in numerous museum exhibitions, including a major retrospective organized by the Whitney Museum of American Art, New York in 2012.
PRESS
There Was So Much More to Jay DeFeo Than 'The Rose,' KQED Arts
March 9, 2019
DeFeo Show Offers New Perspective on Artist's Work, SF/ARTS
March 13, 2019
El vocabulario visual de Jay DeFeo, masdearte.org
March 20, 2019
New side of Bay Area artist Jay DeFeo emerges in San Jose exhibit, Mercury News
March 25, 2019
Jay DeFeo @ San Jose Museum of Art, SquareCylinder
April 9, 2019
Jay DeFeo at San Jose Museum of Art, Metroactive (Metro Silicon Valley)
May 29, 2019
An early start to celebrating the US centennial of women's suffrage, The Art Newspaper
August 20, 2019
2019 in Bay Area art museums, Bay Area Reporter
December 23, 2019
SPONSORS
Sponsored by the Myra Reinhard Family Foundation, The Jay DeFeo Foundation, and Tad Freese and Brook Hartzell. Additional support provided by Sotheby's and M. Bernadette Castor and David Packard. Supported, in part, by a Cultural Affairs grant from the City of San José.
The catalogue is supported by The Jay DeFeo Foundation and M. Bernadette Castor and David Packard.