A Point Stretched: Views on Time presents artworks that stretch, warp, and compact the viewer's sense of time. By highlighting works that endeavor to conceive of time in unusual, mutable, and unfixed ways, the exhibition challenges the histories we tell and the expectations we hold for the future. From Chitra Ganesh's work blending truth and fantasy to depict the full range of a woman's life to Maia Cruz Palileo's kaleidoscopic representation of Filipino history and Ala Ebtekar's epic print-based work inspired by the moon, artists in the exhibition propose timelines without hierarchies of past, present, and future.  
Memories, dreams, and reality blend in these galleries, as mold creeps across TV screens, apple orchards grow among discarded solar panels, and melting wax measures time. Generational, ecological, and cosmic time vibrate concurrently as long-ago ecologies and distant possible futures intertwine. Embracing scales of time from the microbiological to the interstellar, these artworks position our human existence within broader timescales to challenge our assumptions about human history, agency, and possibility in relation to the world—and universe—around us. Drawing from the Museum's permanent collection and beyond, the exhibition also includes works by Diana Al-Hadid, Harold Edgerton, David Huffman, Kahlil Robert Irving, Ranu Mukherjee, Patrick Nagatani, Sam Richardson, and Gail Wight, among others.
Ala Ebtekar's Thirty-six Views of the Moon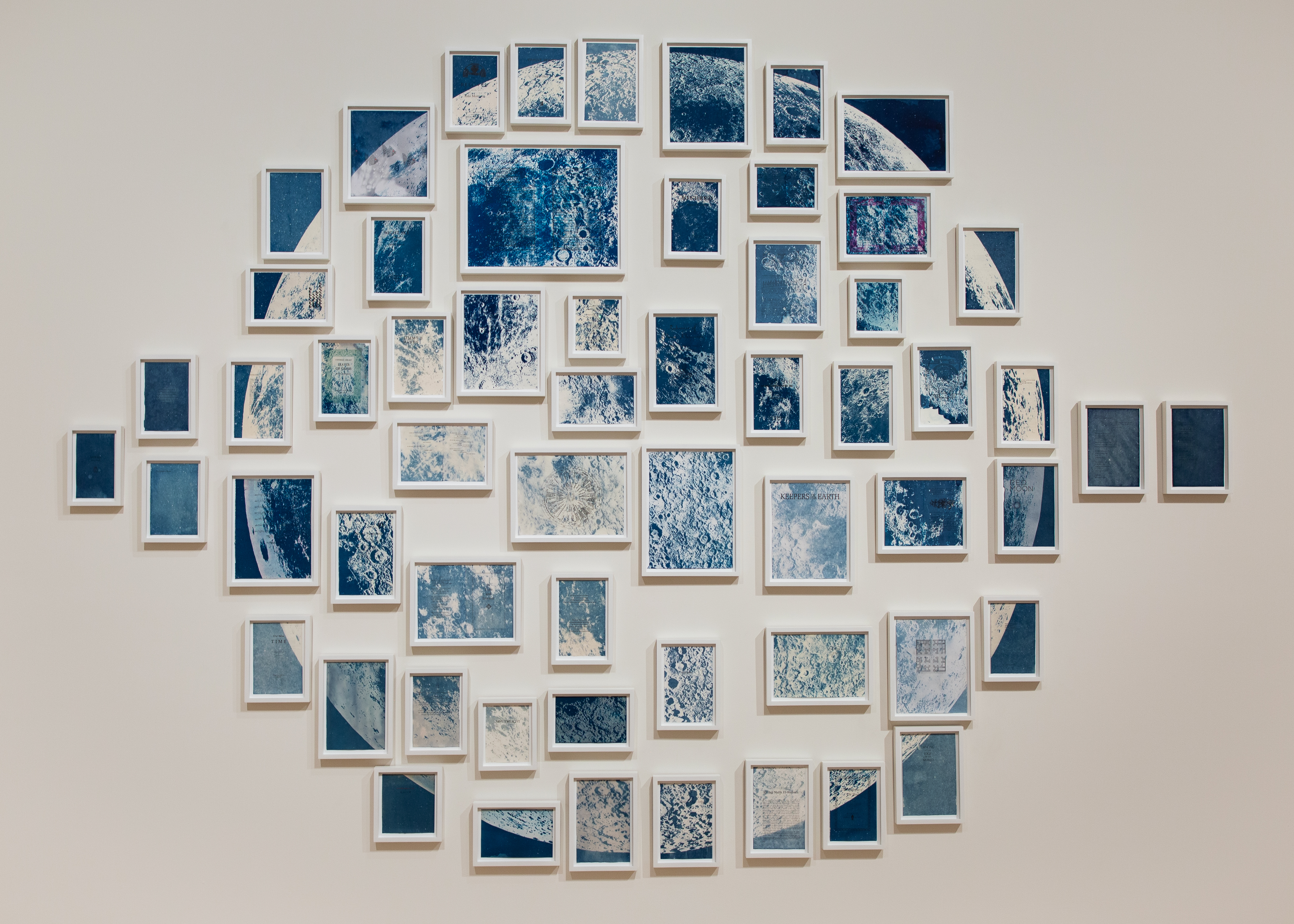 Ala Ebtekar's accumulative work Thirty-six Views of the Moon (2022) reflects the wide span of our technological and poetic observations of the moon, made using 59 book pages from the artist's personal library that span ten centuries of thinkers and poets reflecting on the night sky. Explore the bibliography associated with the work below.
Support
A Point Stretched: Views on Time is supported by the SJMA Exhibitions Fund, with generous contributions from the Richard A. Karp Charitable Foundation and the Lipman Family Foundation.
Operations and programs at the San José Museum of Art are made possible by generous support from SJMA's Board of Trustees, a Cultural Affairs Grant from the City of San José, the Lipman Family Foundation, the Adobe Foundation, the Richard A. Karp Charitable Foundation, Sally Lucas, Yvonne and Mike Nevens, the David and Lucile Packard Foundation, the Yellow Chair Foundation, the John S. and James L. Knight Foundation, Brook Hartzell and Tad Freese, the SJMA Director's Council and Council of 100, the San José Museum of Art Endowment Fund established by the John S. and James L. Knight Foundation at the Silicon Valley Community Foundation, and the William Randolph Hearst Foundation.
Press
Museum Highlights | A Point Stretched: Views on Time and Sky Hopinka: Seeing and Seen, SF/ARTS
December 1, 2022