Image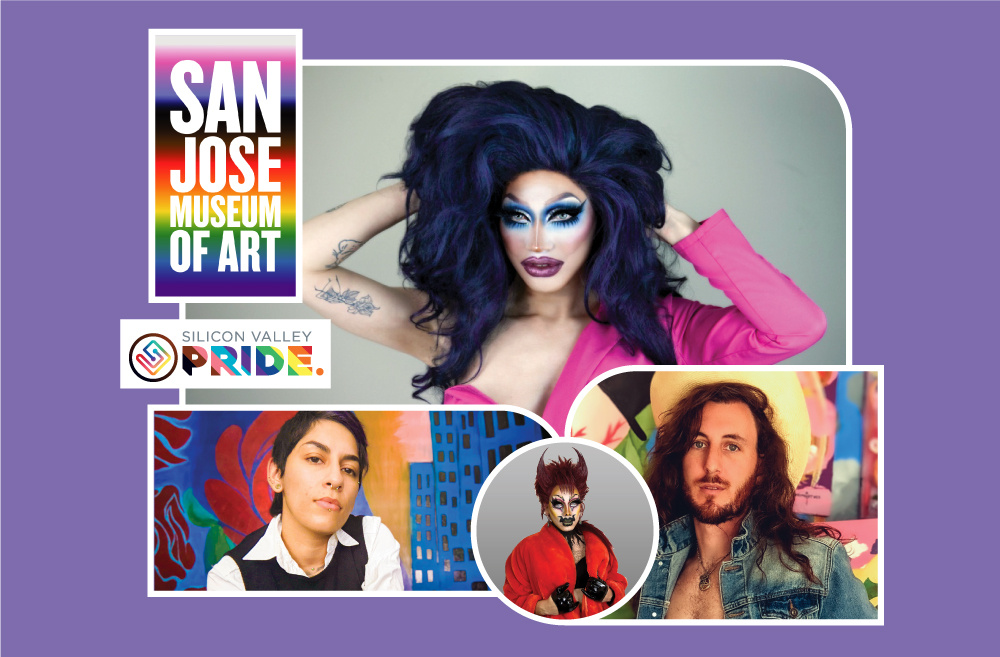 Celebrate Silicon Valley Pride with your nearest and dearest and geographically furthest, as we celebrate online! Co-hosted by Alpha Andromeda and Jackie Layshun, with guest artists Matty Heimgartner and Roxana Romero-Vega. Tune in for laughter, art, and a lively conversation. Co-presented by Silicon Valley Pride.
Watch Here
About the Hosts
Alpha Andromeda is a San José-based drag queen, who is instantly recognizable through her signature "fashion clown" looks! She has made a name for herself in the Bay Area Drag scene as wild nightlife hostess and ridiculous lipsync performer. Alpha co-hosts Silicon Valley Pride's monthly Drag Brunch, and frequently performs in San José and all across the Bay Area. Follow @alpha.andromeda on Instagram to keep up with this queen!
Jackie Layshun is a San José native and rising star in the Bay Area drag community. While she enjoys exhibiting her talent and creativity through her performances, what she cares about most is providing a fun experience and safe space for her audiences. Jackie is known for her campy and sometimes spooky aesthetic as well as her kind heart and empathy for others. She is always ready to lend an ear, a helping hand, drag advice, or advocate for the queer community. You can catch Jackie lipsyncing the house down and hosting shows at various clubs and events in the Bay Area, including San José's own Splash Nightclub, Renegades Bar, and SoFA Market.
About the Guest Artists
Matty Heimgartner is a Queer artist and writer living in California. While his visual art is at the intersection of expressionism, illustration, and psychedelic, his memoir writing is deeply personal and reflective. Aside from art shows all around the Bay Area, his art has been featured in the magazines: CreativPaper, Beyond Words, Content, and Artist Portfolio. His nonfiction work has or will appear in Reed Magazine, Thanks Hun, and Beyond Queer Words. Matty holds a BA in art and is currently earning an MFA in creative writing. Follow him @fabulousmatty or read more at MattyHeimgartner.com.
Roxana Romero-Vega: "As a first-generation Mexican American artist, born and raised in San José, CA; pursuing art has been a herculean effort in the way of paving the road for my nephew who has an affinity for art as well, that is my motivation. My first introduction to art was on my living room coffee table with my dad teaching me how to draw landscapes while watching Bob Ross together, my mom would bring me little drawings she would do at work of my favorite cartoon as a child: Winnie the Pooh. Once I started getting into the world of video games and anime, the magazine Game Informer and the manga Princess Ai and Full Metal Alchemist would be the source of my inspiration while I learned about style, composition, etc. as a self-taught artist. There is hardly anything that compares to the feeling of fulfillment from spending your hours perfecting a craft with a coffee or a tea; creating a unique piece of work that can hardly be recreated by another human being. My sketchbooks became my best friends, my aspiration is to do book illustrations and CD covers came to fruition, and to this day I'm keeping the dream alive regardless of how my life deviates. Never settle."