Image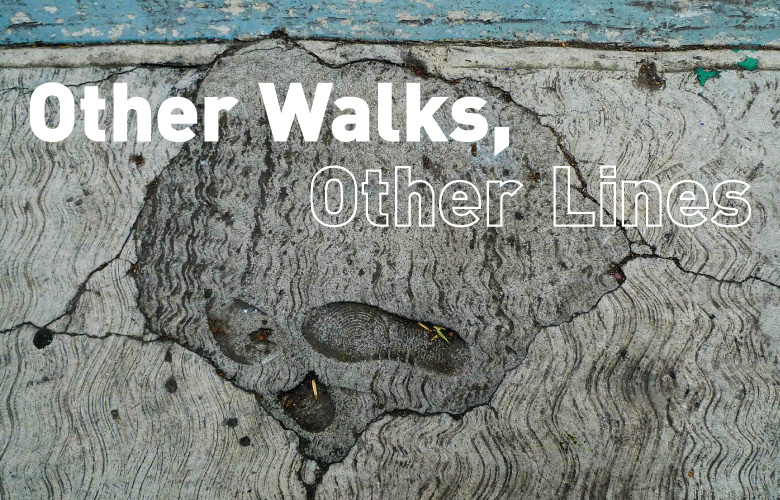 6–7:15pm
Admission is $5 after 5pm (free to members)
S. Sayre Batton, Oshman Executive Director, invites you to the opening celebration of Other Walks, Other Lines, an original exhibition organized by the San José Museum of Art.
6–7:15pmExhibition reception
Please join us for a festive evening with drinks and hors d'oeuvres.
7pmRemarks
Galleries remain open until 10pm.
Order Tickets

(Includes admission to ArtRage: New Terrains starting at 7–10pm)
Other Walks, Other Lines focuses on artwork made during the last thirty years by artists around the world who use walking as a mode of making the world, as well as being in it. This wandering exhibition considers topics as disparate as procession, immigration, protest, and accessibility.
Artists included are Yuji Agematsu, Francis Alÿs, Ginny Bishton, Jennifer Allora and Guillermo Calzadilla, Brendan Fernandes, Ana Teresa Fernández, Regina José Galindo, Hiwa K, Brad Kahlhamer, Glenn Kaino, Suki Seokyeong Kang, Kimsooja, Pope.L, Omar Mismar, Paulo Nazareth, Gabriel Orozco, Wilfredo Prieto, Lordy Rodriguez, Michal Rovner, Lara Schnitger, Clarissa Tossin, and Charwei Tsa. 
Sponsored by Applied Materials Foundation and Melanie and Peter Cross. In-kind support for equipment is provided by BrightSign. Supported, in part, by a Cultural Affairs grant from the City of San José.
Image: Gabriel Orozco, Right couple, 2010; Chromogenic print; 16 × 20 inches; Courtesy of the artist and Marian Goodman Gallery. © Gabriel Orozco.