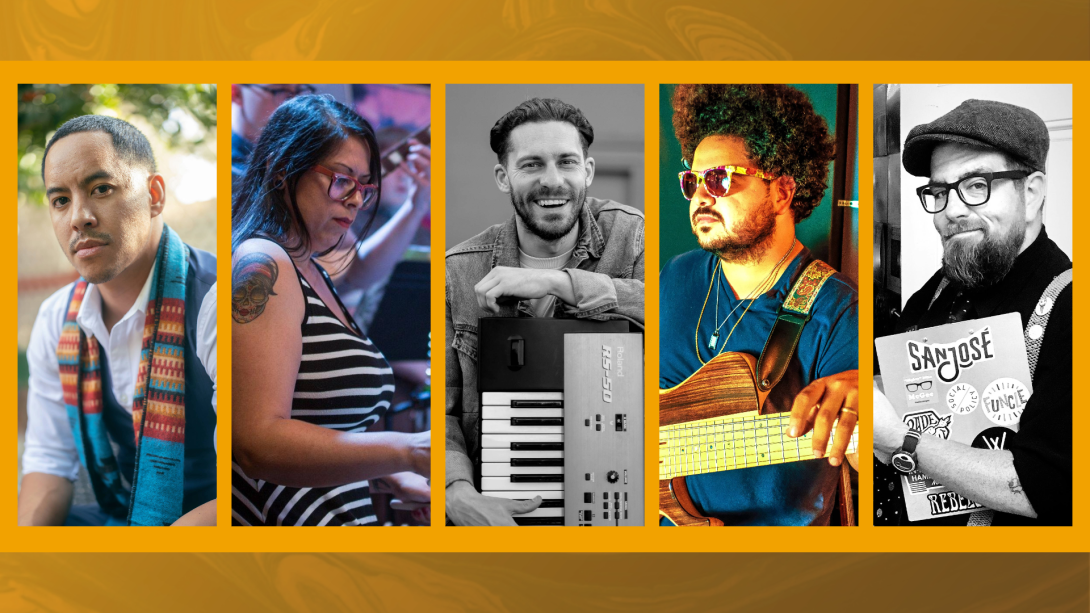 6–9pm • Performance starts at 7pm
For First Friday: Hip Hop(e), Jazz, & Storytelling, Francis Experience Quartet and SJ Storyboard will offer a unique, three-part residency, broken into distinct hues and themes to use various artistic mediums and storytelling as a vehicle to engage and bring together disparate audiences with one shared experience.
The Francis Experience Quartet includes Jonathan Borca and co-founder Gabby Horlick (drums), and standout musicians Bennett Roth (keys and vocals), and Miguel "Frunkyman" Leyva (bass).
Featured poet: Mighty Mike McGee
In addition to the performance and open galleries, this First Friday also offers family-friendly, hands-on artmaking fun with Let's Look at Art, SJMA's award-winning team of educators and artists.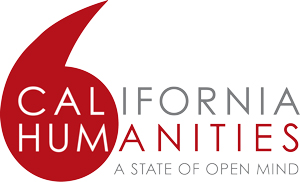 This project is made possible with support from California Humanities, a non-profit partner of the National Endowment for the Humanities. Visit calhum.org. 
Art lovers at First Fridays enjoy a lounge-like atmosphere with music, drinks, + open galleries from 6 to 9pm.
Francis experience quartet
Jonathan Borca (emcee, poet) is an advocate, storyteller, and performing artist who by day, is the Deputy Director for the School of Arts and Culture at the Mexican Heritage Plaza and is an Arts Commissioner for the City of San José. By passion, he is an emcee and poet who performs with a variety of jazz ensembles ranging from a quartet to a big band. Borca, who is Mexican-Filipino, was raised in Eastside San José. His work experience includes over a decade of developing and scaling programs for nonprofits and public entities. He also directed all efforts for the "California Arts Council Administrators of Color Fellowship" (CAC ACF); a statewide initiative aiming to uplift an inclusive workforce. Most recently, Borca has produced a music and art series, Colour Me GOLD, which celebrates BIPOC creatives, small businesses, and producers through creative community building.  
Gabby Horlick (drummer) of East San José is a professional drummer who has been playing professionally in the South Bay for over a decade. As a classically trained musician, she was often the only female drummer, paid musician, or instrumentalist in music circles. This disparity would become an important aside when pursuing her dream of starting a nontraditional jazz orchestra. As founder of 7th Street Big Band, this intention couldn't be truer in the gender-balanced, mostly millennial, Bay Area group of musicians with a sound that draws as much influence from pop, funk, and hip-hop, as it does jazz. Gabby is also the co-founder of Francis Experience. 7th Street Big Band's debut album, "Off Cinderella Lane" (2018), and their sophomore album, "Post Hang!" are available on all streaming platforms.  
Bennett Roth (keys) is a pianist/keyboardist, composer/arranger, emcee, producer, and multi-genre music educator based in the San Francisco Bay Area. Bennett began piano lessons when he was 7 years old and by age 10 became fascinated with the music of jazz. After playing mostly classical music during his first few years of studying piano, Bennett set off on a path of learning jazz standards and immersed himself in the music of the jazz giants—especially of legendary jazz pianists Dave Brubeck, Thelonious Monk, and Bill Evans—while practicing determinedly to develop his sound on the piano as an improviser. Jazz gave way to hip-hop as soon as he became a teenager, and Bennett soon found himself writing rhymes and crafting beats. His lyrical pursuits, piano chops, and production ambitions have made him a frequent contributor to numerous hip-hop, jazz, R&B, and soul albums as an emcee, pianist, composer, writer, and arranger. His discography includes his most recent single, "No Hay Corona," (2023) his solo debut album, "Grown" (2022); the duo album "After You"(2015) alongside guitarist Mason Razavi; "The Bad Ones" self-titled debut (2016), with 6 credited compositions; and "Put It Out" (2019), a 4-song hip-hop and jazz-influenced EP.  
Miguel "Frunkyman" Leyva (bass) is a Bay Area-based bassist and composer who recently graduated from SJSU's Jazz Studies Masters program. He spends his time working as a session musician, arranger, and composer for different media outlets. Mostly, cinematic projects in Los Angeles, where he obtained an undergraduate degree in media composition at CSUN. His passion for jazz and funk has compelled him to create and hone the Frunkyman sound concept /experience for the past year. The cosmically eccentric sound adorned with elaborate funk convolutions and electronic elements has been a new sound in the Bay Area, with notable performances at Blues and Brews Festival, San Jose Museum Of Art, and San Jose Jazz Summer Fest. Projects he's been involved in include Genius: Picasso, FIFA 2018, Drifting Dragons, and the Video Game Awards 2018. Frunkyman released two singles, "Friendzone" and "Fank Musique," in 2023 available on all streaming platforms.
SJ STORYBOARD  
SJ Storyboard's mission is to transform Downtown San José into a global epicenter of artistic innovation and creativity. Through pioneering immersive public art, SJ Storyboard showcases large-scale illuminated, animated and projection-mapped murals and landmarks that pay homage to our city's heritage while pushing the limits of creative expression. 
By seamlessly blending art with urban spaces, SJ Storyboard strives to ignite the imagination of both residents and visitors alike, fostering an inclusive and vibrant community that celebrates the profound power of artistic storytelling. Together, they aspire to establish Downtown San José as an inspiring destination that not only connects people, but leave an indelible and transformative impact on all who encounter its extraordinary art scene. 
MIGHTY MIKE MCGEE 
Mighty Mike McGee is a well-traveled "stand-up poet" and storyteller from San José, California. In the world of poetry slam, he is the first to win both the 2003 National Poetry Slam Individual Grand Championship and the 2006 Individual World Poetry Slam Grand Championship. He has toured very extensively throughout United States, Canada and Europe. Since 2002, he's covered several hundred thousand miles performing his brand of poetry and humor. McGee has been featured on HBO's Def Poetry Jam, CBC Radio and Television, and NPR's Snap Judgment. He was one of the first Americans to perform spoken word at the University of Paris, la Sorbonne in 2005. He was appointed Poet Laureate of Santa Clara County (Silicon Valley) for 2018 & 2019. McGee's first collection of humor and poetry, In Search of Midnight, is available through Write Bloody Publishing. He can be found somewhere between Silicon Valley and Vancouver, B.C. as often as possible.