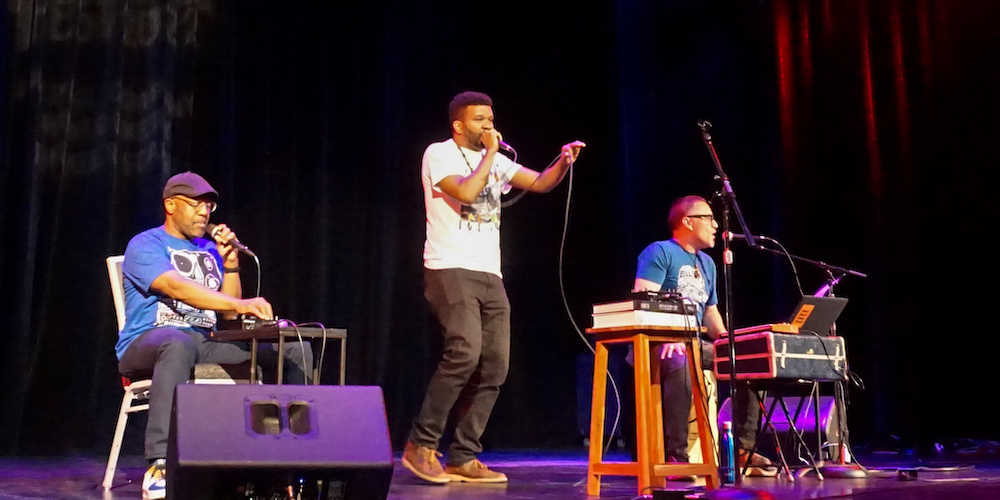 For Black History Month, Mosaic America presents Black/Pacific: The Geography of Freedom, a performance by RIGHTSTARTER at First Friday. Through ancient and contemporary beats, rhymes, and rhythms, RIGHTSTARTER presents a unique Black + Brown musical fusion that showcases the drum as a connective tissue between African and Pacific cultures from pre-colonization to the present.
Schedule of Events
7–8pm: Performance by RIGHTSTARTER in Wendel Education Center
8–8:30pm: Intermission
8:30–8:55pm: Solo performance by PC Muñoz in Skybridge Gallery
RIGHTSTARTER is a creative and dialectic initiative founded by acclaimed writer/musician PC Muñoz and award-winning rapper/electronic musician DEM ONE. In an age of rancorous rhetoric and division, RIGHTSTARTER presents a guttural artistic response to this global moment. They aim to illuminate submerged truths, transgress imposed boundaries, subvert expectations, and assert denied identities in hostile times.
FEATURING
Bryan Dyer, vocal percussionist: Bryan Dyer is a musician of many styles, from traditional classical, modern classical, pop, soul, rock, jazz, hip hop, reggae, rock, world, and broadway. He performs a capella with several groups throughout the Bay Area. Several of his groups practice a combination of education and entertainment, teaching children and adults about their self-worth and value; and the history of African American culture and its contributions to society through music.
DEM ONE, rapper/electronic musician: Demone Carter has played many roles within the Silicon Valley arts, education, and entertainment circles for over two decades, including being the co-host of the Dad Bod Rap Pod Podcast and a freelance writer for Content Magazine and Silicon Valley De-Bug. Performing under the name Dem One, he has toured internationally, released several albums, and collaborated with notable hip-hop artists like D-Styles, Motion Man, Chali Tuna, and Bambu.
PC Muñoz, percussionist/poet: PC Muñoz's singular music-making aesthetic bridges the gap between pop songcraft, musique concréte, jazz-informed improvisation, and the insistent rhythms of funk and hip-hop. His partnership with composer/cellist/longtime Kronos Quartet member Joan Jeanrenaud has yielded three highly acclaimed projects: the GRAMMY-nominated Strange Toys, the iTunes-charting Pop-Pop, and the art-inspired Visual Music.
Mosaic America
Mosaic is a nonprofit organization that strengthens communities, cultivates belonging, and catalyzes inclusion through inter-cultural and co-created art. Our team of artists uses inspiration from their cultures and art forms to collaborate on unique performances and expressions that highlight the common threads of our shared American story.