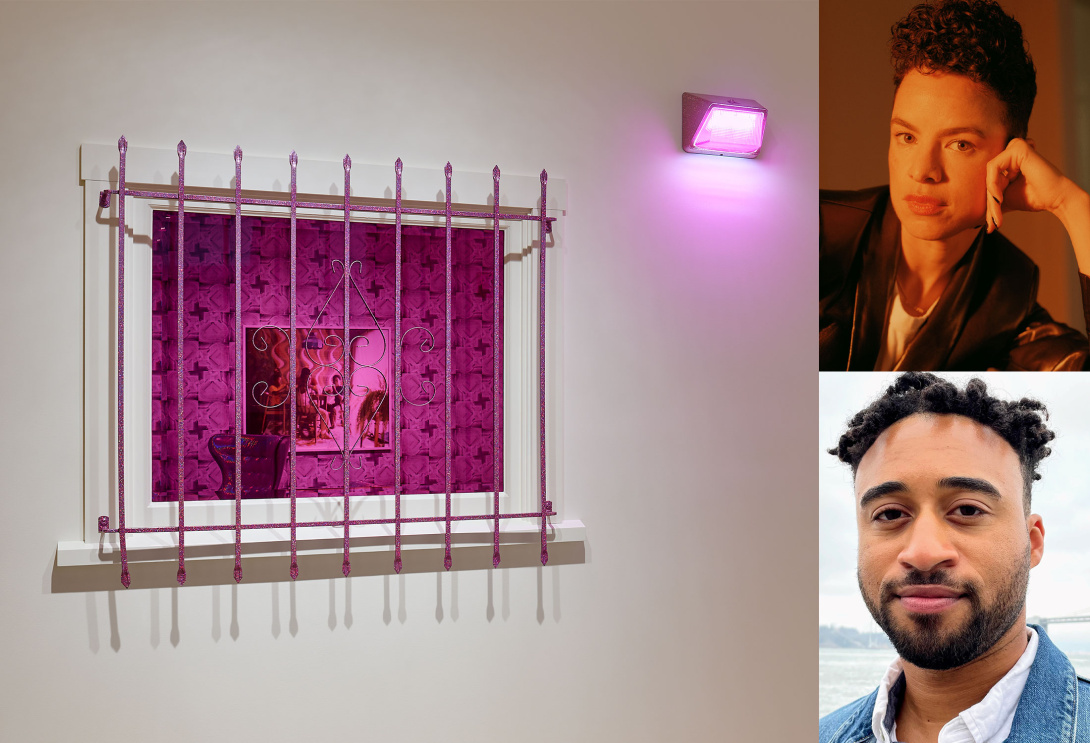 7PM
Free with Museum admission
Join us for a conversation between artist Sadie Barnette and scholar, organizer, and critic Luke Williams in connection with the exhibition Sadie Barnette: Family Business, part of the ongoing series Visualizing Abolition co-organized with the Institute of the Arts and Sciences at the University of California, Santa Cruz. 
Advance ticket purchase is strongly recommended. Capacity is limited. Registration available on April 28, 2023.
Creative Minds allows audiences a chance to experience creatives in action by hearing directly from artists about their process and practice.
About the speakers
Sadie Barnette is from Oakland, CA, where she currently lives and works. Barnette has a BFA from CalArts and an MFA from University of California, San Diego. She has been awarded grants and residencies by The Studio Museum in Harlem, Art Matters, Skowhegan School of Painting and Sculpture, the Headlands Center for the Arts, and the Carmago Foundation in France. She has enjoyed solo shows in the following public institutions: ICA Los Angeles; The Lab and the Museum of the African Diaspora, San Francisco; MCA San Diego; the Manetti Shrem Museum, UC Davis; the Benton Museum of Art at Pomona College; and The Kitchen in New York. Her work is in many permanent collections, including the San José Museum of Art, Los Angeles County Museum of Art, Brooklyn Museum, Pérez Art Museum, Guggenheim Museum, Oakland Museum of California, Studio Museum in Harlem, and the Walker Art Center, as well as a permanent, site-specific commission at the Los Angeles International Airport forthcoming in 2024.
Luke Williams is a scholar, artist, organizer, and critic of twentieth and twenty-first century Black performance and visual cultures. His work, which spans embodiment, portraiture, racial capitalism, Afrofuturism, and the aesthetics of the Black radical imagination, focuses on Black Diasporic art in the Americas and broader Atlantic world. Luke is a PhD candidate in Modern Thought & Literature at Stanford University.  His dissertation, In the Black: Figures of Racial Capitalism examines the practices of three emerging Black artists in the California Bay Area as they navigate racial capitalism in the art market. Currently a DARE fellow at Stanford, he also recently held fellowships for the Committee of Black Performing Arts at Stanford and the Jefferson Scholarship at the University of Virginia.
Visualizing Abolition
Visualizing Abolition is an ongoing initiative exploring art, prisons, and justice, collaboratively organized by the Institute of the Arts and Sciences at University of California, Santa Cruz and San José Museum of Art.
Letters from the Inside
As part of Visualizing Abolition's exhibition Barring Freedom, Tim Young—who is currently incarcerated at San Quentin State prison—wrote a letter, sharing his experience living in prison, which was mailed to museum membership. Many of you wrote notes in response.
Since 2020, the letter writing campaign has expanded to include April Harris, currently incarcerated at California Institution for Women in Chino, California, and a third participant who will join the campaign in late 2023. A letter-writing station onsite at SJMA extends invites visitors to participate by writing a letter or note of support. They can include their addresses if they are interested in receiving a response.
A letter-writing station onsite at SJMA extends an invitation to the visitor to write a letter to one of our incarcerated partners. Visitors can include their addresses if they are interested in receiving a response. This campaign is intended to provide a network of support and connection and to serve as an opportunity to actively listen to and learn from one of our incarcerated neighbors.