Gala Co-Chairs
Nadia Ahmad + Tammy Kiely 
Gala Host Committee
Leela de Souza Bransten + Peter Bransten
Melanie + Peter Cross
Glenda + Gary Dorchak
Anneke + David Dury
Toby + Barry Fernald
Mr. Cole Harrell + Dr. Tai-Heng Cheng
Brook Hartzell + Tad Freese
Diane Jonte-Pace
Lorri Kershner
Tammy + Tom Kiely
Wanda Kownacki
Elena Lebedeva + Alvin W. Smith
Beverly + Peter W. Lipman
Hung Liu Estate
Ann Marie Mix
Mary Mocas + Marv Tseu
Evelyn + Rick Neely
Yvonne + Mike Nevens
Gala Committee
Glenda Dorchak
Toby Fernald
Lys House
Robert S. Lindo  
Suzette Mahr
Yvonne Nevens
Cornelia Pendleton
Auctioneer
Robbie Gordy
Auction Partners 
10th Street Distillery
George Adams Gallery
Nadia Ahmad
Wanda Hansen Ashe
Big Dog Vineyards
Catharine Clark Gallery
Clos LaChance Winery
David Fallis-Picture Framing Services
District San Jose
Anneke and David Dury
Mr. Cole Harrell and Dr. Tai Heng-Cheng
Brook Hartzell and Tad Freese
Kasmin Gallery
Tammy + Tom Kiely
Hung Liu Estate
Marlborough Gallery
Mezcal Restaurant
Michael's New York
Michael's Santa Monica
Patricia Sweetow Gallery
Signia by Hilton San Jose
Jessica Silverman
Featured Artists 
Diana Al-Hadid
Sadie Barnette
Enrique Chagoya
Roy De Forest
Hung Liu
Matthew Pillsbury
Yulia Pinkusevich
Masami Teraoka
Lien Truong
Pae White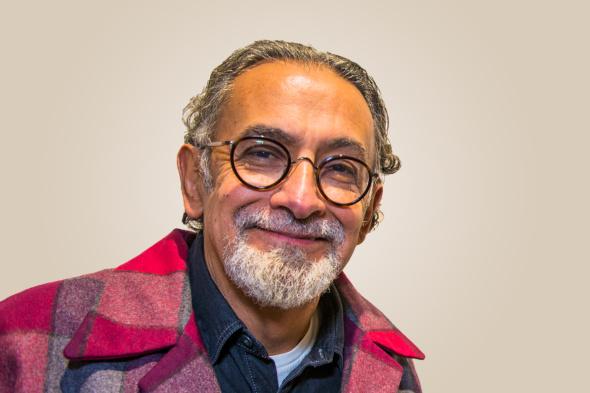 Artist Enrique Chagoya
Enrique Chagoya is an internationally acclaimed artist, born in Mexico City in 1953 and based in the Bay Area since 1979. Chagoya skillfully juxtaposes and combines images sourced from secular and religious iconographies and popular culture to address colonialism, inequality, and international conflicts with biting humor.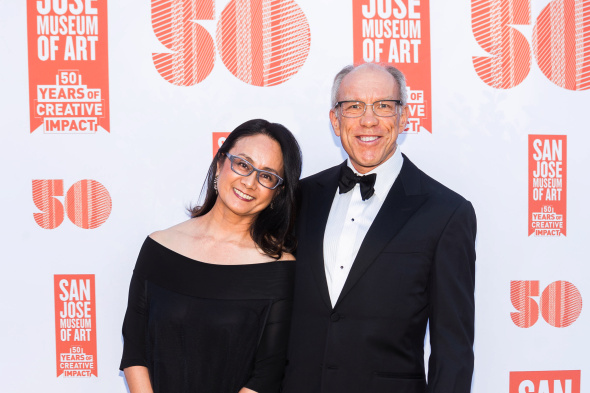 Patrons Evelyn + Rick neely
Evelyn and Rick Neely joined San José Museum of Art as members in 1994 after seeing American Art, 1900–1940, the initial exhibition in SJMA's landmark collaboration with the Whitney Museum of American Art. The show sparked their interest in contemporary art and soon after, Evelyn became involved as a docent and gallery teacher, remaining active for over 26 years and contributing thousands of volunteer hours.
Sponsorship Opportunities
All proceeds from the 2023 Gala + Auction will support the Museum's acclaimed exhibitions and arts education programs.
Sponsors
As of September 15, 2023.
Individuals
Teresa Alvarado + Jess Moreles
Daniela Barone + Matt Reiferson
Kristin Bertrand
Catharine Clark Gallery
Pamela + Marc Garibaldi
Pamela + David Hornik
Hosfelt Gallery
Cheryl + Bruce Kiddoo
Andrea Johnson-Lee + Bill Lee
Suzette Mahr
Geraldine Martinez-Magarelli +
   Marco Magarelli
Astrid + Arik Mazin
Marge + Ken Nissly
Rita + Kent Norton
Jessica Silverman Gallery
Alexandra + Murphy Stein
Greg Flood, Paul Thiebaud Gallery
Rachel Teagle
Danielle + Gary Wohl
Helen Yang
Additional Support
Yvonne + Mike Nevens
Brook Hartzell + Tad Freese
John + Susan Savva
Elizabeth Schweinsberg + Lucas Pereira
Peggy + Yogen Dalal
Jill Jarrett + Drew Williamson
Irwin + Concepción Federman
Sandra Sigurdson + Curtis Francis
Esam Elashmawi
Bob Strain
J. Michael Bewley, in honor of Enrique Chagoya
Mary + Phil Bobel
Margaret B. Castor + David Packard
Bruce + Gail Chizen
Dan Christman
Andrei + Paul Hartzell
Judy + Victor Lee
Eric Robinson + Jennifer Sime
Jo + Barry Ariko
Breathe Together Yoga, in honor of Evelyn and Rick Neely
Cassi Carpenter + Rich Rifredi
Sarah + Robert Erickson
Betty + James Kasson
Deb + Hank Norberg
Elizabeth Waller
Learn more
For more information, please contact Jennifer Sime at jsime@sjmusart.org