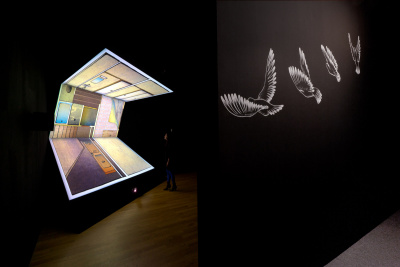 Saturday, February 6, 2016
–
Sunday, August 21, 2016
SJMA will present the first solo museum exhibition in the United States of the renowned Japanese artist Tabaimo. Tabaimo creates alluring, large-scale, surreal animations that unfold from everyday objects and experiences such as train rides or dollhouses. The resulting installations immerse the viewers in an ever-changing environment. She creates her animations from thousands of drawings made with a traditional Japanese calligraphy brushes, and her imagery recalls Edo-period ukiyo-e prints and makes oblique reference to manga, anime, and Japanese pop culture. 
Friday, February 26, 2016
–
Sunday, July 31, 2016
SJMA will premiere this cross-disciplinary exploration of the U.S.-Mexico border developed collaboratively by photographer Richard Misrach and composer Guillermo Galindo. The exhibition features monumental landscapes by Misrach and hand-crafted musical instruments created by Galindo from found objects recovered at the border—a shoe, a water bottle, a backpack. Border Cantos offers audiences new avenues for approaching heated political issues around immigration, border security, and immigration reform: it transcends specificity and gives a poignant, humanitarian perspective on the plight of all immigrants.