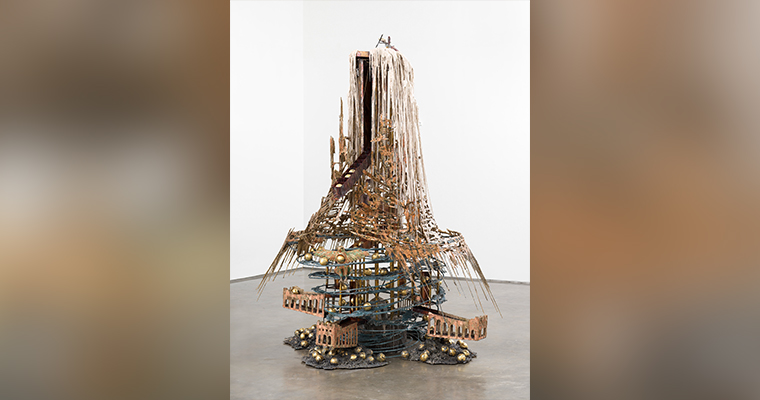 Diana Al-Hadid
Diana Al Hadid
The Candle Clock in the Citadel, 2017
Modified polymer gypsum, fiberglass, brass, copper, steel, concrete, polyurethane foam, metal leaf, pigment
117 x 90 x 73 inches
San José Museum of Art
Gift of The Lipman Family Foundation
The Museum recently acquired two large-scale works by Diana Al-Hadid. The Candle Clock in the Citadel (2017) is a sculpture based on the thirteenth-century inventor Al-Jazari's drawings for a mechanical candle clock. South East North West (2017) comprises two cartographic wall-panels made from the artist's signature polymer gypsum. Both are gifts of the Lipman Family Foundation. Al-Hadid's work was the subject of SJMA's acclaimed 2017 exhibition, Diana Al-Hadid: Liquid City, a version of which is now at the Bronx Museum of Art, New York.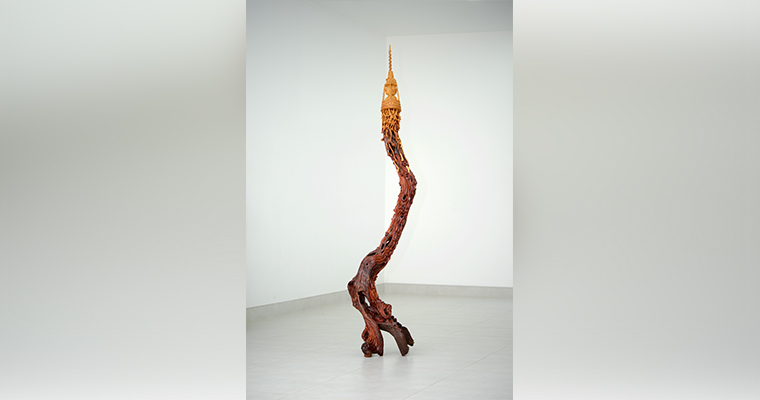 The Propeller Group
The Propeller Group
Antique Earth Satellite, 2016
Tracwood and jackfruit wood
207 x 50 x 40 inches
San José Museum of Art
Museum purchase with funds contributed by the Acquisitions Committee
Following the recent major survey exhibition The Propeller Group, SJMA purchased (with funds from the Acquisitions Committee) Antique Earth Satellite (2016) by the artist collective. Carved from jackfruit wood and found tracwood (a type of Vietnamese redwood that is protected in most of the country) this intricate sculpture, which was on view in the recent survey of the art collective's work, combines traditional Vietnamese carving techniques with sci-fi subjects. This so-called "antique satellite" projects an imagined future into an object from the past.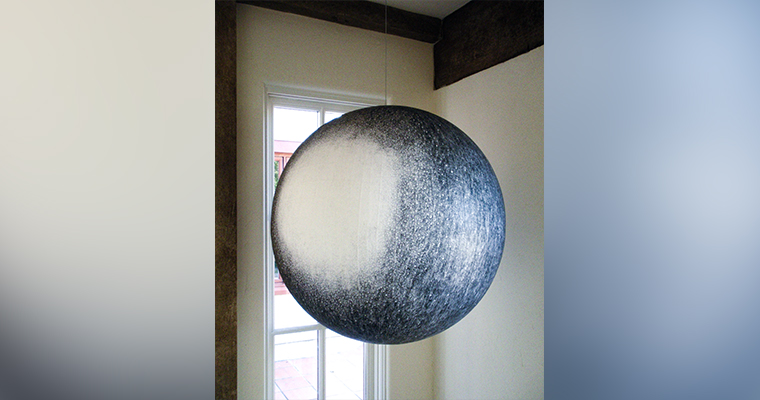 Gifts from Wanda Kownacki
Russell Crotty
M28 Globular Cluster in Sagittarius, 2000
Ink on paper mounted on lucite
24 x 24 x 24 inches
San José Museum of Art
Gift of Wanda Kownacki
Thanks to a generous gift from Wanda Kownacki, SJMA is now home to works by Andrea Bowers, Russell Crotty, Morris Graves, Mona Hatoum, Lara Schnitger, and Terry Winters, contemporary artists previously unrepresented in the Museum's collection. Among the highlights of the gift is Drowning Sorrows (2001‒2002) by Mona Hatoum. The work comprises clear broken bottles arranged in a circular formation on the floor, so as to appear to sink beneath its surface. Hatoum is a Palestinian exile who uses common domestic objects to explore themes of home and displacement. Kownacki's gift also includes the 2006‒2007 video work Vows (Goldman, Emma, "Marriage and Love." New York: Mother Earth Publishing Association, 1910) by Andrea Bowers; the circular drawing M28 Globular Cluster in Sagittarius (2000) by Russell Crotty; two 1964 drawings by Morris Graves; the sculpture Don't Let the Boys Win (2003) by Lara Schnitger; and Untitled (1999), an acrylic, oil, and ink on paper work by Terry Winters.