↖ Museum from Home
Social Media
Content Stream | Curators' Dashboard | Downloads | Exhibitions | Public Programs | Teacher and Family Resources | Video
Exhibitions | New and On View Now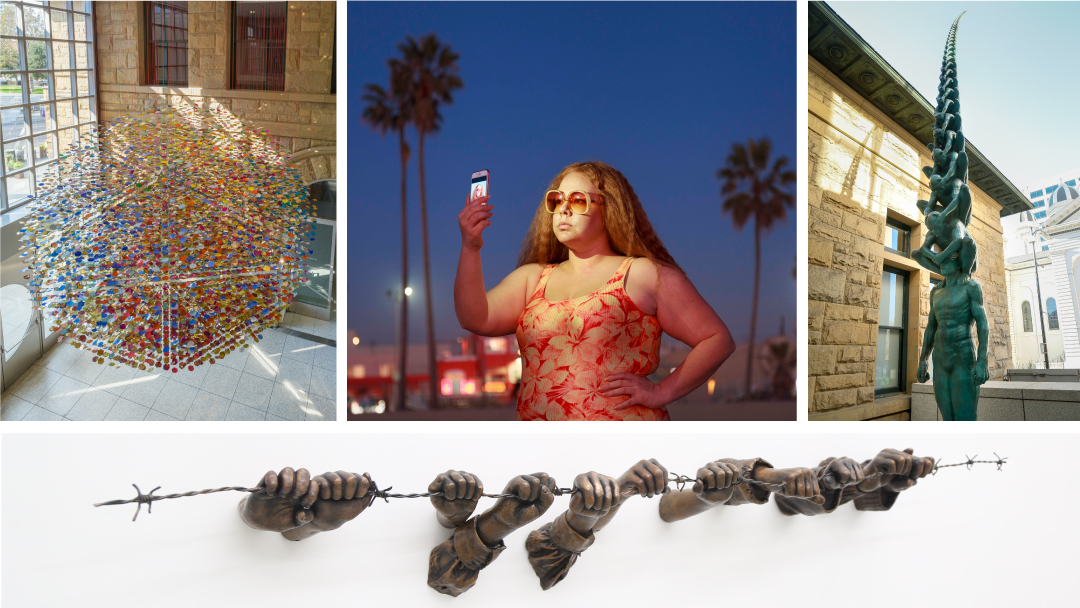 When you enter the Museum, Pae White's Noisy Blushes will greet you. Upstairs you will be swept around by contemporary and cutting-edge works of art in South East North West: New Works from the Collection. On the ground level, Barring Freedom brings together contemporary artists to confront the historical and structural racism embedded in the US criminal justice and mass incarceration systems.
↑ top
Visit SJMA beginning Oct 30! | New Hours + Safety Measures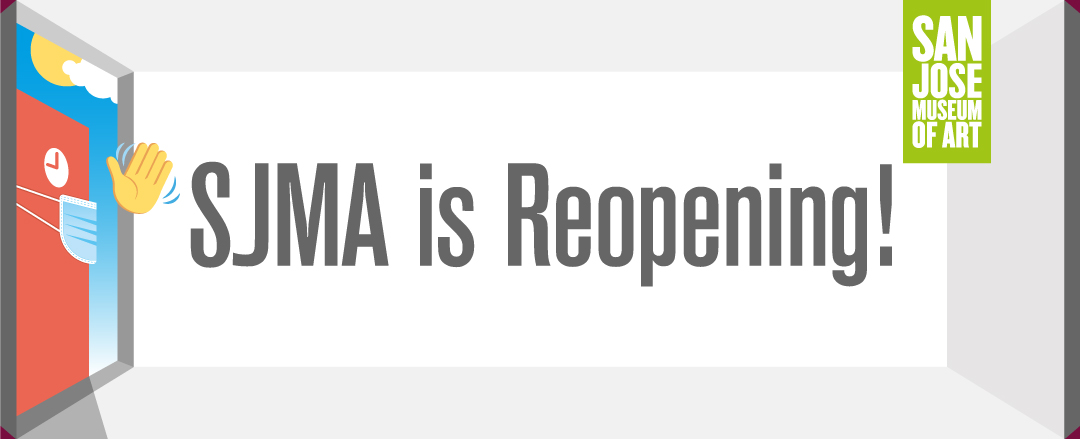 New hours are Fri–Sun, 11am–5pm*
The health of our visitors, staff, volunteers, and community members is our highest priority. Visit sjmusart.org for updates on how we are creating and maintaining a healthy and safe space to see art.
* SJMA has implemented a dedicated hour of each day for our most vulnerable guests to enjoy the Museum. We invite seniors, those who are pregnant, and those with underlying health concerns to visit from 11am–12pm.
↑ top
Announcing the launch of a brand-new section of #MuseumFromHome on our website! Welcome to Curators' Dashboard! A new space where the SJMA curators can reflect on current events, past exhibitions, or upcoming shows and/or artists they are researching, and so much more! Some entries will be polished and edited while others will be candid and spontaneous in response to our dynamically changing world.
Essay | When will the bells ring?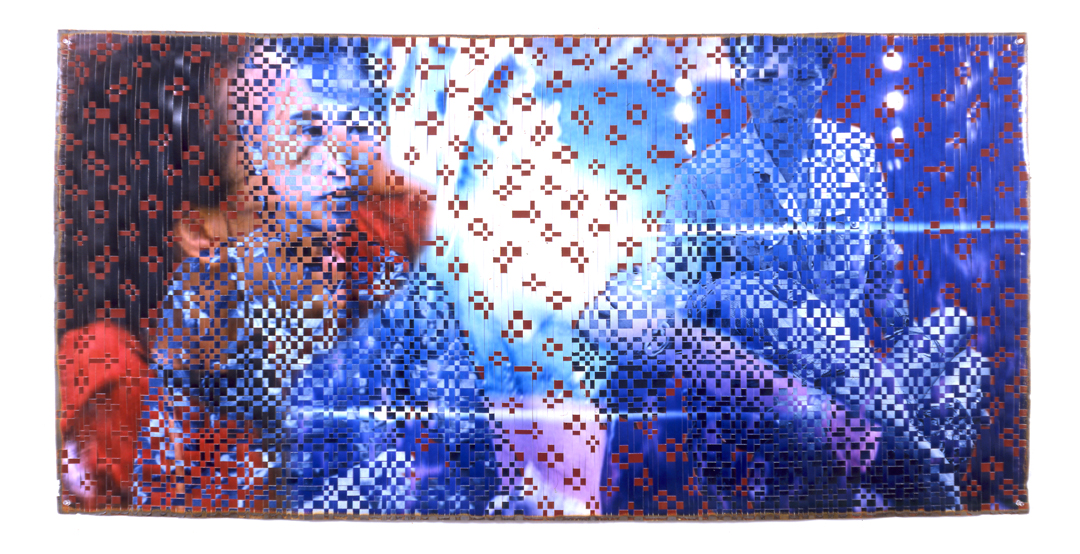 When will we give them their flowers? SJMA curator Rory Padeken reflects on the world-wide pandemic and protests against police brutality to address how, when, and who we mourn. He asks how can we mourn together when we are being torn apart by systemic racism and violence.

Click HERE to read the whole piece.
↑ top
Artist Spotlight | Jennifer Steinkamp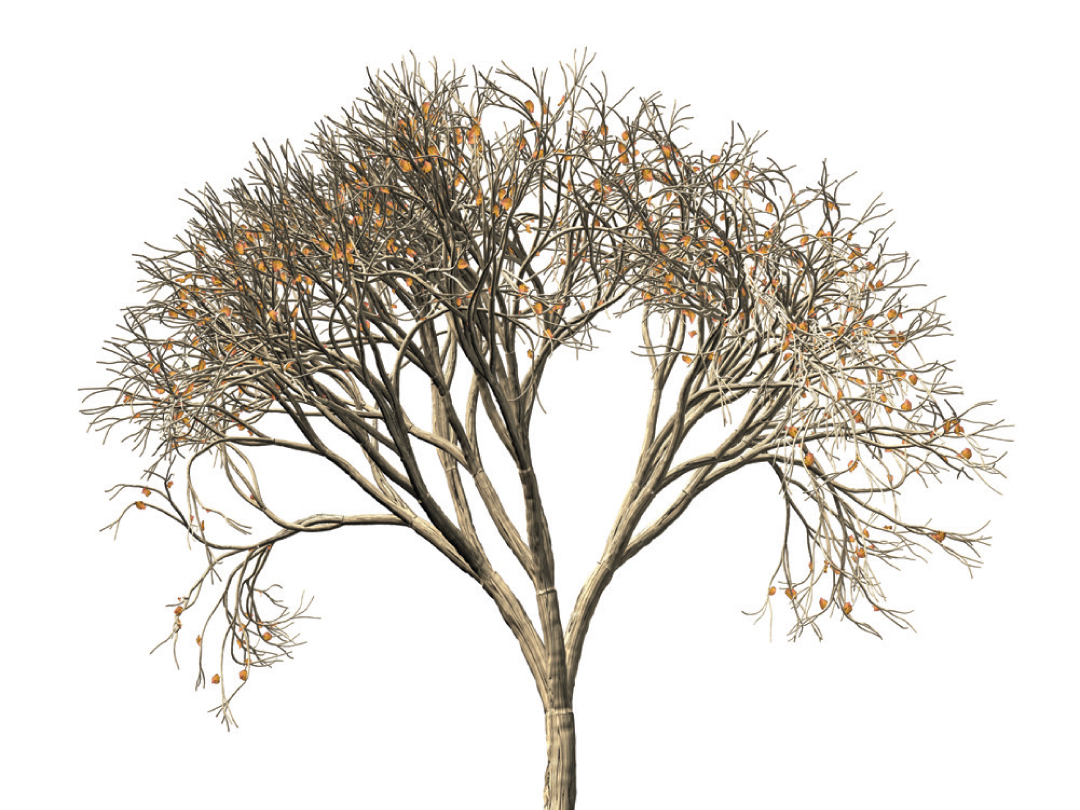 Jennifer Steinkamp 's Fly to Mars (no. 1) features a tree that undulates to a fictious breeze. Her hyperreal digital animation tree cycles through the seasons without beginning or end. Rather than immerse the viewer in a narrative world, the tree's abstract movement mimics our own bodily experience of living, breathing, and dying. It awakens sensations of our physical being in relation to the projected image.  Watch the video HERE.
↑ top
Artist Spotlight | Alan Rath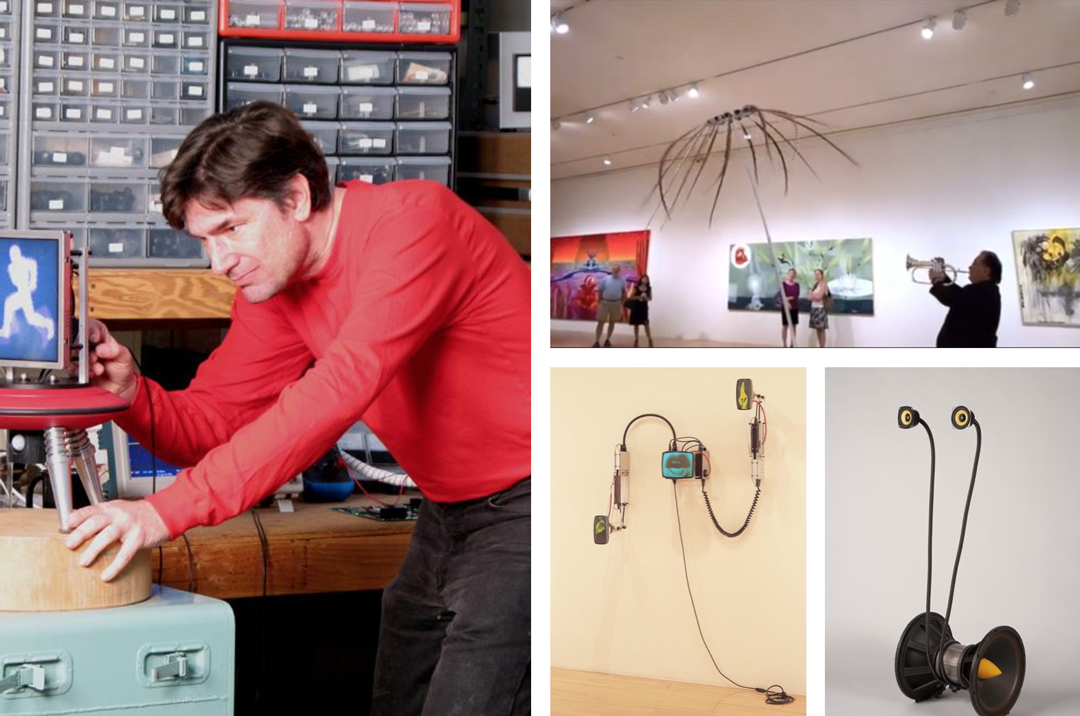 Bay Area artist Alan Rath creates art that evokes laughter and delight. His interactive art invites the audience to view his works as living, breathing creatures. His robots move with the viewer and suggest a life beyond human. Watch this video of jazz musician John Worley playing the trumpet and fluegelhorn with Rath's kinetic sculpture dances. READ more in SJMA's digital publication, 50X50: Stories of visionary Artists from the Collection at 50X50.sjmusart.org
↑ top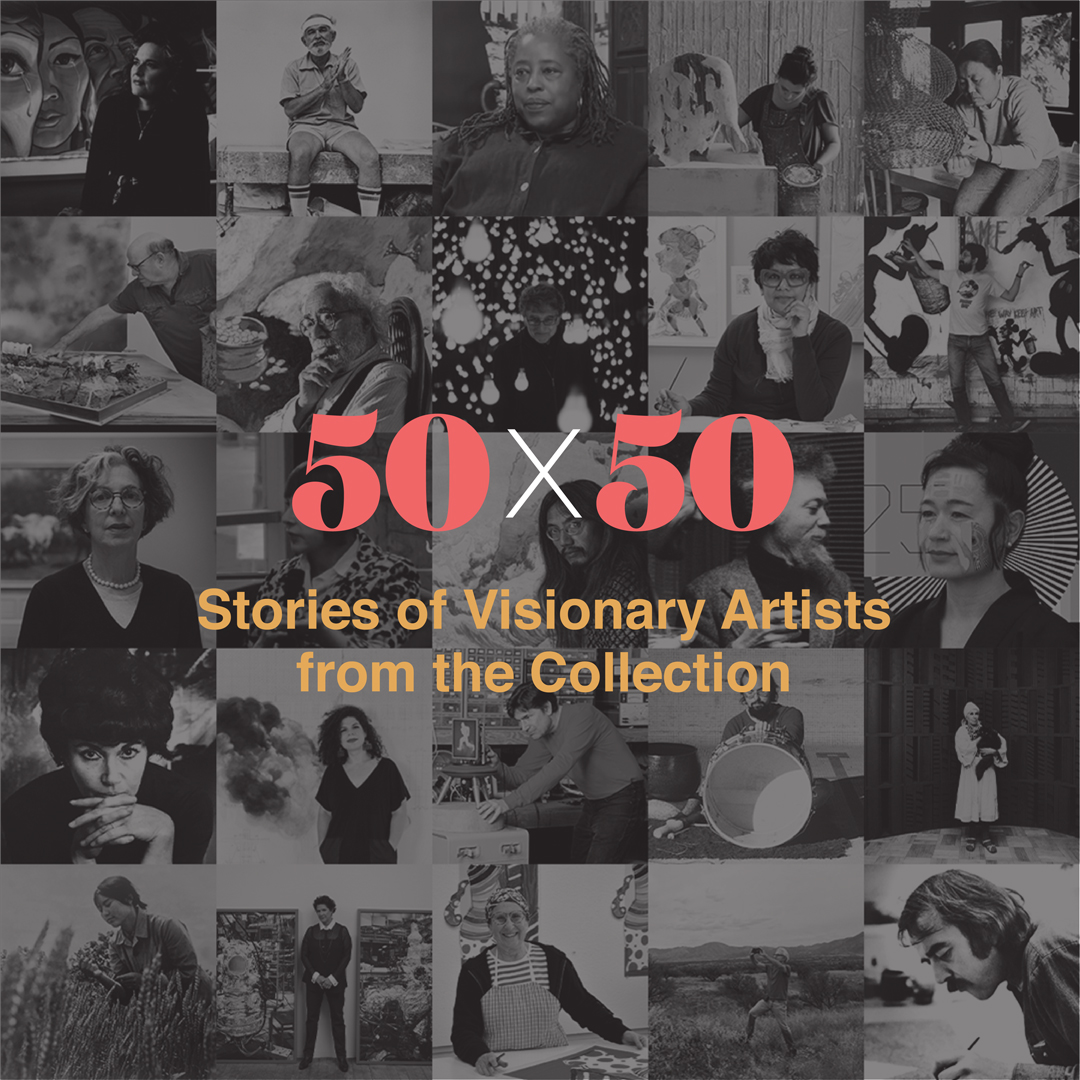 Published on the occasion of SJMA's 50th anniversary, 50X50: Stories of Visionary Artists from the Permanent Collection focuses on 50 artists, providing new scholarship for free while making it accessible to all. The publication launched spotlighting 15 artists: Ruth Asawa, Firelei Báez, Barbara Bloom, Mary Corse, Jay DeFeo, Doug Hall, Tim Hawkinson, Lee Mullican, Tony Oursler, Alan Rath, Jennifer Steinkamp, Hito Steyerl, Diana Thater, Leo Villareal, and William T. Wiley. Learn about the artists, their processes, and their work through research, interviews, and more!

Read SJMA's digital publication now at 50x50.sjmusart.org!
↑ top
VIDEO | 50X50 Video Demonstration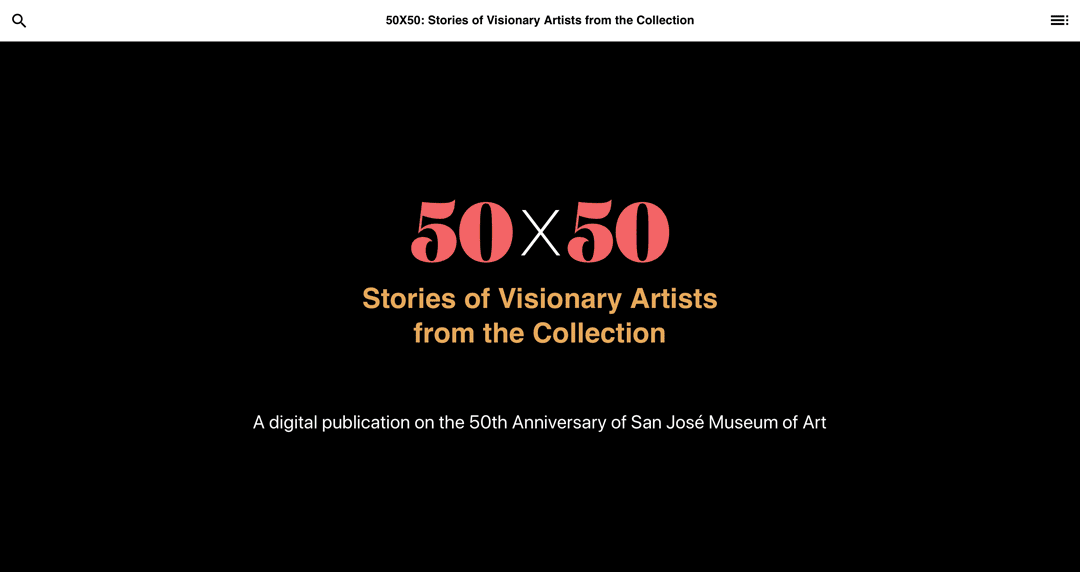 50X50 is interactive, user-friendly, and created for optimal user experience. See how fluid the publication is HERE.
↑ top
SPOTLIGHT | Ruth Asawa
Ruth Asawa (1926–2013) created airy, hourglass-shaped sculptures that appear to float in space, though they are suspended from the ceiling. Created during the 1950s and 60s, these lobe sculptures are made of crocheted wire. They evoke traditional craft-like weaving and basketmaking, but their nonutilitarian forms demonstrate an interest in abstraction; their play with positive and negative space suggests both volume and weightlessness; and their attention to line, particularly evident in the shadows they cast, approaches drawing. Learn more about Asawa HERE.
↑ top
SPOTLIGHT | Diana Thater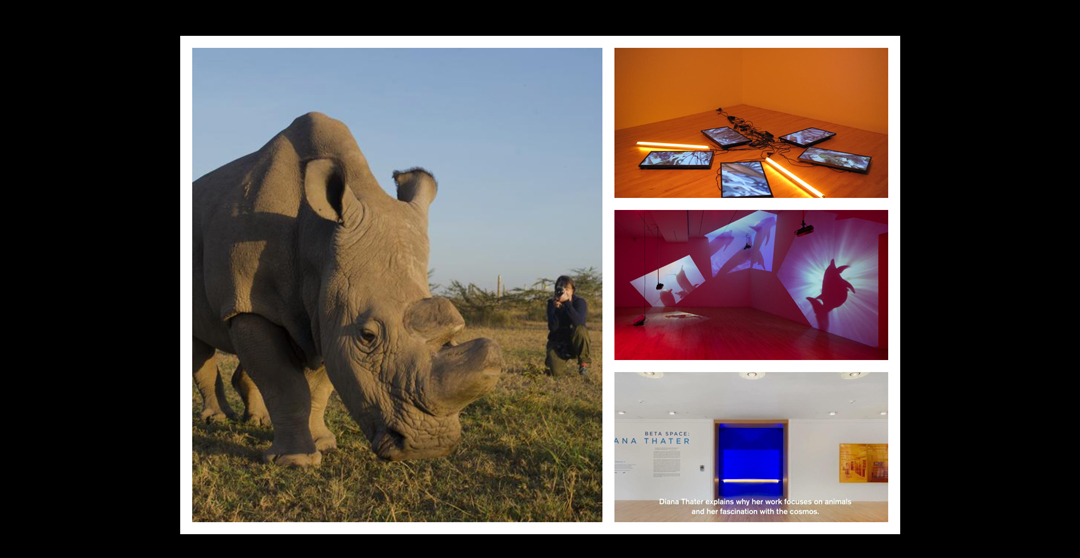 Diana Thater, a pioneer of video installation art uses digital media to create works that offer a perspective from nature, such as the monarch butterflies or dolphins. Watch this video to see what attracts Thater to focusing on animals and the space that we share with them. Learn more about Thater HERE.
↑ top
SPOTLIGHT | Leo Villareal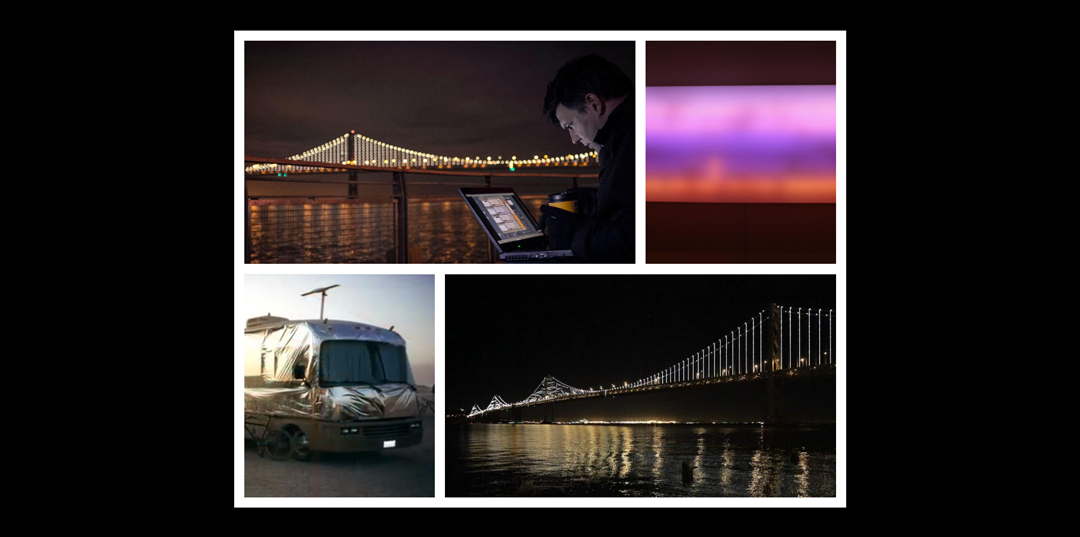 From getting lost at Burning Man to finding his way to the top of the Bay Bridge, artist Leo Villareal creates light sculptures beginning with a simple set of programming rules, like on and off, to build complex sequences of moving light—pulsating patterns, rippling waves, and starry clusters of glowing LEDs. Learn more about Villareal HERE.
↑ top
SPOTLIGHT | Firelei Báez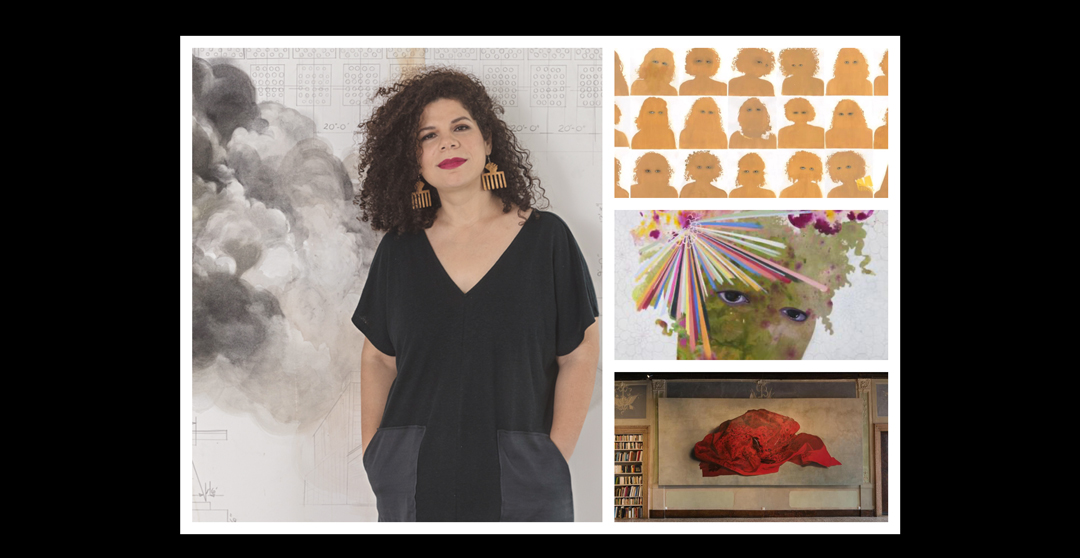 Firelei Báez centers her practice around identity. There is a futuristic, otherworldly quality to much of Báez's work, even when referencing the residue of colonial history and power. Keen on self-exploration, Báez creates self-portraits to underline the inherent racism and bias she and others experience based on the color of their skin. This image is a self-portrait that references the artist's earlier "Can I Pass?" (2011–13) series, only instead of depicting herself in muted skin tones, she's rendered in neon pinks and greens, decorated with a bursting prism of light. The artist's use of fantastical color activates a space "beyond the walls" of persistent structures of oppression. Learn more about Báez HERE.
↑ top
50X50 Acknowledgments
This publication is made possible in part by the Institute of Museum and Library Services (IMLS grant #MA-10-16-0002-16).

Sponsored by the John S. and James L. Knight Foundation, the Lipman Family Foundation, the Richard A. Karp Charitable Foundation, Cheryl and Bruce Kiddoo, Yvonne and Mike Nevens, Peggy and Yogen Dalal, Evelyn and Rick Neely, Rita and Kent Norton, Elizabeth and Byron Ryono, Marge and Ken Nissly, Elaine Cardinale, George Crow in honor of Susan Crow, Toby and Barry Fernald, Tad Freese and Brook Hartzell, Elena Lebedeva and Alvin Smith, Marsha and Jon Witkin, and the SJMA Docent Council Alumni.

Programs at the San José Museum of Art are made possible by generous support from the Museum's Board of Trustees, a Cultural Affairs Grant from the City of San José, the Lipman Family Foundation, Yvonne and Mike Nevens, Facebook Art Department, the Richard A. Karp Charitable Foundation, The David and Lucile Packard Foundation, Adobe, Yellow Chair Foundation, the SJMA Director's Council and Council of 100, the San José Museum of Art Endowment Fund established by the John S. and James L. Knight Foundation at the Silicon Valley Community Foundation, and The William Randolph Hearst Foundation.
↑ top
Happy International Pride Month from SJMA Staff!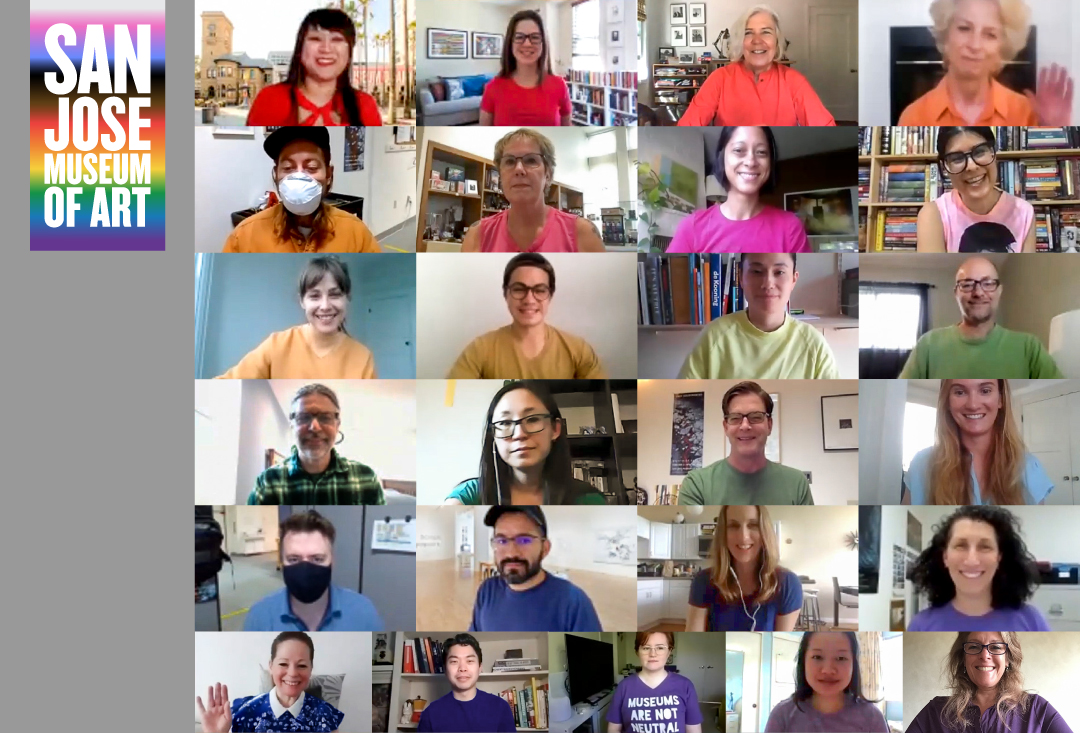 June 2020 is recognized as International Pride Month. SJMA supports and celebrates our LGBTQI+ community and the ongoing struggle for civil rights. This is a time we would ordinarily be together, hugging, dancing, celebrating—the very opposite of social distancing. And we recognize that being apart, especially now, can be challenging. We need to connect and come together. Much has been accomplished but there is still more to be done. SJMA welcomes everyone and the partners they love, however they identify. We miss seeing you in real life, but we SEE you. We acknowledge and center Black Trans Lives: they matter and need our support. They are the most vulnerable of our community. Once again, check our website for more resources.
SJMA's Pride Logo Refresh! SJMA's Pride Logo has been updated to be more inclusive by adding white, pink, a lighter blue, black, and brown colors. The white, pink, and light blue reflect Transgender pride, based on a flag created in 1999 by trans woman Monica Helms. Black and brown stripes are included to center our support for Black and Brown people within our community and were introduced into the Pride flag by Philadelphia's Pride commission in 2017.
↑ top
Collection Spotlight | Catherine Opie's Melissa & Lake, Durham, North Carolina (1998)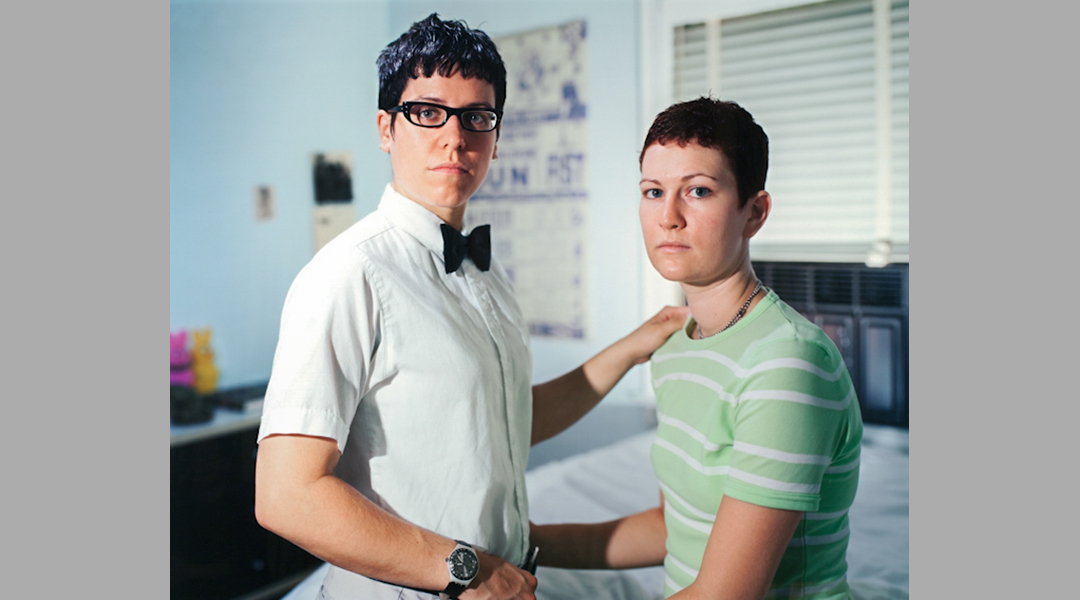 Catherine Opie (b. 1961 Ohio) is interested in how communities are formed in relationship to identity and place. In 1998, she drove across the country in an RV for two months photographing lesbian couples and families as part of her "Domestic" series. The resulting photographs like Melissa & Lake, Durham, North Carolina, focuses on the intimacies and complexities of domestic life. Throughout her long career, Opie has given visibility to communities that she identifies with—Queer +S/M + Leather—and has championed the rights of these communities through her art and activism.

Explore the Museum's collection online HERE.
↑ top
Museums With Pride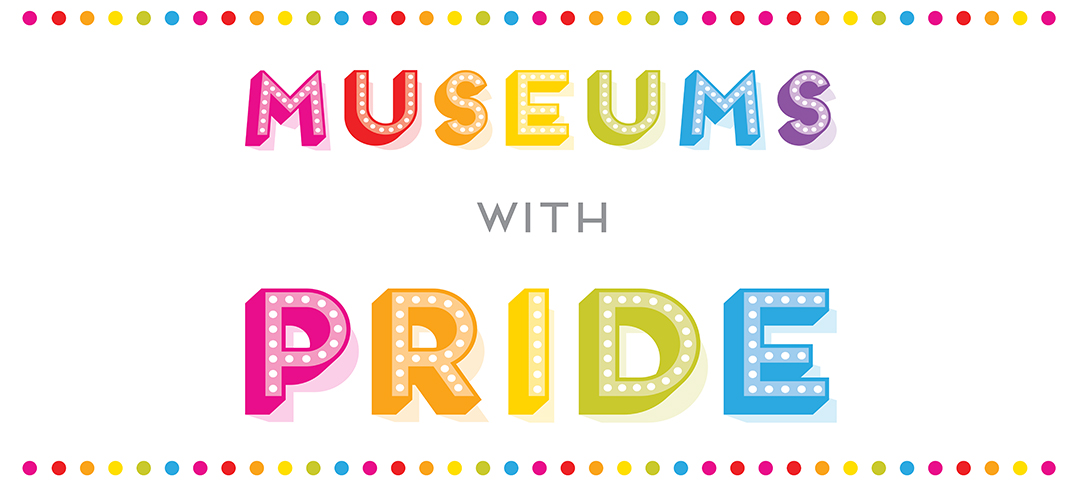 The San José Museum of Art joined 21 other arts organizations to celebrate Pride virtually! Learn more HERE.
↑ top
SJMA + Drag Queen Story Hour Pride Series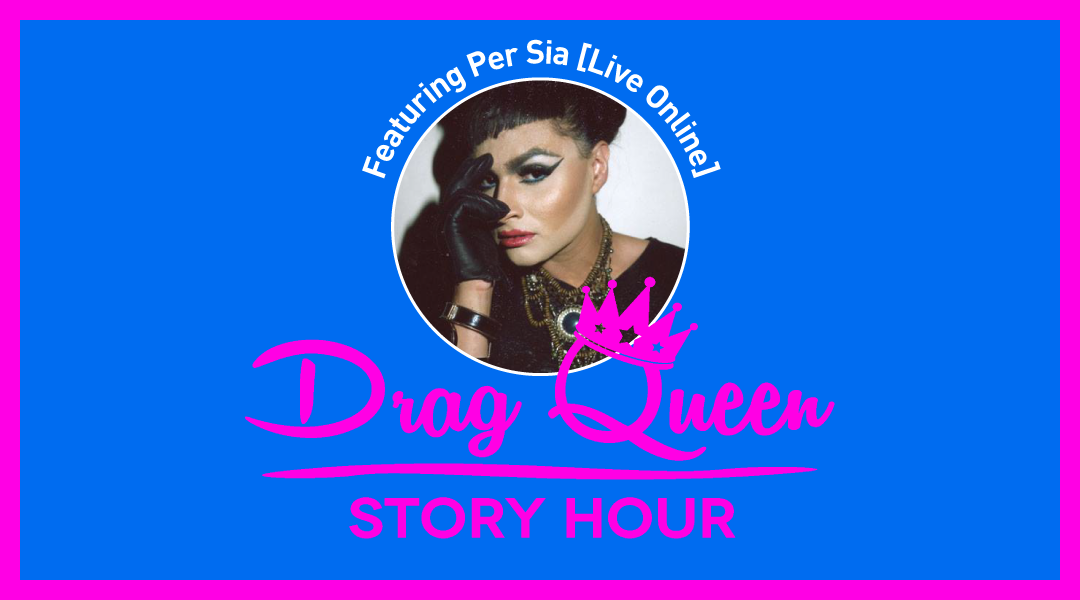 Join us next Tuesday, June 30 at 12:30pm for the final in our Drag Queen Story Hour series. And if you missed previous readings, you can watch them HERE.
↑ top
Save the New Date! | Facebook First Friday Museum with Pride August 7

Friday, August 7, 6–9pm | Free!

Celebrate Silicon Valley Pride online with your nearest and dearest and geographically furthest, as we move our Pride Celebration online! SJMA honors Silicon Valley Pride with an evening of community, art, laughter, and music.

Long-time friends Alpha Andromeda and Gabrielle Antolovich co-host the evening, offering queer readings of work from SJMA's permanent collection. Artist Marcela Pardo Ariza joins for a lively discussion about what it's like to be an artist creating work in this specific moment in time. Finally, San José native and Latinx star performer San Cha brings her gothic cumbias live from her apartment in LA. Produced by Silicon Valley Pride's Saldy Suriben.

Get dressed up, send us a selfie, and share the night! Join in on the fun here: Facebook | Twitch
↑ top
Video | #RepresentAsian in the Arts Panel Discussion: Celebrating our Stories through Art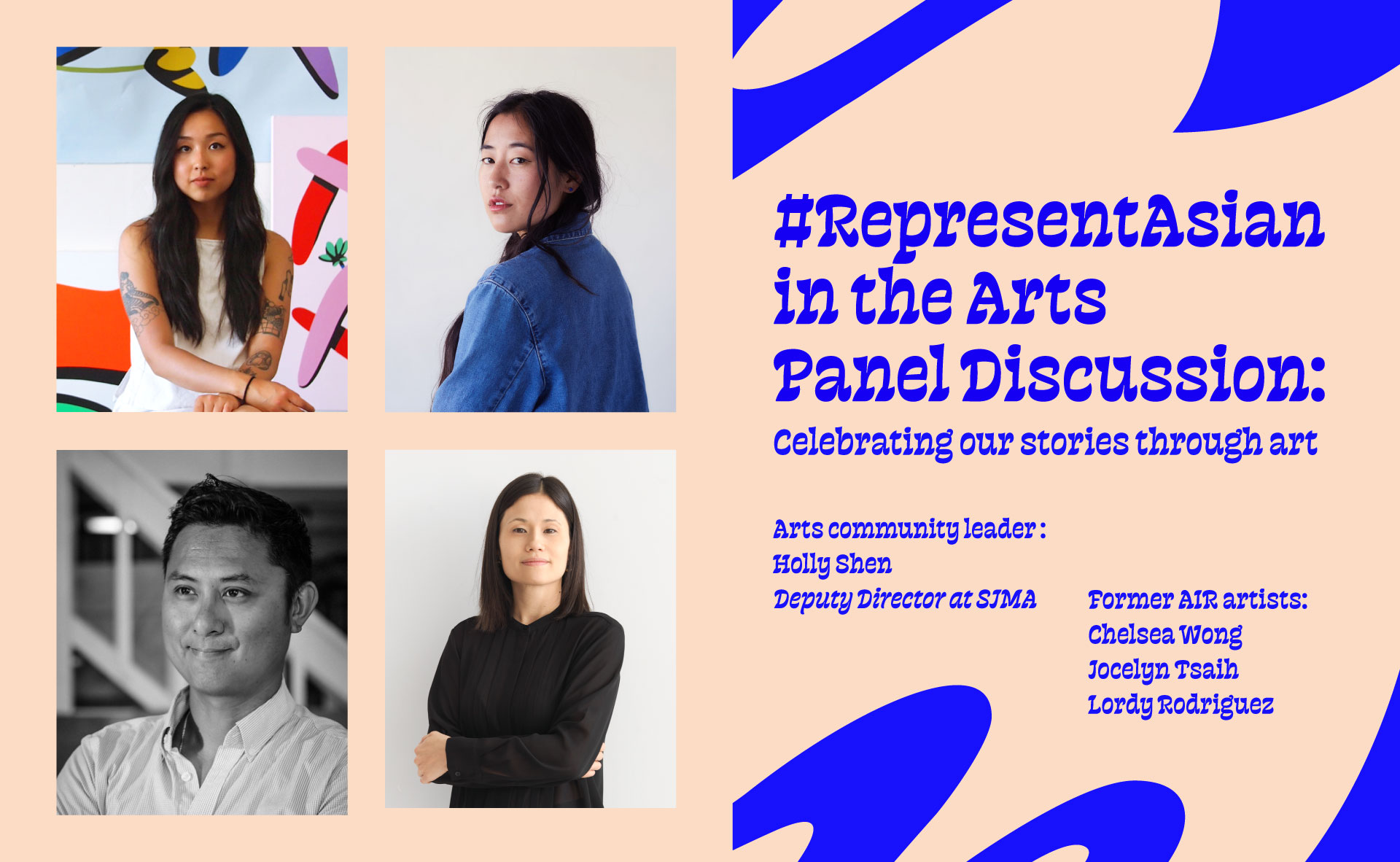 Recorded on Wed, May 27, 2020.

Celebrate our diverse Asian community by joining watching a lively discussion on artistic voice and inspiration, led by Facebook and SJMA. Moderated by Holly Shen, the Deputy Director of the SJMA, this panel discussion on FB Live brought together three former Facebook Artists in Residence: Lordy Rodriguez, Jocelyn Tsaih, and Chelsea Wong to discuss their passions, obsessions, and vision for the world.

This panel was presented in partnership with the San José Museum of Art and Facebook's API community in celebration of API Heritage Month.

Watch the video HERE. (Note the talk begins at the 15:30 mark).
↑ top
Photo Album | Rina Banerjee Installing Make Me a Summary of the World at SJMA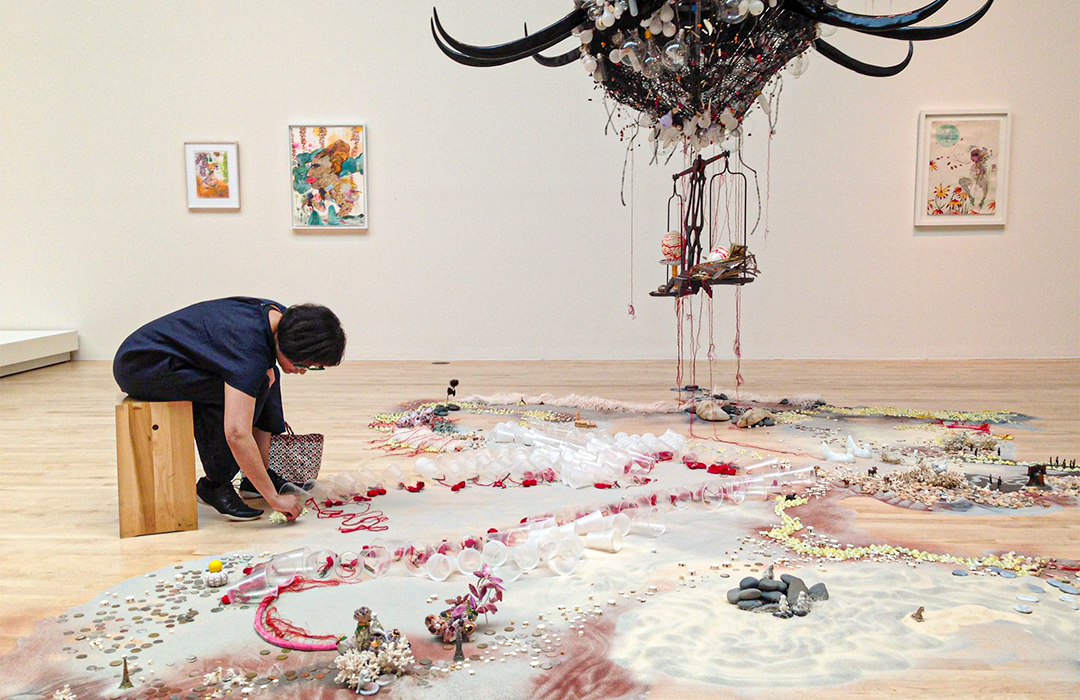 Banerjee creates sprawling sculptural installations and objects made from found objects and materials sourced from across the globe. In a single work, one can find African tribal jewelry, colorful feathers, light bulbs, Murano glass, and South Asian antiques—both real and fake—in conflict and conversation with one another. Mounting this exhibition was no small feat, requiring a collaborative bi-coastal team of 24 people, including registrars and couriers from both Museums, artist assistants, and the expert installation team at SJMA, led by SJMA's Director of Design + Operations Richard J. Karson. See the photos HERE.
↑ top
Photo Album | Kids Summer Art Camp Rina Banerjee-Inspired Sculpture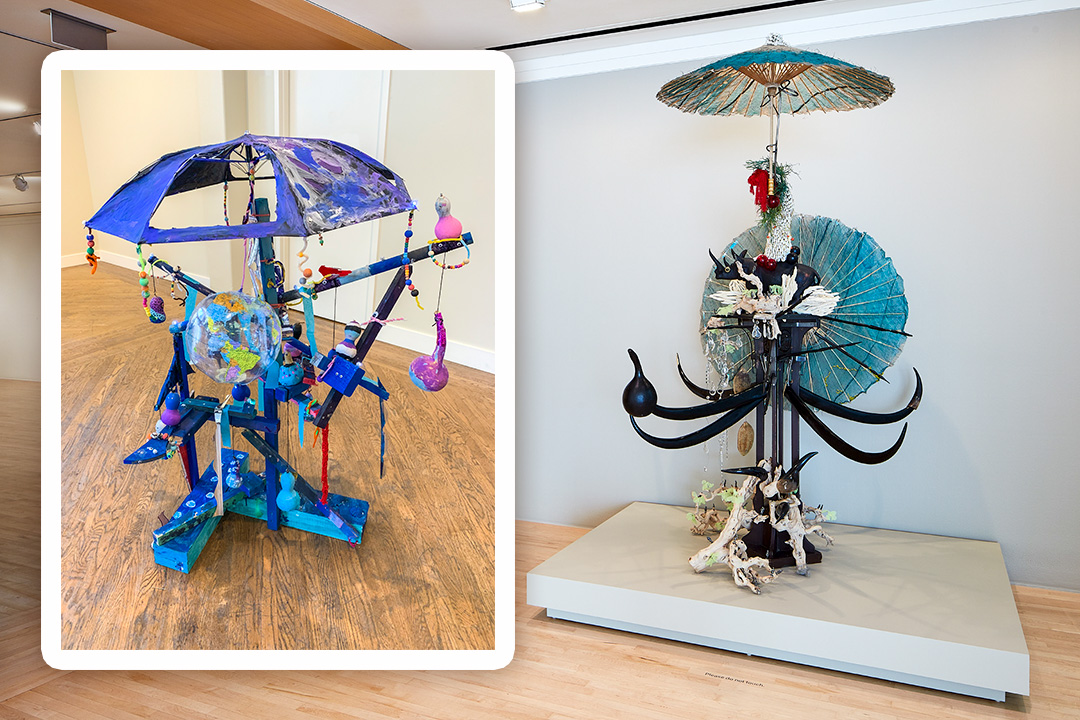 The sculpture on the left was created by Kids Summer Art Campers, ages 6–8 (2019). It was inspired by Banerjee's vibrant and mixed-media practice. Take a closer look at the camper's sculpture HERE.

KIDS ART CAMP – SUMMER 2020 [Live Online]
This year's Kid Summer Art Camp is moving online! Campers will participate in virtual tours of working artists' studios with live demos, tutorials, and #STEAM.

Weekly guest artists: Imen Yeh, Yojiro Imaska, Vanessa Marsh, Tony May, and Leslie Shows.
↑ top
Photo Album | Historic Wing Facade Details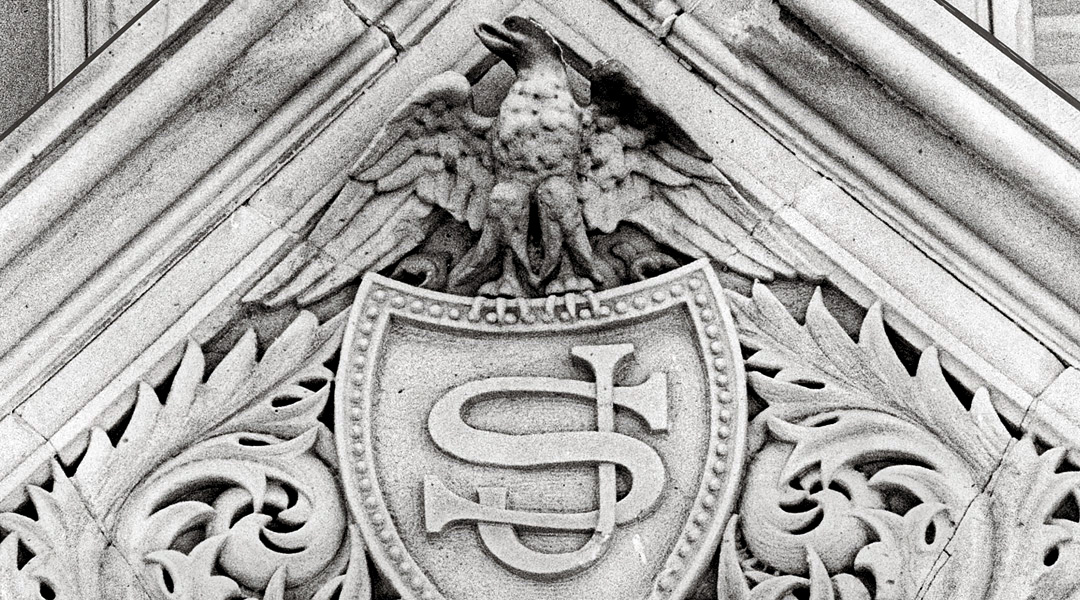 SJMA is a historic landmark! Designed by Willoughby J. Edbrooke and constructed of locally quarried sandstone, this Romanesque building was constructed by the US government in 1892. See the photos HERE.
↑ top
Photo Album | Historic Wing Blueprints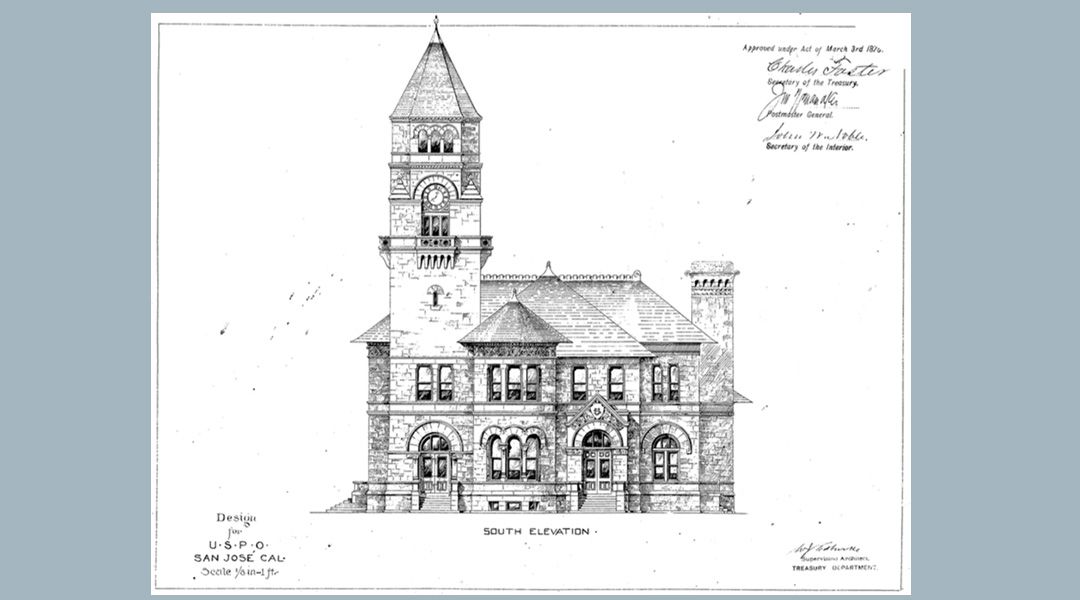 We dug into the vaults to share the blueprints for the historic wing portion of our building. The building was designed by Willoughby J. Edbrooke, however, local architect Theodore Lenze updated the design, building the spire several feet taller than originally planned. And during the 1906 earthquake, the building suffered little damage, except for Lenze's clock tower, which partially collapsed. See the blueprints HERE.
↑ top
Flickr Photo Gallery | SJMA Through the Lens of Visitors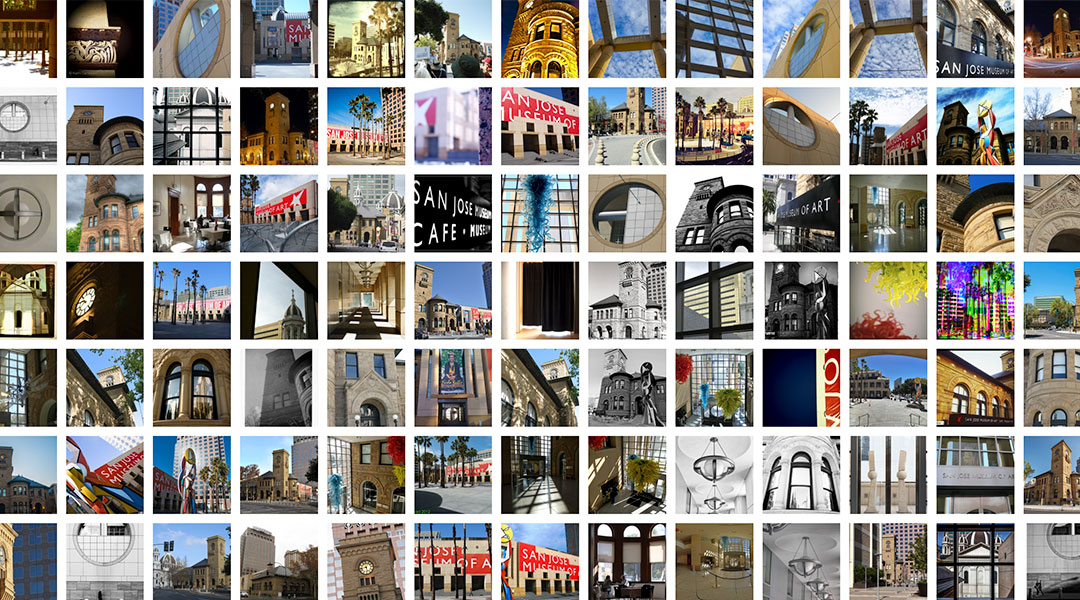 See how others view the Museum. By the steps of the Museum lies the location of California Historical Marker 461, the site of California's first state capital from 1849–1851 encircled with palm trees⁠. Today, the Circle of Palms is a hub of downtown activities, hosting a number of events and attractions. See the Flickr photo gallery HERE.
↑ top
Photo Album | Past Celebrations and Looking Towards the Future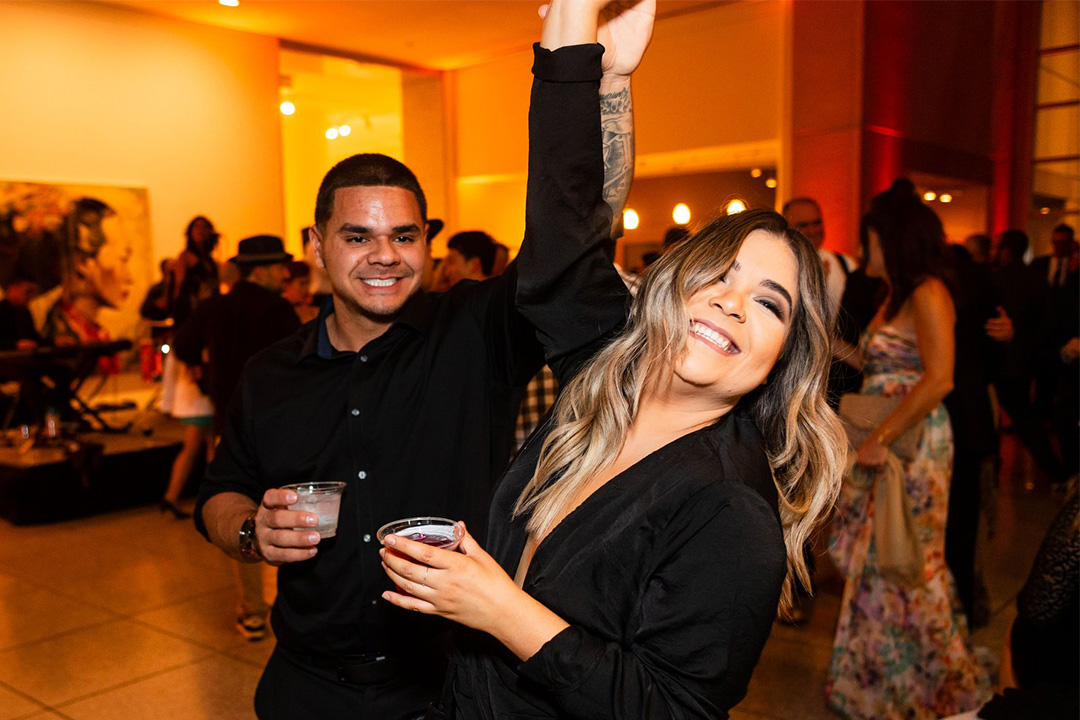 We're reminiscing favorite pastimes at SJMA. We miss being a place to see art, but also as a hub of congregation and festivities. We look forward to sharing these experiences with you in the future! See the Facebook photo album HERE.
↑ top
#HappyMaytheFourth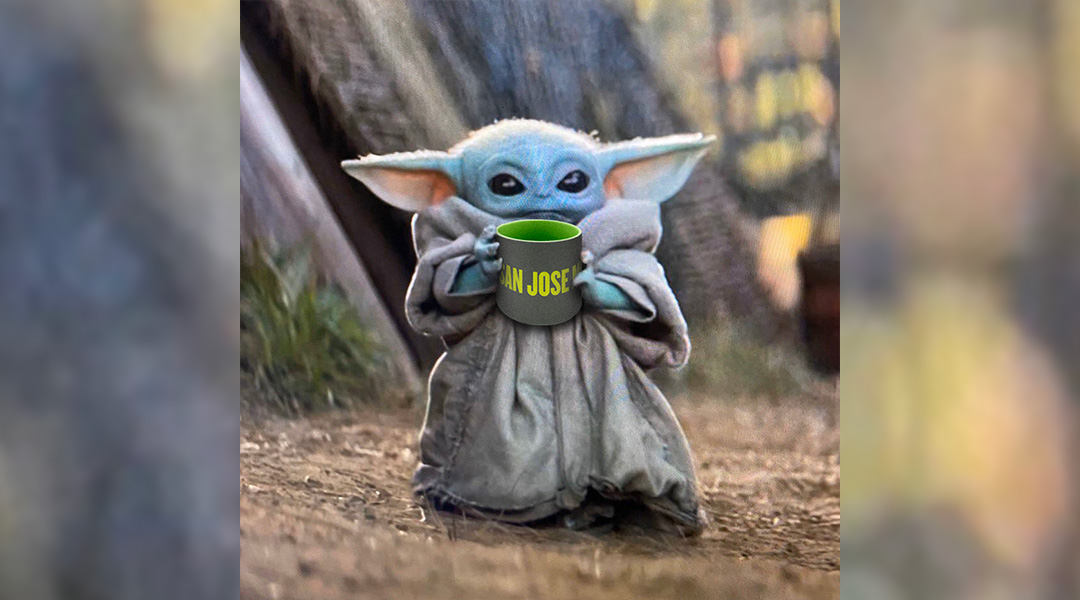 Drinkin' my choccy milk patiently waiting to visit San José Museum of Art. Follow us on Instagram!
#HappyMaytheFourth | #MaytheFourth | #MaytheFourthBeWithYou
↑ top
Facebook First Fridays returns! Virtually!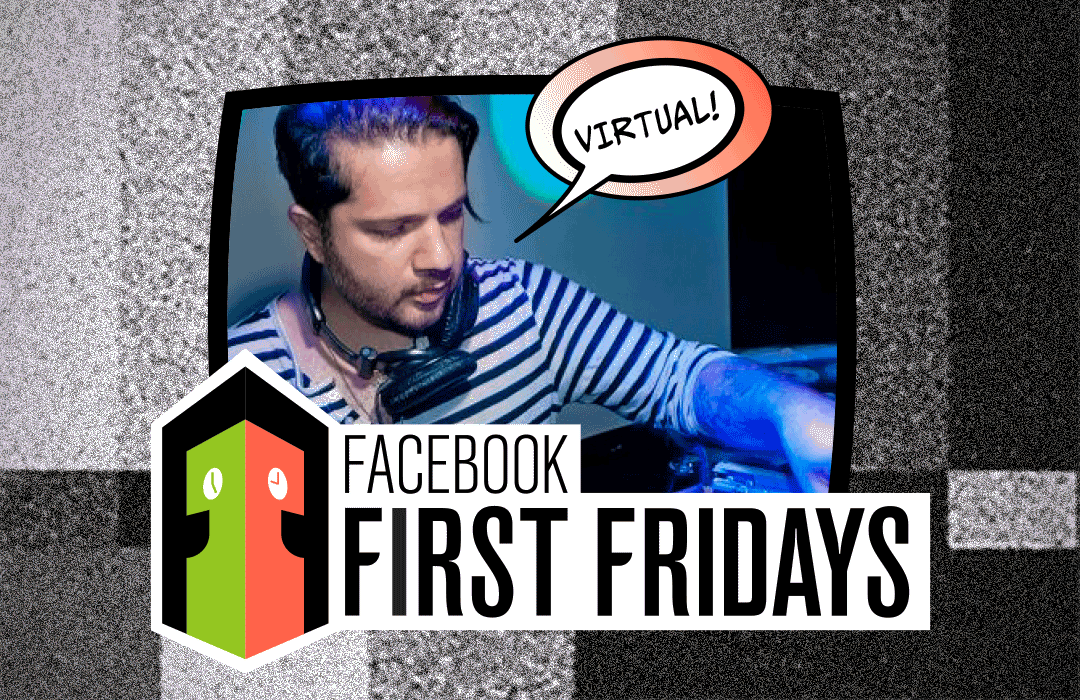 Video recording of the program coming soon!
Feeling isolated? Don't let shelter-in-place stop you from connecting with one another. Join local DJ Omar Perez live from his living room as he spins melodic and moody songs to soothe the soul, and those night-time ballads that make you wish the night never ends.
This musical nightscape brought to you by

↑ top
Happy Earth Week from SJMA!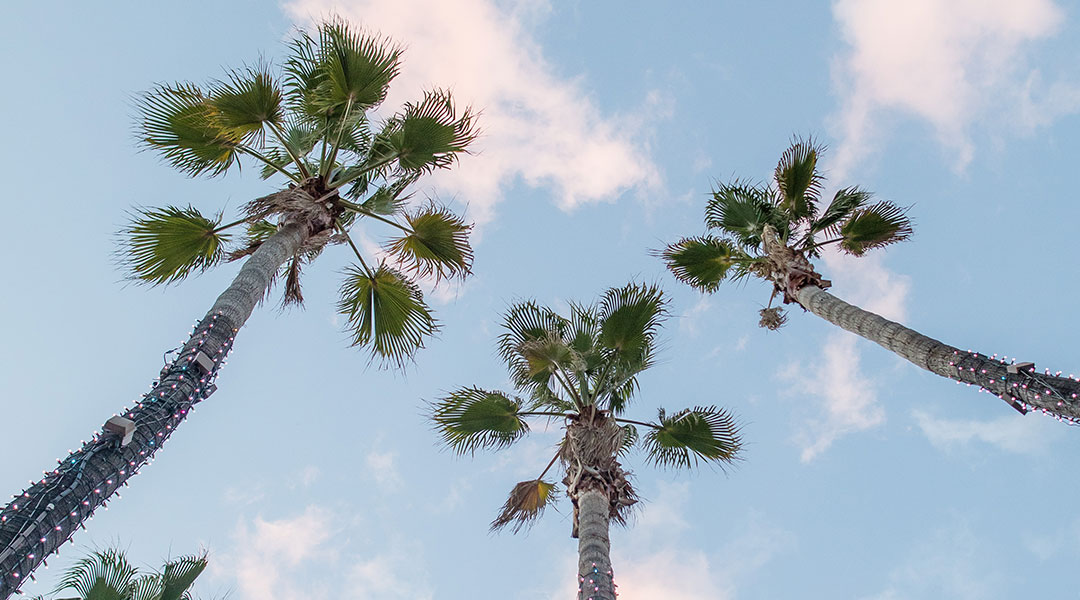 It feels like forever since we've seen a butterfly or been able to walk amongst our palm trees. We invite you to re-look at art inspired by and made with nature.

Artists often allow us to see something familiar from a different perspective. They challenge us to think more closely about the world we live in and the things we interact with every day. SJMA celebrates Earth Day and Earth Week by sharing works of art that invite us to think about the environment, its fragility, and its beauty.
↑ top
Artist Spotlight Video | Diana Thater's Untitled (Butterfly Videowall #2)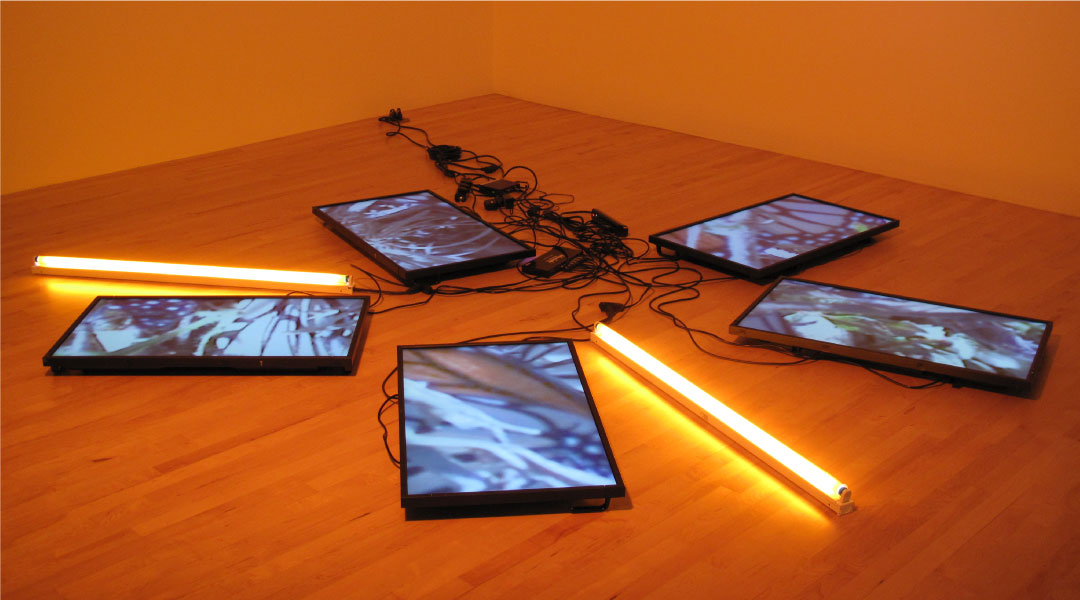 Diana Thater uses technology to emphasize the fragility of nature in Untitled (Butterfly Videowall #2). Comprised of five video monitors and two fluorescent lights, with the power cords uncovered on the ground—these screens tempt the viewer to get as close as possible, which results in the viewer becoming dangerously close to the art.

Thater filmed monarch butterflies as they rested on the ground at a butterfly sanctuary in México, where millions of monarchs hibernate after their migration from Canada. Due, in part, to the lack of foliage in which the butterflies normally take refuge, their only option was to gather together on the forest floor—an extremely vulnerable position. By placing upturned monitors on the gallery floor, Thater created a meditative experience through which to consider the lives of other creatures who share this planet. See a video of the artwork HERE.
Diana Thater's Untitled (Butterfly Videowall #2) is part of the exhibition Almost Human: Digital Art from the Permanent Collection (through, July 5, 2020).
↑ top
Do Ho Suh's Karma (2010)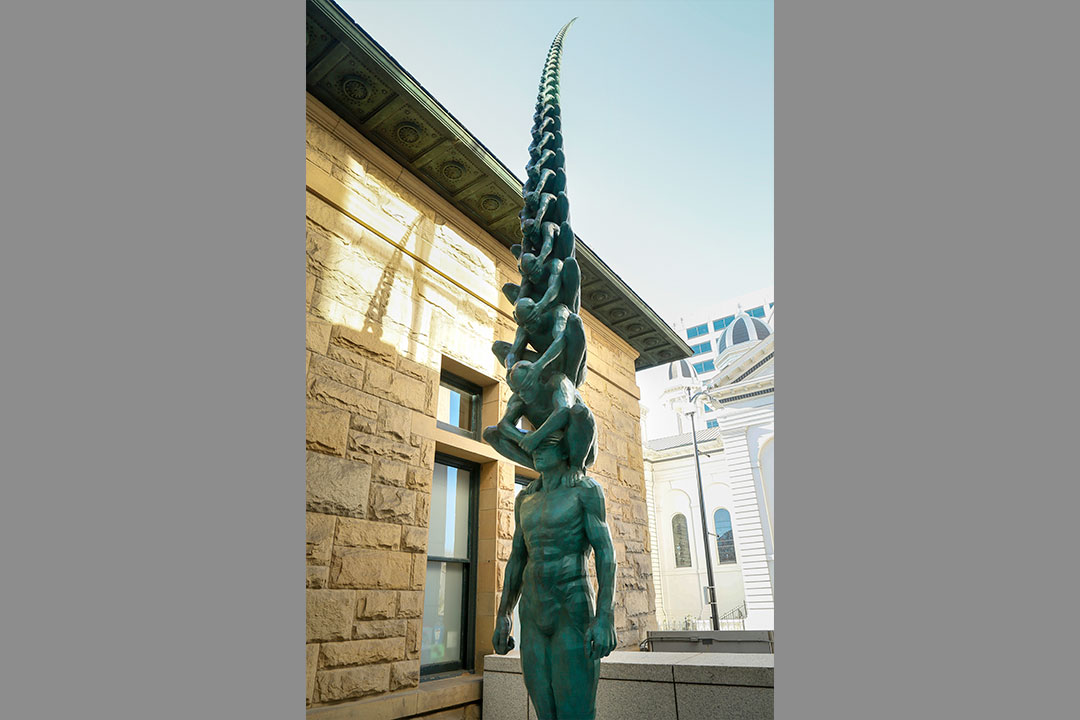 Do Ho Suh's monumental bronze sculpture, Karma (2010), ascends to a height of 23 feet as male figures balance atop one another's shoulders while covering the previous figure's eyes with his hands. The magnitude of the sculpture is accentuated by the stacked figures becoming smaller as they stretch up into the sky. Near the top of the sculpture, Karma curves as though the bottom figure is incapable of maintaining a through line from the present to the past.
Do Ho Suh, Karma, 2010 (cast 2017). Bronze and copper-plated steel. On loan from the collection of an anonymous charitable foundation.
↑ top
Behind-the-scene photos | Installing Karma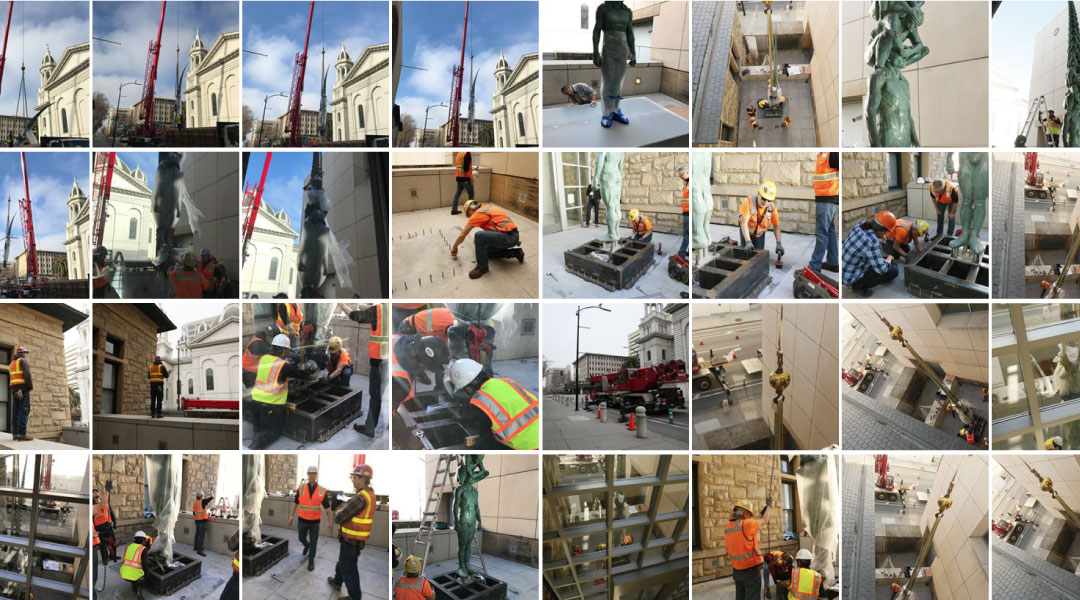 Do Ho Suh's bronze sculpture, Karma is 23 feet high, with 98 figures stacked atop one another, curving towards the top. The installation began in late January, with a total of 15 people (including 3 crane operators). One lane of San Fernando Street was closed down to accommodate the crane that lifted the sculpture into SJMA's Oshman Sculpture Court. See the photo album HERE.
↑ top
Photo Album | Sonya Rapoport's Pictorial Diary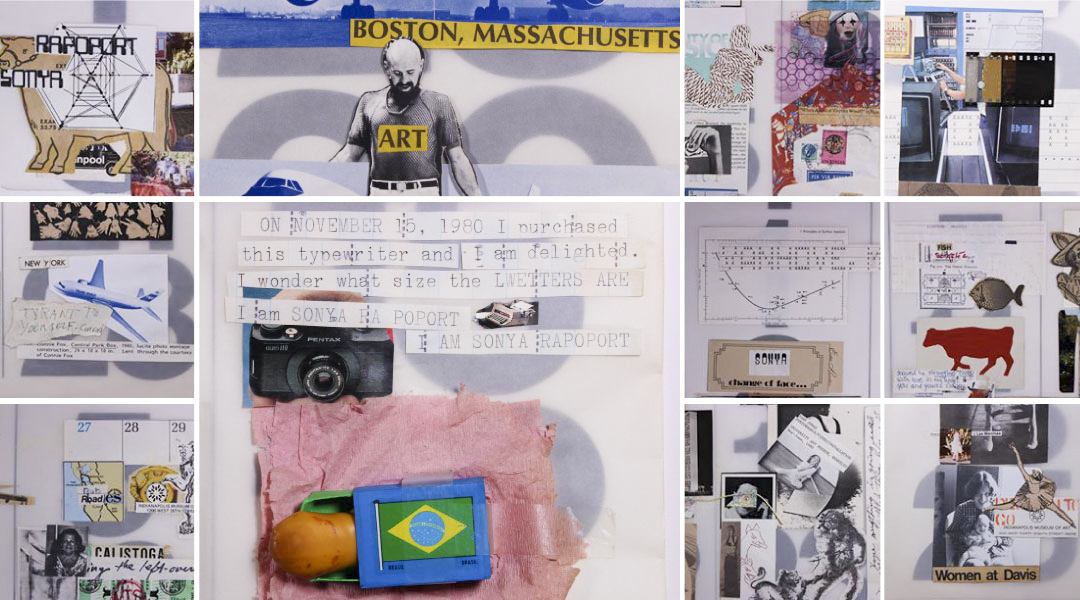 In 1980 artist Sonya Rapoport created a "pictorial diary," in which she marked each calendar day with collaged information as well as tracked how she felt physically, emotionally, and intellectually. At the end of each month, she then compared her personal findings to those generated by a computer program, which claimed to read an individual's biorhythm. She later showed this work as an exhibition in 1982. See the photo album HERE.
Related exhibition: Sonya Rapoport: biorhythm
↑ top
Photo Album | Historic Images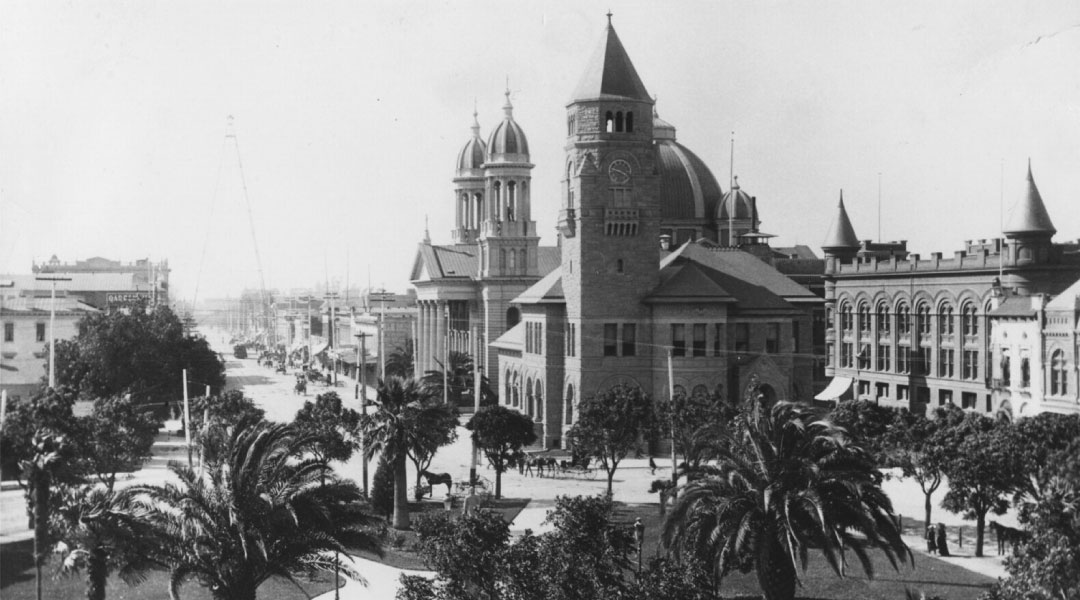 The San José Museum of Art is housed within two buildings—a Richardsonian Romanesque historic building, originally a post office built in 1892, and a new addition that opened in 1991. The building suffered little damage in the 1906 earthquake, but alas, the original clock tower and steeple were destroyed. During 1908-09, James Knox Taylor designed and built a new shorter tower for the building. In 1909, Nels Johnson personally installed one of his Century Tower Clocks which is still in use today. See the photos HERE.
↑ top
Behind-the-Scene Photos | Inside the Clock Tower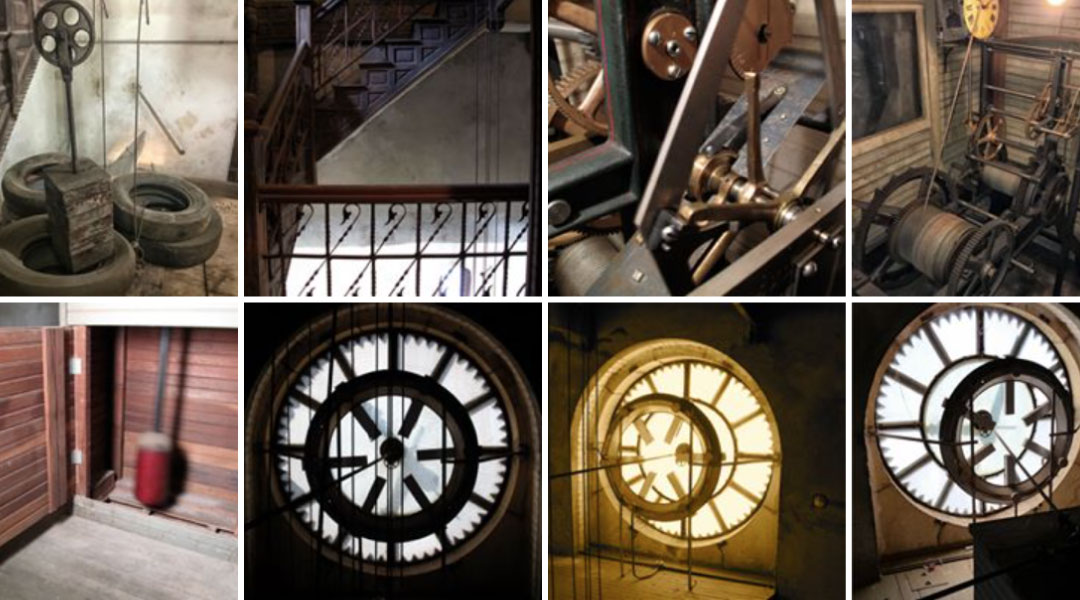 The clock is powered by gravity. The simple mechanism is operated by 500-pound weights suspended from cables that descend two stories. A hand crank raises the cables and their weights when the clock is wound every 3-4 days. The bell is housed in an adjacent compartment and was manufactured by McNeely and Company West in Troy, New York, in 1908. The clock is one of only five Nels Johnson clocks known to be in existence and one of the two that has not been converted to electric power. See the photos HERE.
↑ top
From Our Partner | Museum Replicated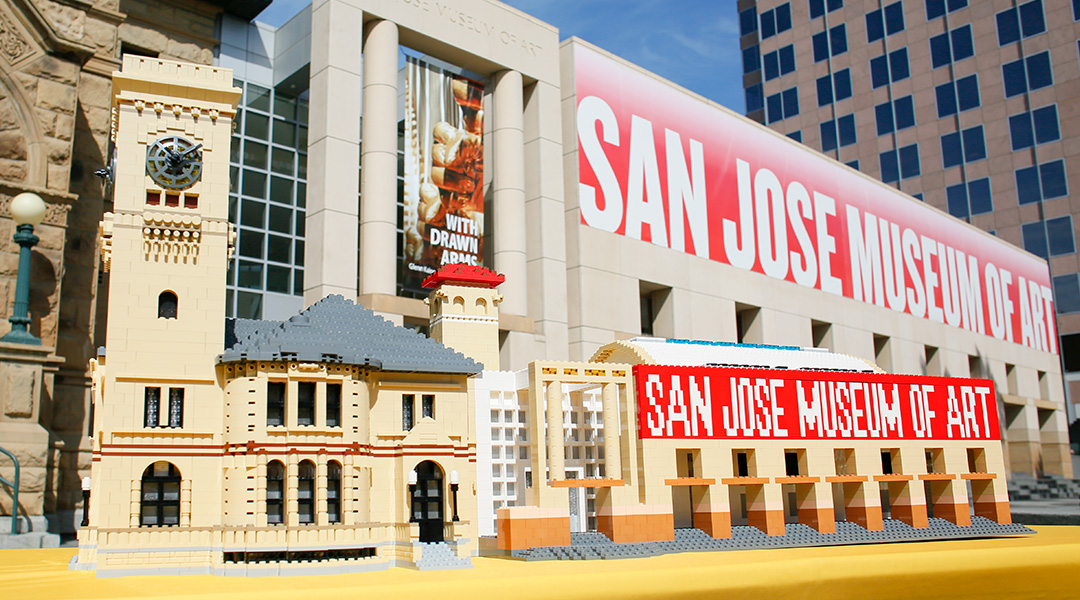 Our friends at Legoland Discovery Center Bay Area built a mini-replica of our historic building for their Miniland!! Some fun facts about this Lego replica: it took 31 hours to design it and 101 hours to build it. The replica includes 6,650 Lego bricks and weighs seven pounds!
↑ top
Behind-the-scene photos | Installation of Bridge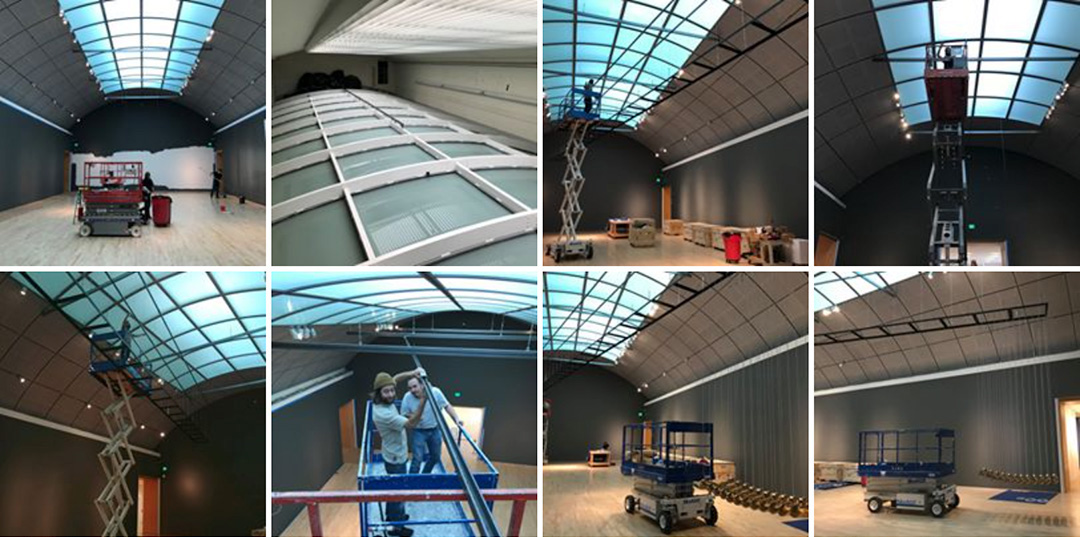 In order to exhibit Glenn Kaino's monumental work, Bridge, the SJMA installation team had to design and build a custom rigging apparatus that was attached to the gallery's architecture to suspend such a large piece below a glass ceiling. The sculpture is comprised of hundreds of pieces of hardware and thousands of feet of cable. See the photos HERE.
Related exhibition: With Drawn Arms: Glenn Kaino and Tommie Smith
↑ top
Interpretive | What would you raise your fist for?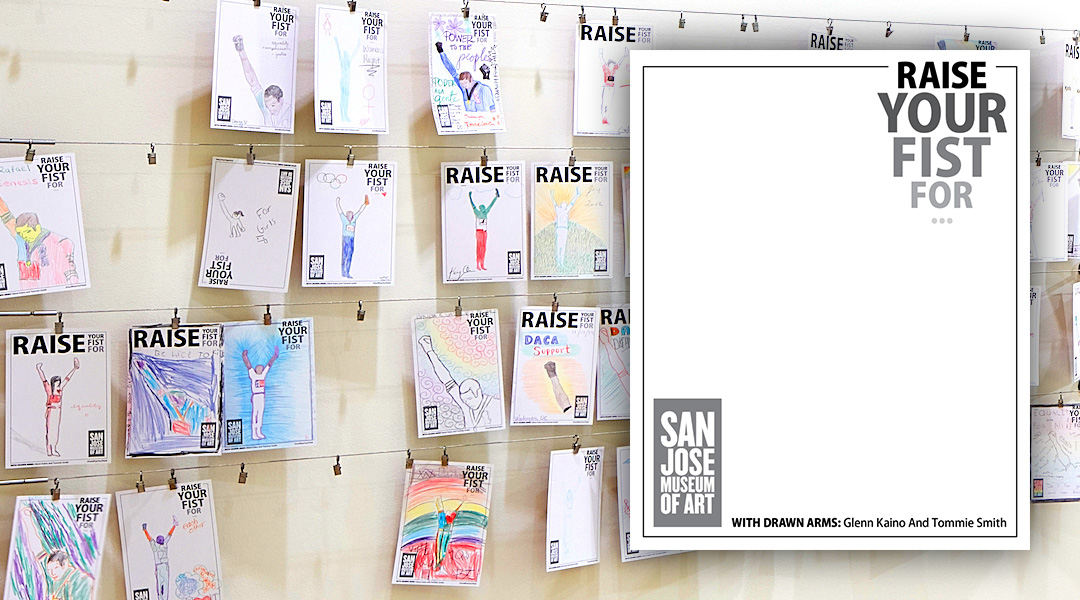 Tommie Smith and Glenn Kaino led drawing rallies around the United States, inviting participants to use the Osmo mirroring device to retrace the monumental moments that led him to champion his beliefs. This online interpretive space allows you to explore the metaphor of "passing the baton" by reflecting upon personal causes and sharing what you will raise your fist to support.

We at SJMA believe in the power of a voice, and how that voice can carry and reverberate through history and inspire future generations. We would like to know, what would you raise your fist for? SJMA is listening. #ShowMeSJMA
Related exhibition: With Drawn Arms: Glenn Kaino and Tommie Smith
↑ top