↖ Museum from Home
Social Media
Content Stream | Curators' Dashboard | Downloads | Exhibitions | Online Education | Public Programs | Video
Photo Album | Rina Banerjee Installing Make Me a Summary of the World at SJMA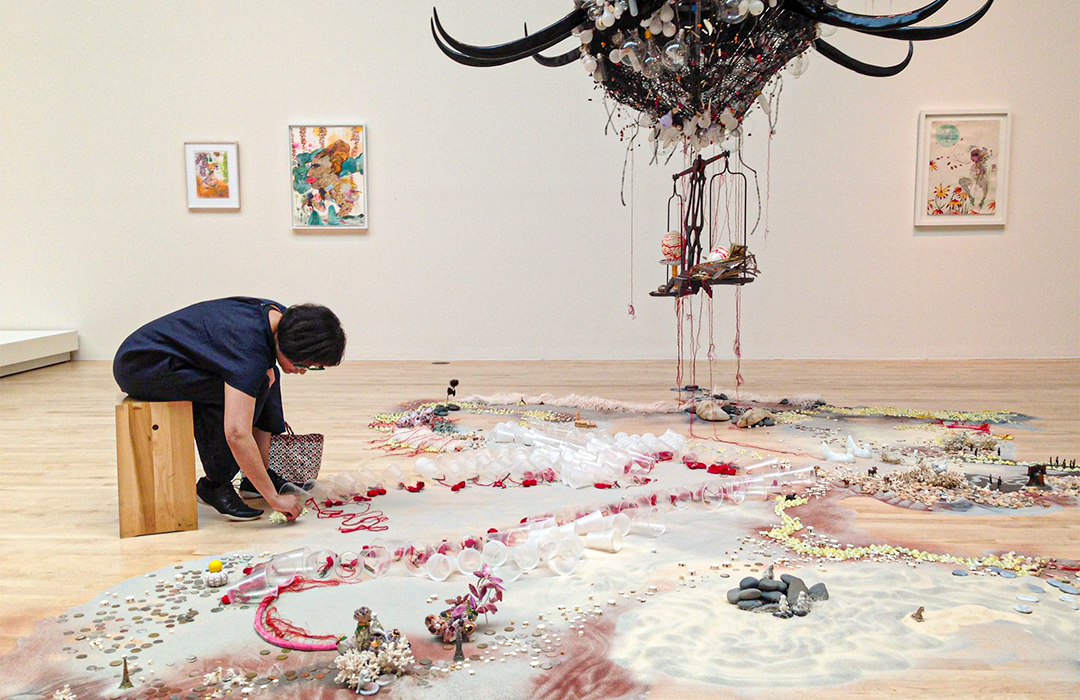 Banerjee creates sprawling sculptural installations and objects made from found objects and materials sourced from across the globe. In a single work, one can find African tribal jewelry, colorful feathers, light bulbs, Murano glass, and South Asian antiques—both real and fake—in conflict and conversation with one another. Mounting this exhibition was no small feat, requiring a collaborative bi-coastal team of 24 people, including registrars and couriers from both Museums, artist assistants, and the expert installation team at SJMA, led by SJMA's Director of Design + Operations Richard J. Karson. See the photos HERE.
↑ top
Photo Album | Kids Summer Art Camp Rina Banerjee-Inspired Sculpture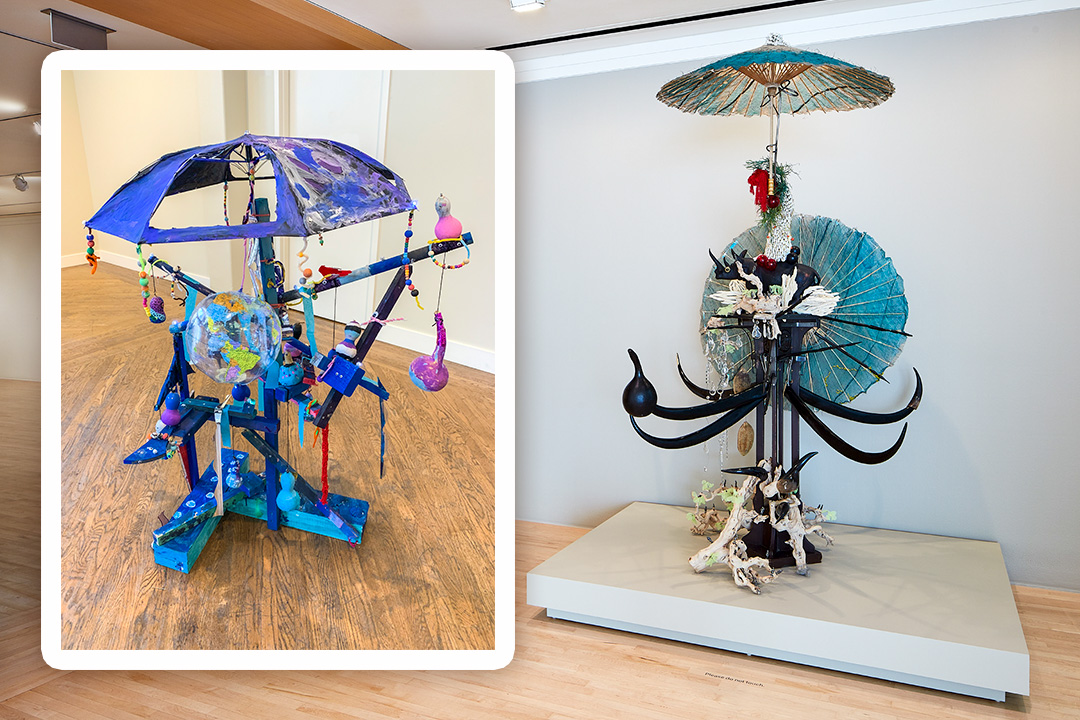 The sculpture on the left was created by Kids Summer Art Campers, ages 6–8 (2019). It was inspired by Banerjee's vibrant and mixed-media practice. Take a closer look at the camper's sculpture HERE.

KIDS ART CAMP – SUMMER 2020 [Live Online]
This year's Kid Summer Art Camp is moving online! Campers will participate in virtual tours of working artists' studios with live demos, tutorials, and #STEAM.

Weekly guest artists: Imen Yeh, Yojiro Imaska, Vanessa Marsh, Tony May, and Leslie Shows.
↑ top
Photo Album | Historic Wing Facade Details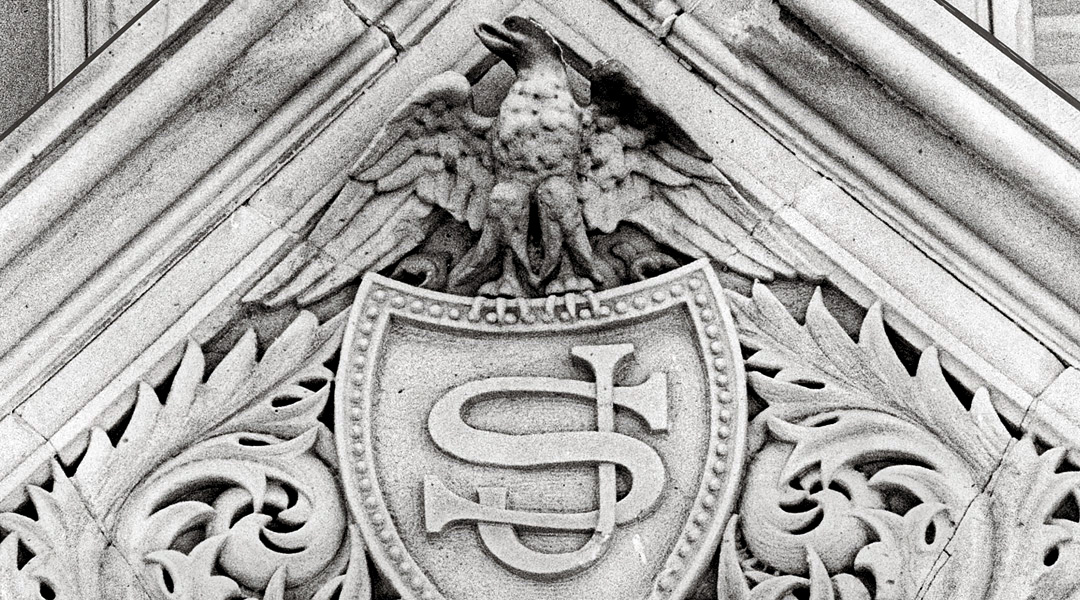 SJMA is a historic landmark! Designed by Willoughby J. Edbrooke and constructed of locally quarried sandstone, this Romanesque building was constructed by the US government in 1892. See the photos HERE.
↑ top
Photo Album | Historic Wing Blueprints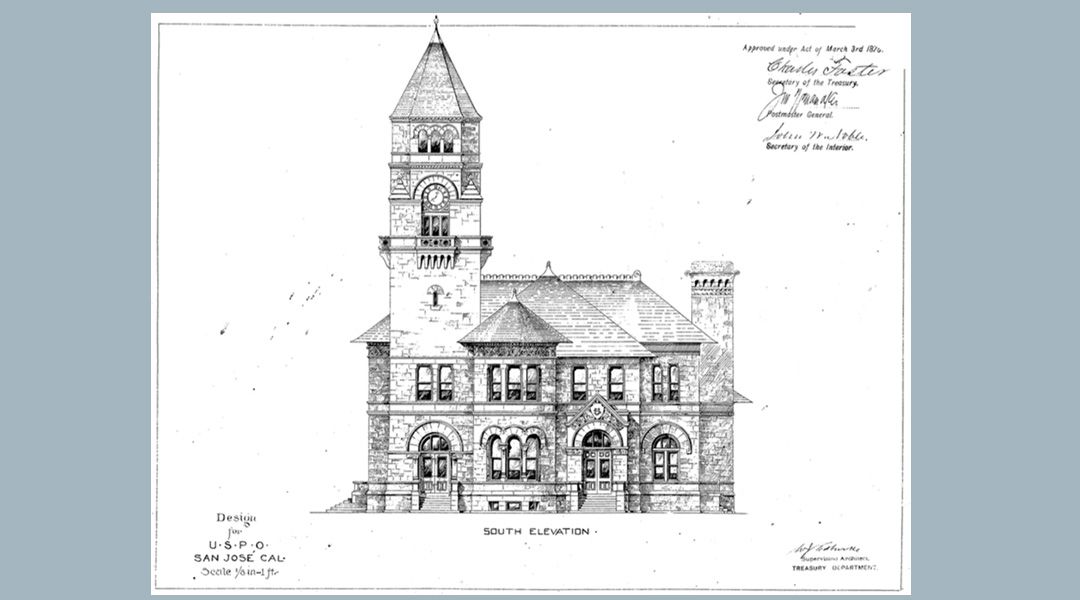 We dug into the vaults to share the blueprints for the historic wing portion of our building. The building was designed by Willoughby J. Edbrooke, however, local architect Theodore Lenze updated the design, building the spire several feet taller than originally planned. And during the 1906 earthquake, the building suffered little damage, except for Lenze's clock tower, which partially collapsed. See the blueprints HERE.
↑ top
Flickr Photo Gallery | SJMA Through the Lens of Visitors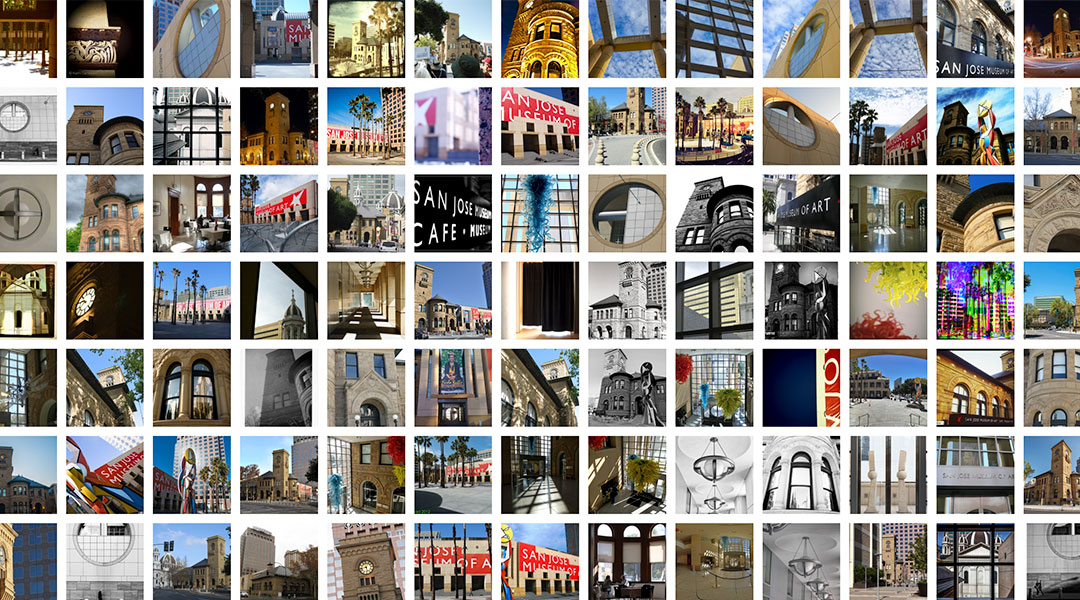 See how others view the Museum. By the steps of the Museum lies the location of California Historical Marker 461, the site of California's first state capital from 1849–1851 encircled with palm trees⁠. Today, the Circle of Palms is a hub of downtown activities, hosting a number of events and attractions. See the Flickr photo gallery HERE.
↑ top
Photo Album | Past Celebrations and Looking Towards the Future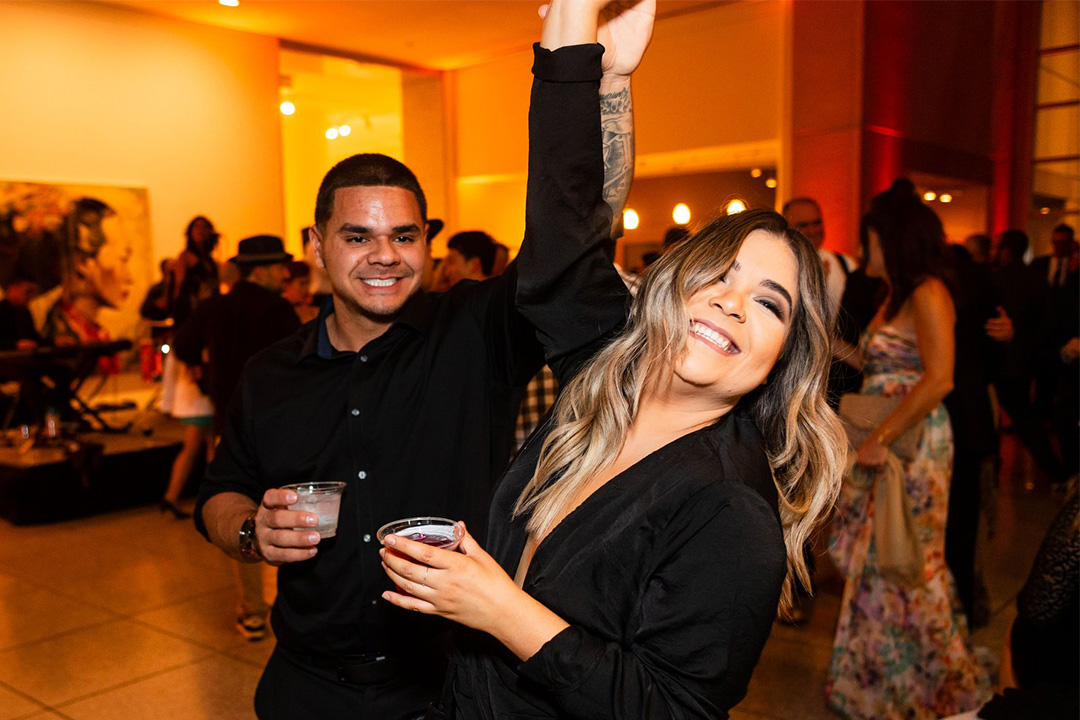 We're reminiscing favorite pastimes at SJMA. We miss being a place to see art, but also as a hub of congregation and festivities. We look forward to sharing these experiences with you in the future! See the Facebook photo album HERE.
↑ top
#HappyMaytheFourth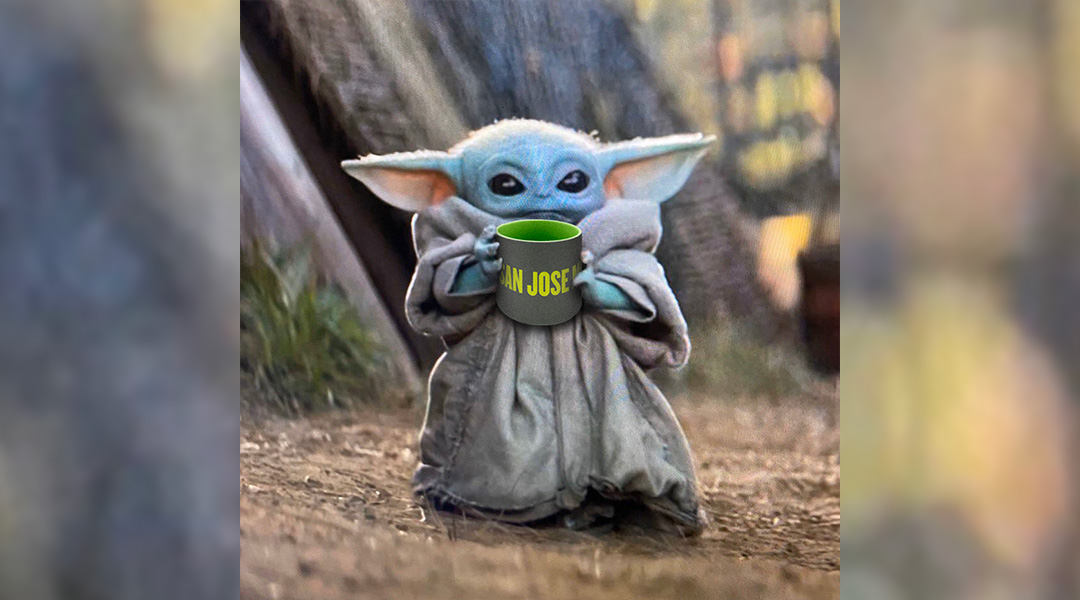 Drinkin' my choccy milk patiently waiting to visit San José Museum of Art. Follow us on Instagram!
#HappyMaytheFourth | #MaytheFourth | #MaytheFourthBeWithYou
↑ top
Facebook First Fridays returns! Virtually!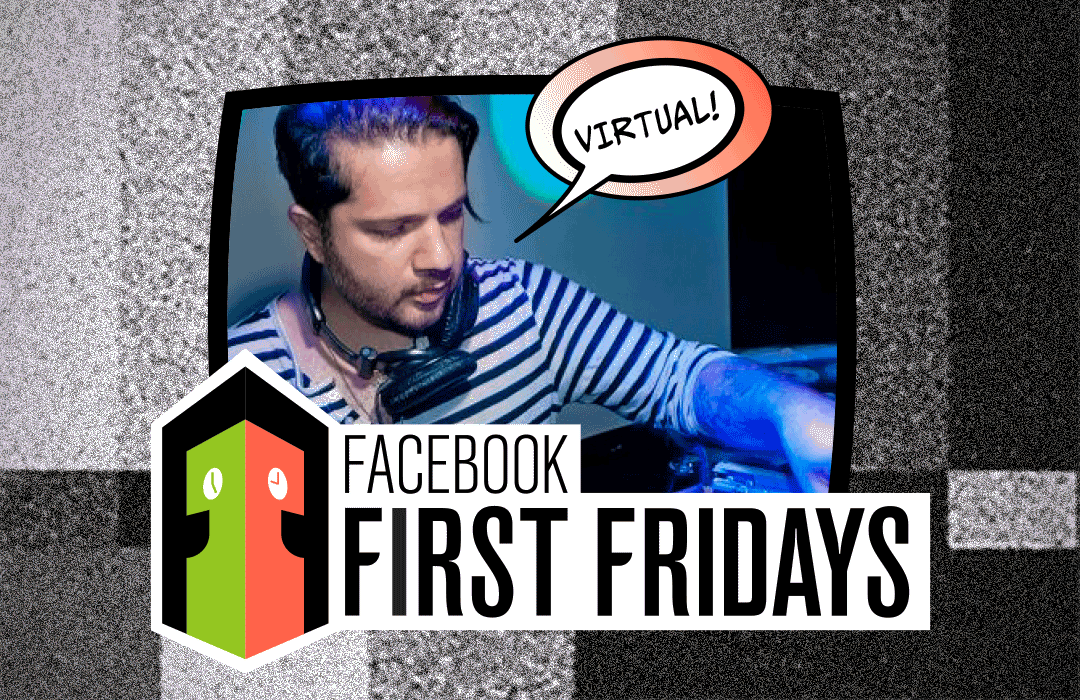 Video recording of the program coming soon!
Feeling isolated? Don't let shelter-in-place stop you from connecting with one another. Join local DJ Omar Perez live from his living room as he spins melodic and moody songs to soothe the soul, and those night-time ballads that make you wish the night never ends.
This musical nightscape brought to you by

↑ top
Happy Earth Week from SJMA!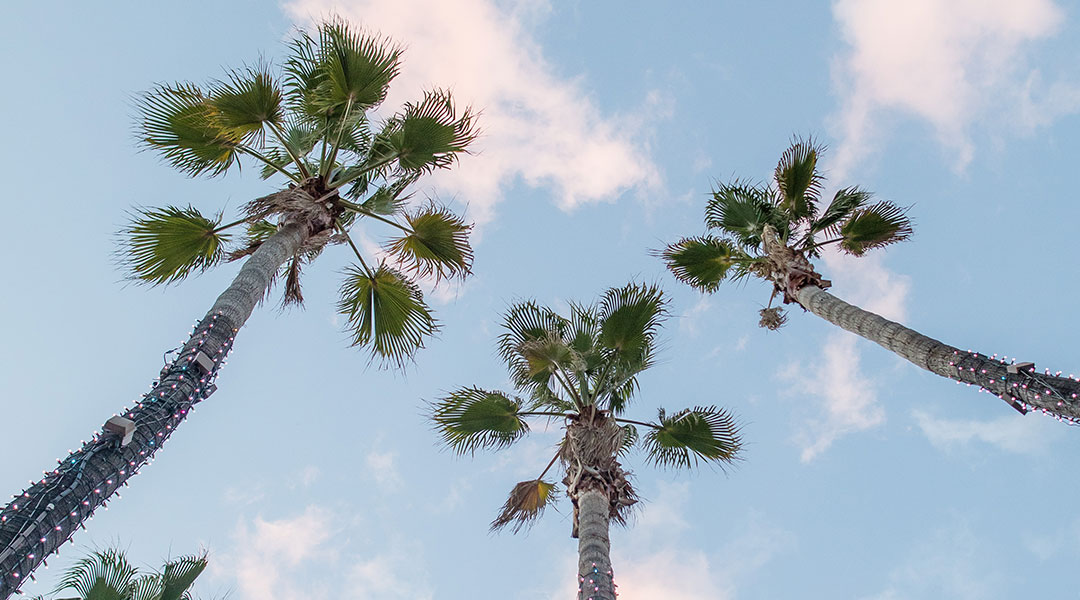 It feels like forever since we've seen a butterfly or been able to walk amongst our palm trees. We invite you to re-look at art inspired by and made with nature.

Artists often allow us to see something familiar from a different perspective. They challenge us to think more closely about the world we live in and the things we interact with every day. SJMA celebrates Earth Day and Earth Week by sharing works of art that invite us to think about the environment, its fragility, and its beauty.
↑ top
Artist Spotlight Video | Diana Thater's Untitled (Butterfly Videowall #2)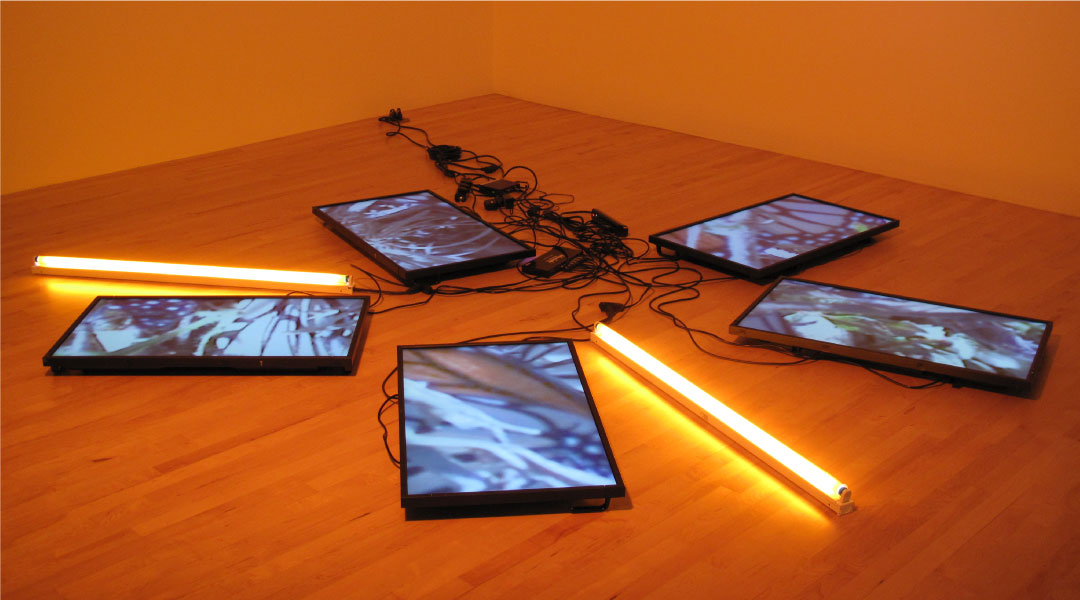 Diana Thater uses technology to emphasize the fragility of nature in Untitled (Butterfly Videowall #2). Comprised of five video monitors and two fluorescent lights, with the power cords uncovered on the ground—these screens tempt the viewer to get as close as possible, which results in the viewer becoming dangerously close to the art.

Thater filmed monarch butterflies as they rested on the ground at a butterfly sanctuary in México, where millions of monarchs hibernate after their migration from Canada. Due, in part, to the lack of foliage in which the butterflies normally take refuge, their only option was to gather together on the forest floor—an extremely vulnerable position. By placing upturned monitors on the gallery floor, Thater created a meditative experience through which to consider the lives of other creatures who share this planet. See a video of the artwork HERE.
Diana Thater's Untitled (Butterfly Videowall #2) is part of the exhibition Almost Human: Digital Art from the Permanent Collection (through, July 5, 2020).
↑ top
Do Ho Suh's Karma (2010)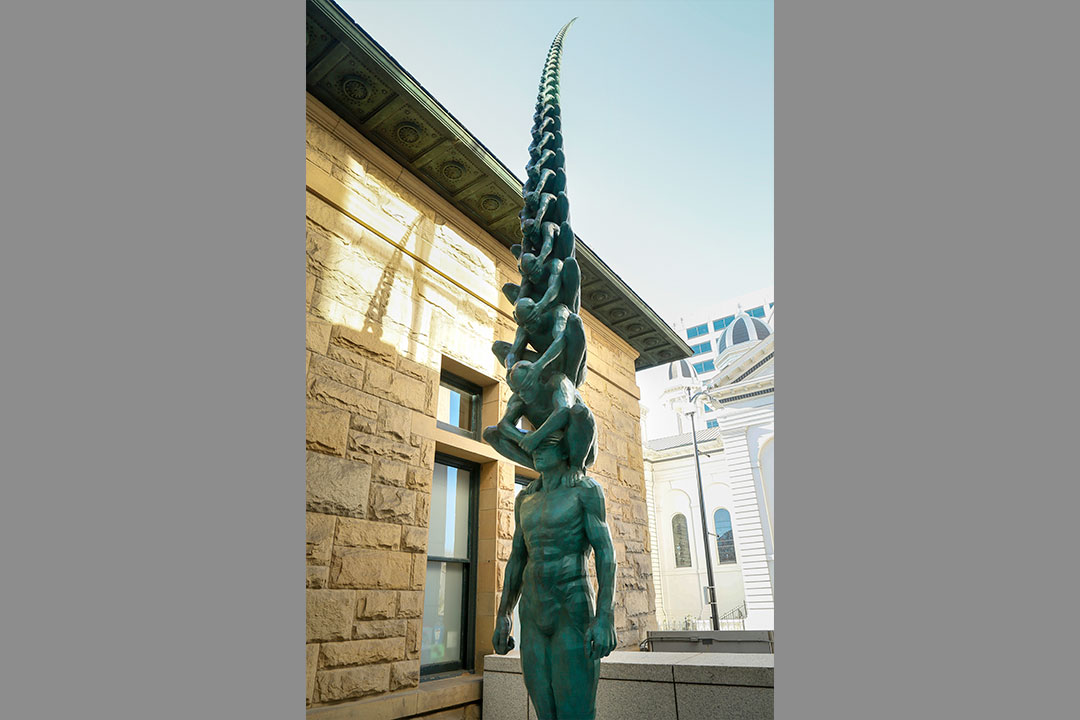 Do Ho Suh's monumental bronze sculpture, Karma (2010), ascends to a height of 23 feet as male figures balance atop one another's shoulders while covering the previous figure's eyes with his hands. The magnitude of the sculpture is accentuated by the stacked figures becoming smaller as they stretch up into the sky. Near the top of the sculpture, Karma curves as though the bottom figure is incapable of maintaining a through line from the present to the past.
Do Ho Suh, Karma, 2010 (cast 2017). Bronze and copper-plated steel. On loan from the collection of an anonymous charitable foundation.
↑ top
Behind-the-scene photos | Installing Karma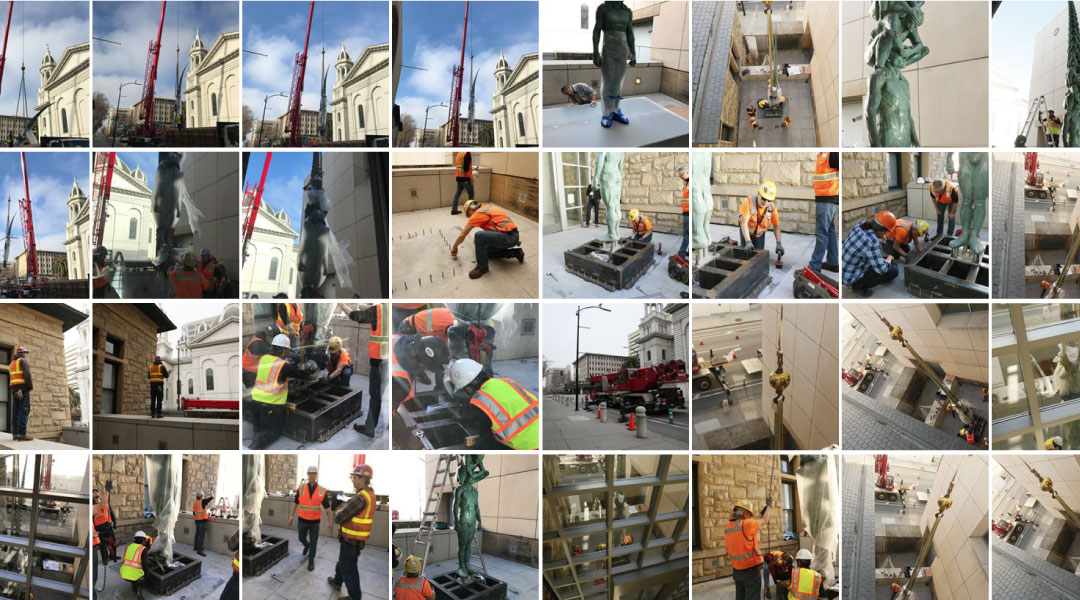 Do Ho Suh's bronze sculpture, Karma is 23 feet high, with 98 figures stacked atop one another, curving towards the top. The installation began in late January, with a total of 15 people (including 3 crane operators). One lane of San Fernando Street was closed down to accommodate the crane that lifted the sculpture into SJMA's Oshman Sculpture Court. See the photo album HERE.
↑ top
Photo Album | Sonya Rapoport's Pictorial Diary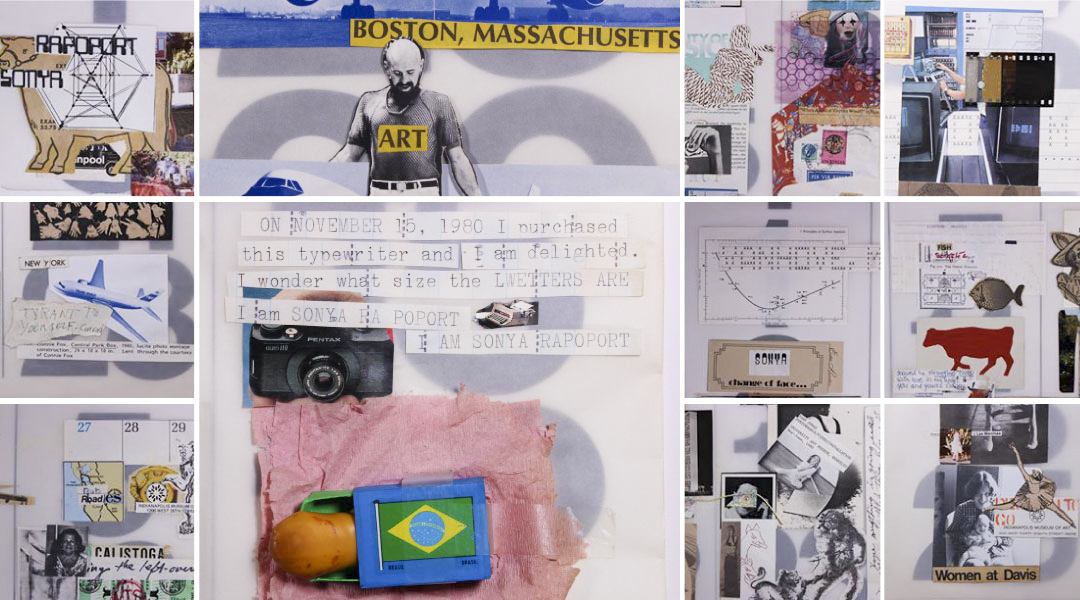 In 1980 artist Sonya Rapoport created a "pictorial diary," in which she marked each calendar day with collaged information as well as tracked how she felt physically, emotionally, and intellectually. At the end of each month, she then compared her personal findings to those generated by a computer program, which claimed to read an individual's biorhythm. She later showed this work as an exhibition in 1982. See the photo album HERE.
Related exhibition: Sonya Rapoport: biorhythm
↑ top
Photo Album | Historic Images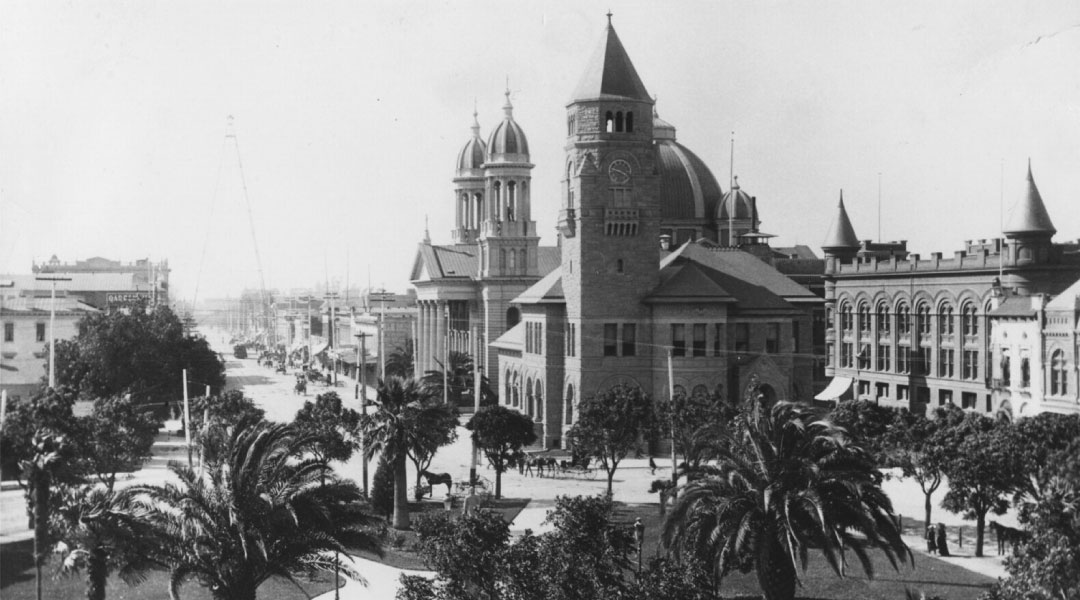 The San José Museum of Art is housed within two buildings—a Richardsonian Romanesque historic building, originally a post office built in 1892, and a new addition that opened in 1991. The building suffered little damage in the 1906 earthquake, but alas, the original clock tower and steeple were destroyed. During 1908-09, James Knox Taylor designed and built a new shorter tower for the building. In 1909, Nels Johnson personally installed one of his Century Tower Clocks which is still in use today. See the photos HERE.
↑ top
Behind-the-Scene Photos | Inside the Clock Tower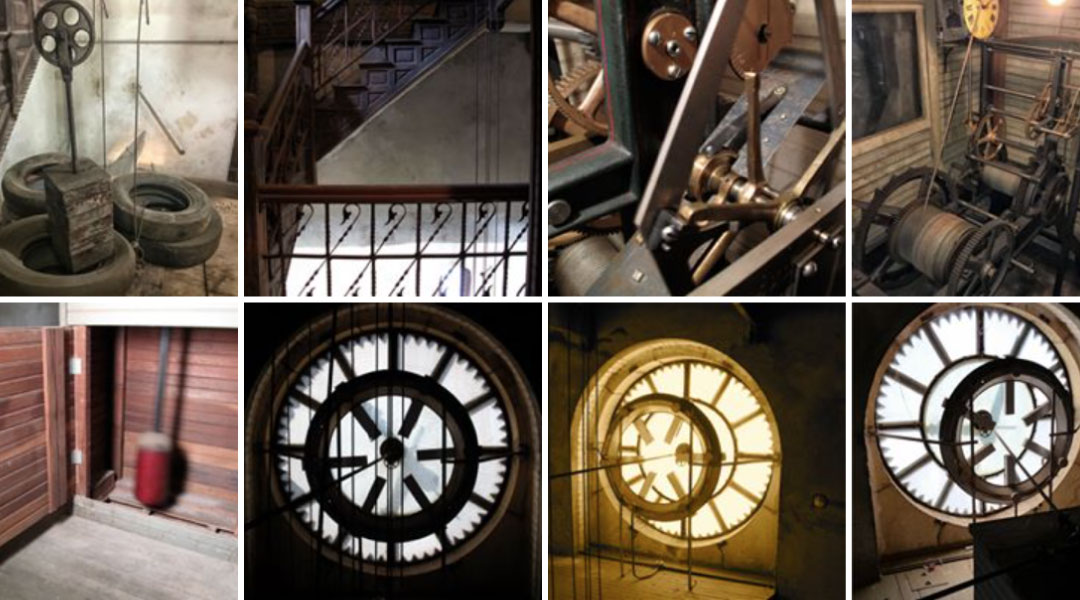 The clock is powered by gravity. The simple mechanism is operated by 500-pound weights suspended from cables that descend two stories. A hand crank raises the cables and their weights when the clock is wound every 3-4 days. The bell is housed in an adjacent compartment and was manufactured by McNeely and Company West in Troy, New York, in 1908. The clock is one of only five Nels Johnson clocks known to be in existence and one of the two that has not been converted to electric power. See the photos HERE.
↑ top
From Our Partner | Museum Replicated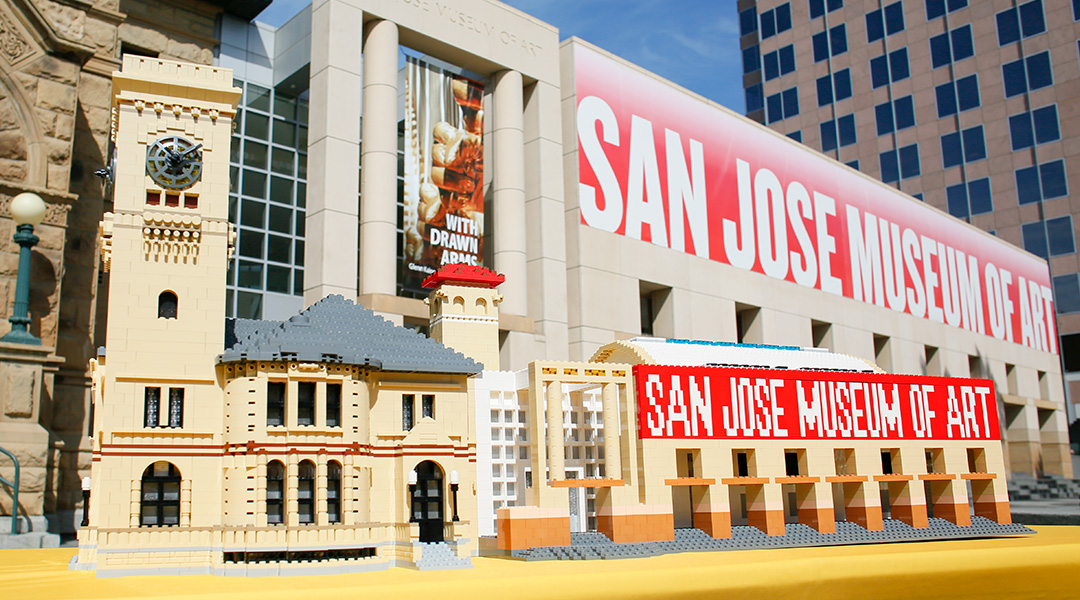 Our friends at Legoland Discovery Center Bay Area built a mini-replica of our historic building for their Miniland!! Some fun facts about this Lego replica: it took 31 hours to design it and 101 hours to build it. The replica includes 6,650 Lego bricks and weighs seven pounds!
↑ top
Behind-the-scene photos | Installation of Bridge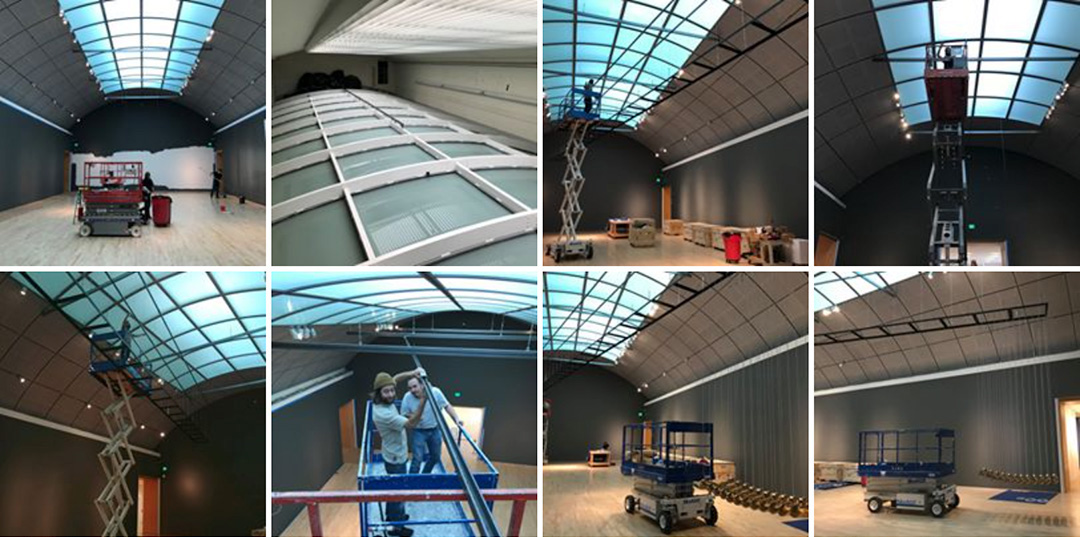 In order to exhibit Glenn Kaino's monumental work, Bridge, the SJMA installation team had to design and build a custom rigging apparatus that was attached to the gallery's architecture to suspend such a large piece below a glass ceiling. The sculpture is comprised of hundreds of pieces of hardware and thousands of feet of cable. See the photos HERE.
Related exhibition: With Drawn Arms: Glenn Kaino and Tommie Smith
↑ top
Interpretive | What would you raise your fist for?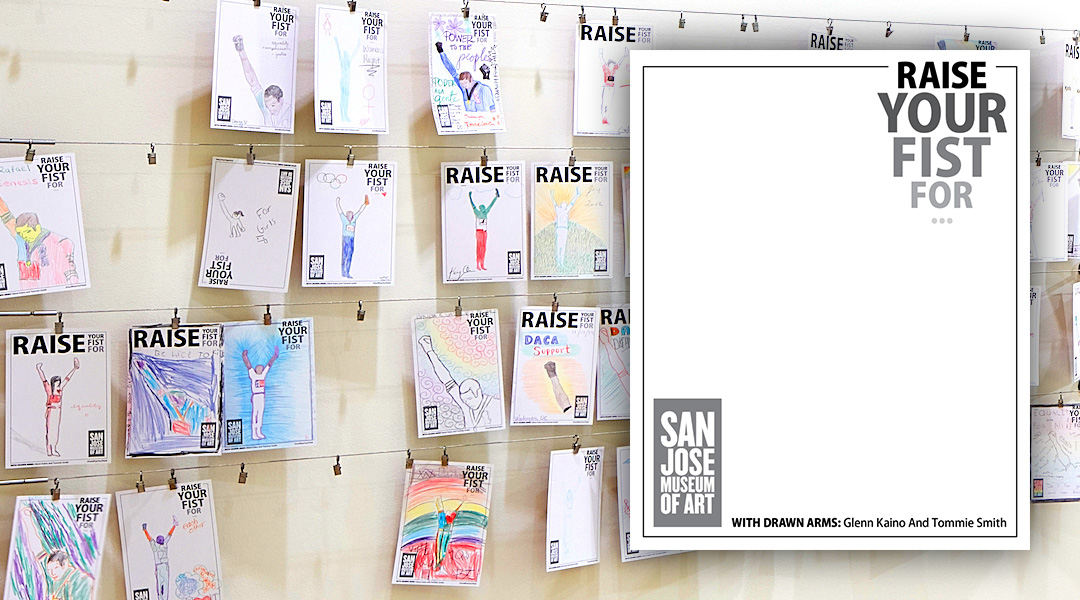 Tommie Smith and Glenn Kaino led drawing rallies around the United States, inviting participants to use the Osmo mirroring device to retrace the monumental moments that led him to champion his beliefs. This online interpretive space allows you to explore the metaphor of "passing the baton" by reflecting upon personal causes and sharing what you will raise your fist to support.

We at SJMA believe in the power of a voice, and how that voice can carry and reverberate through history and inspire future generations. We would like to know, what would you raise your fist for? SJMA is listening. #ShowMeSJMA
Related exhibition: With Drawn Arms: Glenn Kaino and Tommie Smith
↑ top