↖ Museum from Home
Content Stream
Curators' Dashboard | Downloads | Exhibitions | Online Education | Public Programs | Social Media | Video
< Newer Posts | Older Posts >
Happy International Pride Month from SJMA Staff!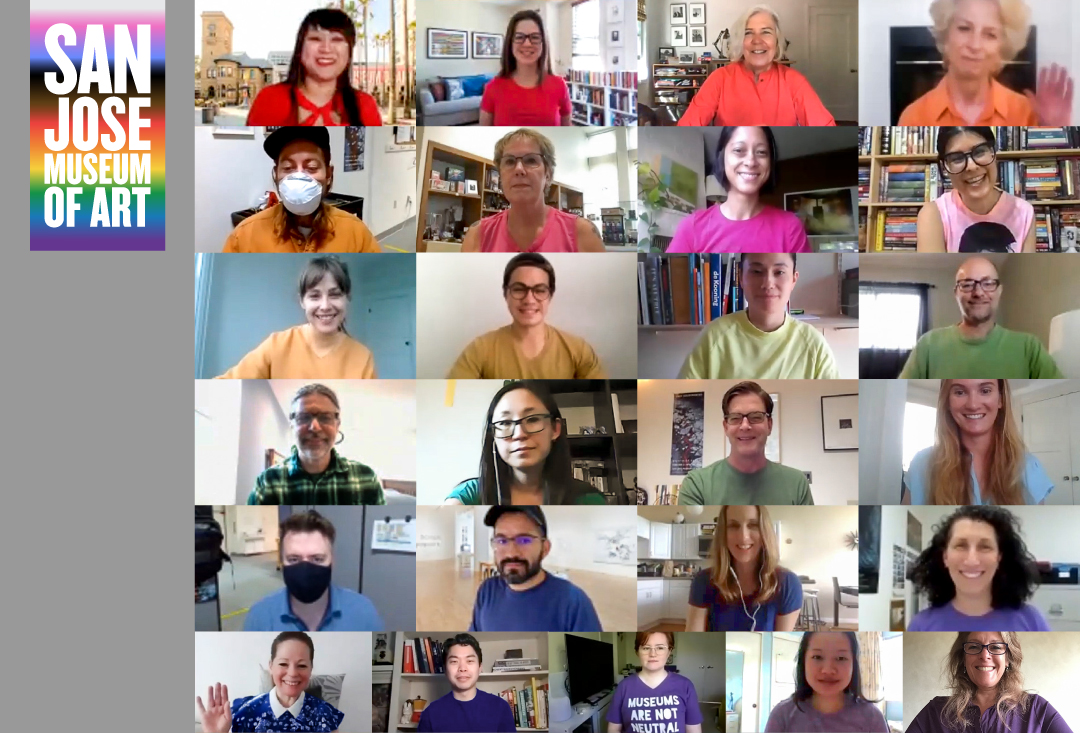 June 2020 is recognized as International Pride Month. SJMA supports and celebrates our LGBTQI+ community and the ongoing struggle for civil rights. This is a time we would ordinarily be together, hugging, dancing, celebrating—the very opposite of social distancing. And we recognize that being apart, especially now, can be challenging. We need to connect and come together. Much has been accomplished but there is still more to be done. SJMA welcomes everyone and the partners they love, however they identify. We miss seeing you in real life, but we SEE you. We acknowledge and center Black Trans Lives: they matter and need our support. They are the most vulnerable of our community. Once again, check our website for more resources.
SJMA's Pride Logo Refresh! SJMA's Pride Logo has been updated to be more inclusive by adding white, pink, a lighter blue, black, and brown colors. The white, pink, and light blue reflect Transgender pride, based on a flag created in 1999 by trans woman Monica Helms. Black and brown stripes are included to center our support for Black and Brown people within our community and were introduced into the Pride flag by Philadelphia's Pride commission in 2017.
Video | Celebrate Pride by Making Your Own Mini Float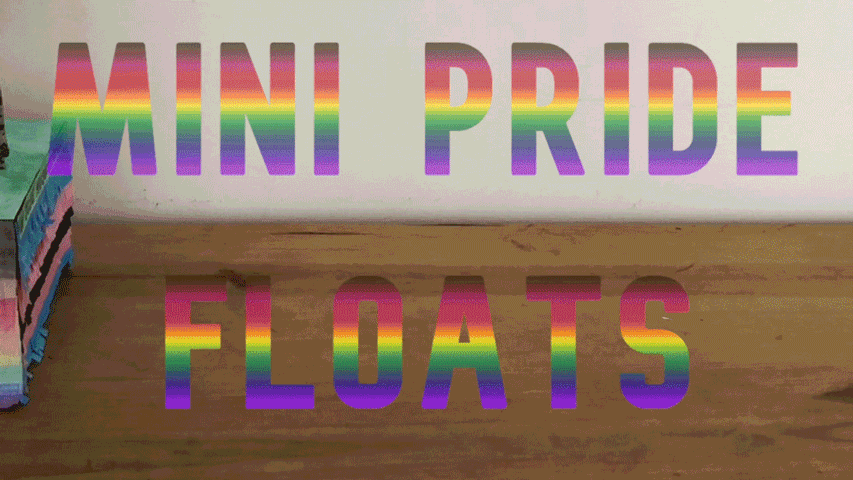 "[Pride] should be about honoring the Stonewall riots which is a foundational event in LGBTQ+ history...There were always Black folks, people of color, trans folks, gender non-conforming folks, who were trying to restore the dignity of that original fight." — Raquel Willis, activist and writer.

Make a mini float to celebrate Pride and share with us via social media or at education@sjmusart.org!
- Download the 2D pride float template HERE
- Watch the video HERE
Collection Spotlight | Catherine Opie's Melissa & Lake, Durham, North Carolina (1998)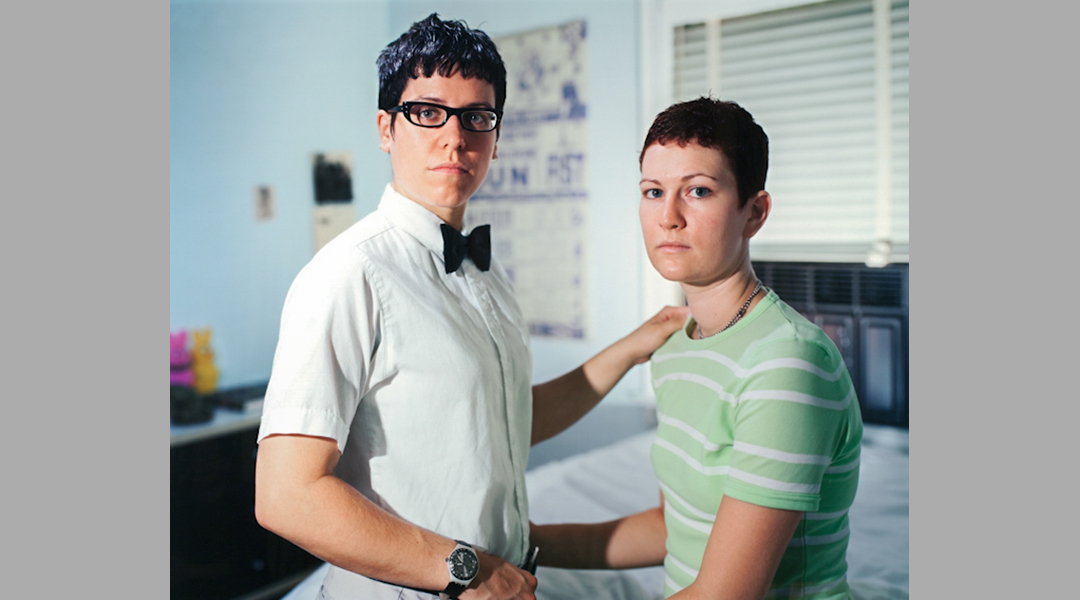 Catherine Opie (b. 1961 Ohio) is interested in how communities are formed in relationship to identity and place. In 1998, she drove across the country in an RV for two months photographing lesbian couples and families as part of her "Domestic" series. The resulting photographs like Melissa & Lake, Durham, North Carolina, focuses on the intimacies and complexities of domestic life. Throughout her long career, Opie has given visibility to communities that she identifies with—Queer +S/M + Leather—and has championed the rights of these communities through her art and activism.

Explore the Museum's collection online HERE.
Museums With Pride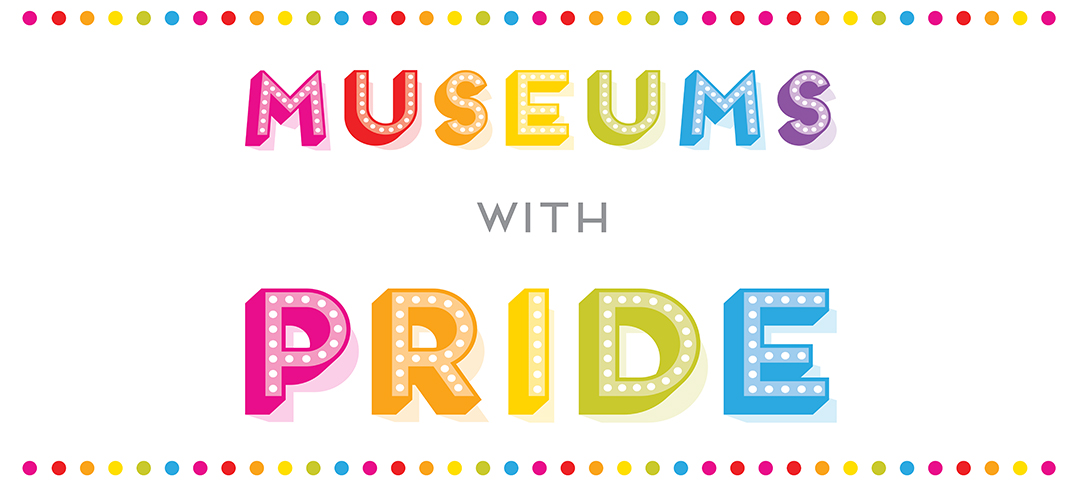 The San José Museum of Art joined 21 other arts organizations to celebrate Pride virtually! Learn more HERE.
SJMA + Drag Queen Story Hour Pride Series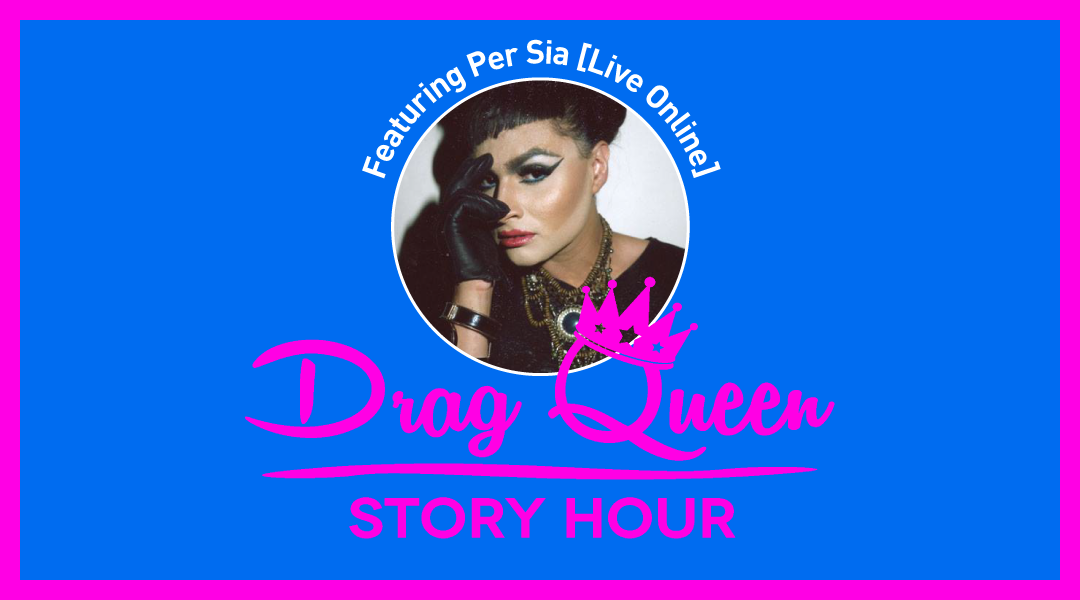 Join us next Tuesday, June 30 at 12:30pm for the final in our Drag Queen Story Hour series. And if you missed previous readings, you can watch them HERE.
Save the New Date! | Facebook First Friday Museum with Pride August 7

Friday, August 7, 6–9pm | Free!

Celebrate Silicon Valley Pride online with your nearest and dearest and geographically furthest, as we move our Pride Celebration online! SJMA honors Silicon Valley Pride with an evening of community, art, laughter, and music.

Long-time friends Alpha Andromeda and Gabrielle Antolovich co-host the evening, offering queer readings of work from SJMA's permanent collection. Artist Marcela Pardo Ariza joins for a lively discussion about what it's like to be an artist creating work in this specific moment in time. Finally, San José native and Latinx star performer San Cha brings her gothic cumbias live from her apartment in LA. Produced by Silicon Valley Pride's Saldy Suriben.

Get dressed up, send us a selfie, and share the night! Join in on the fun here: Facebook | Twitch
↑ top
San José Museum of Art (SJMA) continues to be both a resource and a partner to the Silicon Valley community. Visit our Museum from Home section, where you will find a wealth of new content: exhibitions further explored, do-it-at home art-making activities and lesson plans, recordings from previous public programs, and SO much more! Our ever popular Kids Summer Art Camp has shifted online, beginning THIS WEEK with guest artists each week. See what SJMA has to offer.
Pride Celebration Lunchtime Storytime with Drag Queen Story Hour [Live Online]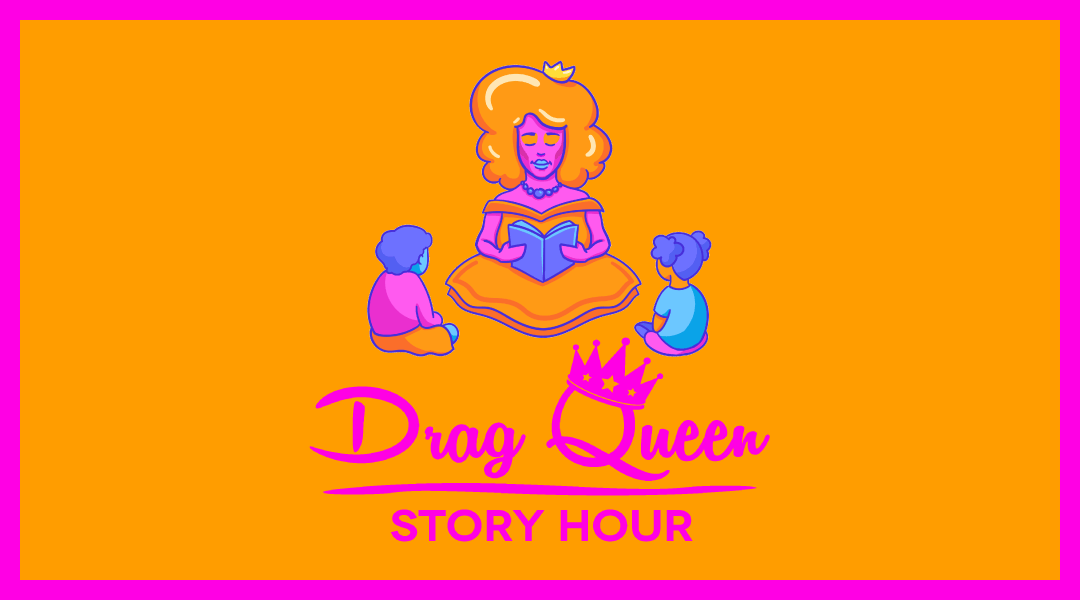 SJMA debuts a special limited series (June 16, 23, 30), in partnership with Drag Queen Story Hour to celebrate Pride Month – grab your lunch, turn off notifications, silence your inbox and enjoy Art-themed, children's book readings to celebrate imagination, inclusivity, diversity, unity, and love from Drag Queen extraordinaires Per Sia and Black Benatar. Program is for all-ages–grab the kiddies from the next room to join you! Curated book selections are courtesy of the San José Public Library (SJPL) and DQSH-SF.
On June 16, Per Sia reads Monica Brown's Frida Kahlo and her Animalitos and Sherri Duskey's How to Put an Octopus to Bed.
On June 23, Black Benatar reads Gayle E. Pitman's This Day in June and Maria Isabel Sanchez Vegara's Josephine Baker - (Little People, Big Dreams).
On June 30, Per Sia reads Javaka Steptoe's Radiant Child: The Story of Young Artist Jean-Michel Basquiat and Shilo Davis' My Princess Boy.
Happening on Facebook Live and Instagram Live: Facebook | Instagram
Illustration by Illustration by Lizzy Nolin.
Third Thursdays: Artists in Residence [Live Online]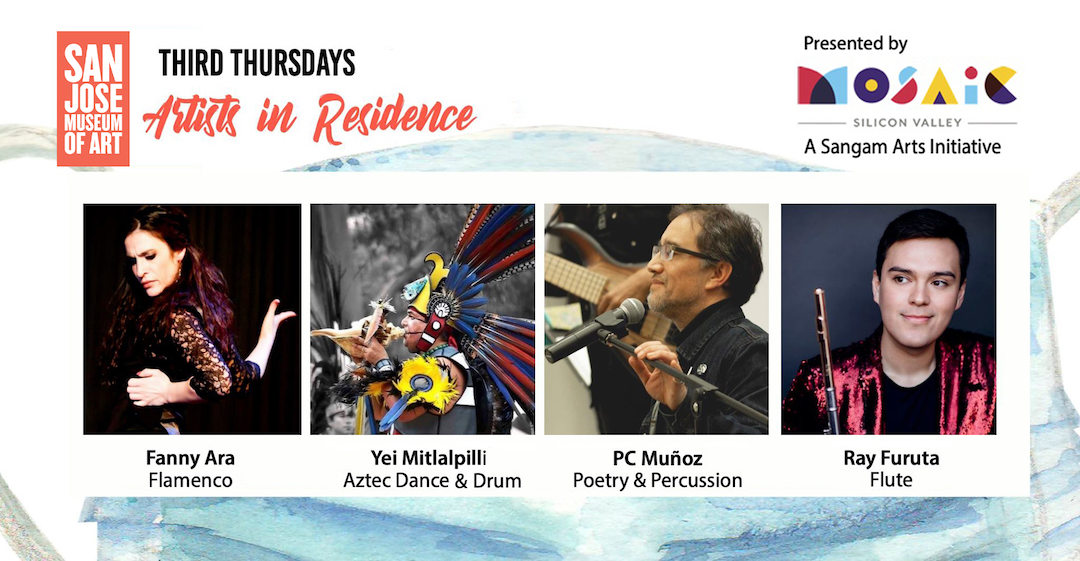 Thursday, June 18, 7–8pm PST | Free.

Third Thursdays: Artists in Residence is a virtual showcase and discussion featuring multicultural and multidisciplinary artists who adapted their practice in response to shelter-in-place amidst the COVID-19 pandemic. The showcase features segmented performances by four artists, followed by a discussion and Q&A session moderated by Usha Srinivasan of Mosaic Silicon Valley.

FEATURED ARTISTS
Yei Mitlalpilli of Calpulli Tonalehqueh, Aztec drummer, and dancer
Fanny Ara, Flamenco dancer, teacher, choreographer
PC Muñoz, poet and percussionist
Ray Furuta, flutist, composer, and teacher
↑ top

We at San José Museum of Art condemn the deplorable homicides of George Floyd, Breonna Taylor, Ahmaud Arbery, and countless others whose lives have been senselessly cut short by police brutality and vigilante violence caused by systemic racism in this country.

We stand united with the families of the recently deceased and protesters in the pursuit of justice. We condemn the pervasive, ongoing discrimination and inequality suffered by Black and brown communities nationwide.

Please consider supporting the following causes:
- Official George Floyd Memorial Fund
- Fight for Breonna Taylor
- Help the family of Ahmaud Arbery
- Visit Movement for Black Lives for additional ways to help
- Anti-racism resources
San José Museum of Art
↑ top
A Digital Publication of San José Museum of Art
on the 50th Anniversary Launches June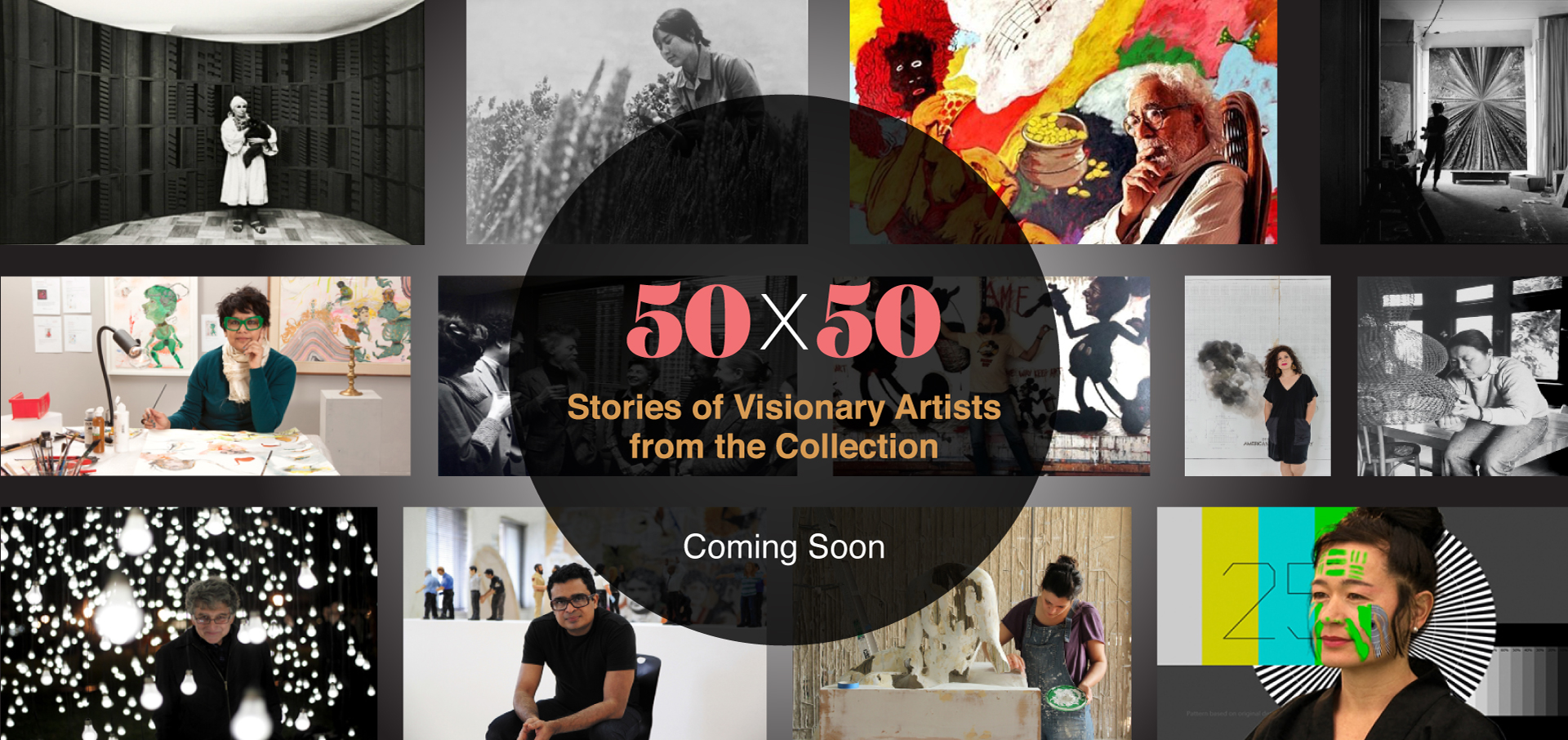 In celebration of its 50th anniversary, the San José Museum of Art presents a FREE digital publication titled 50X50: Stories of Visionary Artists from the Collection, highlighting fifty artists from the permanent collection. Discover more about the lifelong work of celebrated artists like Diana Thater, Alan Rath, Ruth Asawa, Leo Villareal, Louise Nevelson, and more through multimedia content—including interviews, video, and audio. Explore documentation of artworks, exhibitions, and studios to learn more about the professional and private lives of artists, as well as their ideas, creative processes, and lasting influences.

These in-depth explorations introduce new scholarship and fresh insight into the artist psyche. Additionally, the selection of artists reflects the gender parity inherent within SJMA's collection: the publication features 25 men and 25 women.

SJMA is committed to equitable access to the arts, and 50X50 will further SJMA's vision to become a borderless museum, offering anyone with an internet connection the chance to gain deeper understanding of iconic artists in our permanent collection.

Stay tuned for the launch of this exciting initiative June 2020!

Visionary Artists Highlighted:
Diana Al-Hadid, Benny Andrews, Robert Arneson, Ruth Asawa, Judy Baca, Firelei Báez, Rina Banerjee, Ruth Bernhard, Elmer Bischoff, Barbara Bloom, Joan Brown, Jim Campbell, Enrique Chagoya, Robert Colescott, Mary Corse, Roy De Forest, Jay DeFeo Llyn Foulkes, Gauri Gill, Andy Goldsworthy, Doug Hall, Mona Hatoum, Tim Hawkinson, Lynn Hershman Leeson, Mildred Howard, Jitish Kallat, Dinh Q. Lê, David Levinthal, Hung Liu, Frank Lobdell, Richard Misrach, Lee Mullican, Louise Nevelson, Manuel Ocampo, Nathan Oliveira, Tony Oursler, Alan Rath, Alison Saar, Raymond Saunders, Jennifer Steinkamp, Hito Steyerl, Stephanie Syjuco, Tabaimo, Masami Teraoka, Diana Thater, Leo Villareal, Bill Viola, Catherine Wagner, William T. Wiley, and Betty Woodman.
This open access publication will be made available for free online and in multiple downloadable formats, including PDF and EPUB.


↑ top
This week, we revisited Make Me a Summary of the World—the mid-career retrospective of acclaimed Indian American artist Rina Banerjee, which was on view at SJMA last spring and co-organized by Pennsylvania Academy of the Fine Arts.
Photo Album | Rina Banerjee Installing Make Me a Summary of the World at SJMA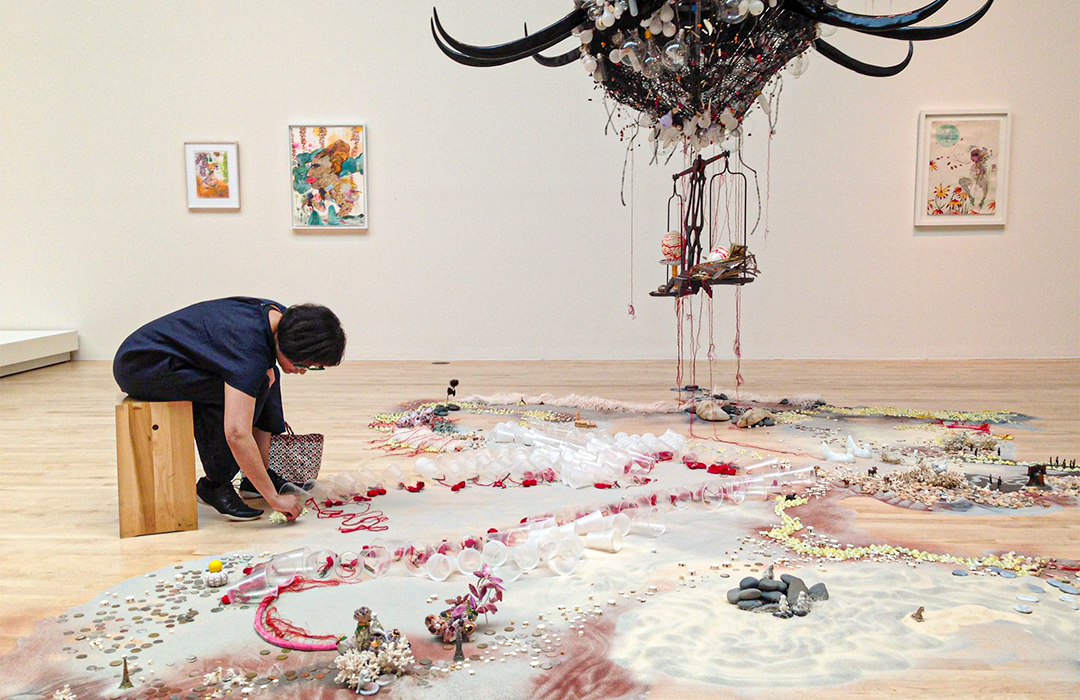 Banerjee creates sprawling sculptural installations and objects made from found objects and materials sourced from across the globe. In a single work, one can find African tribal jewelry, colorful feathers, light bulbs, Murano glass, and South Asian antiques—both real and fake—in conflict and conversation with one another. Mounting this exhibition was no small feat, requiring a collaborative bi-coastal team of 24 people, including registrars and couriers from both Museums, artist assistants, and the expert installation team at SJMA, led by SJMA's Director of Design + Operations Richard J. Karson. See the photos HERE.
Video | A Visual Diary of Cross-Country Collaboration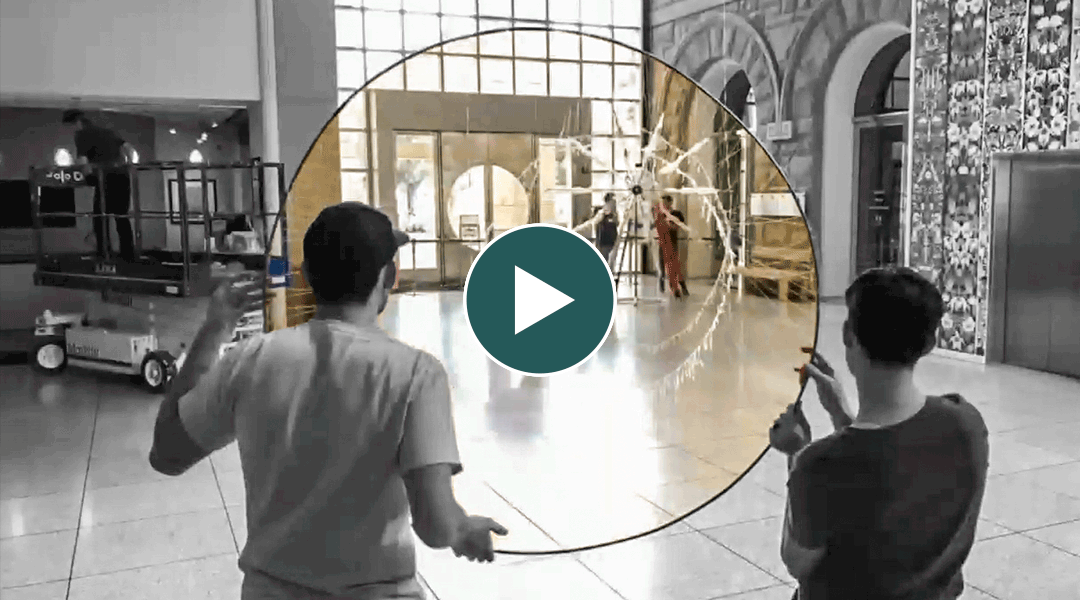 Watch this visual diary of the cross-country collaboration between the San José Museum of Art and the Pennsylvania Academy of the Fine Arts, featuring the exhibition Rina Banerjee: Make Me a Summary of the World. Watch the journey HERE.
Video created by Richard J. Karson, Director of Design + Operations.
Photo Album | Kids Summer Art Camp Rina Banerjee-Inspired Sculpture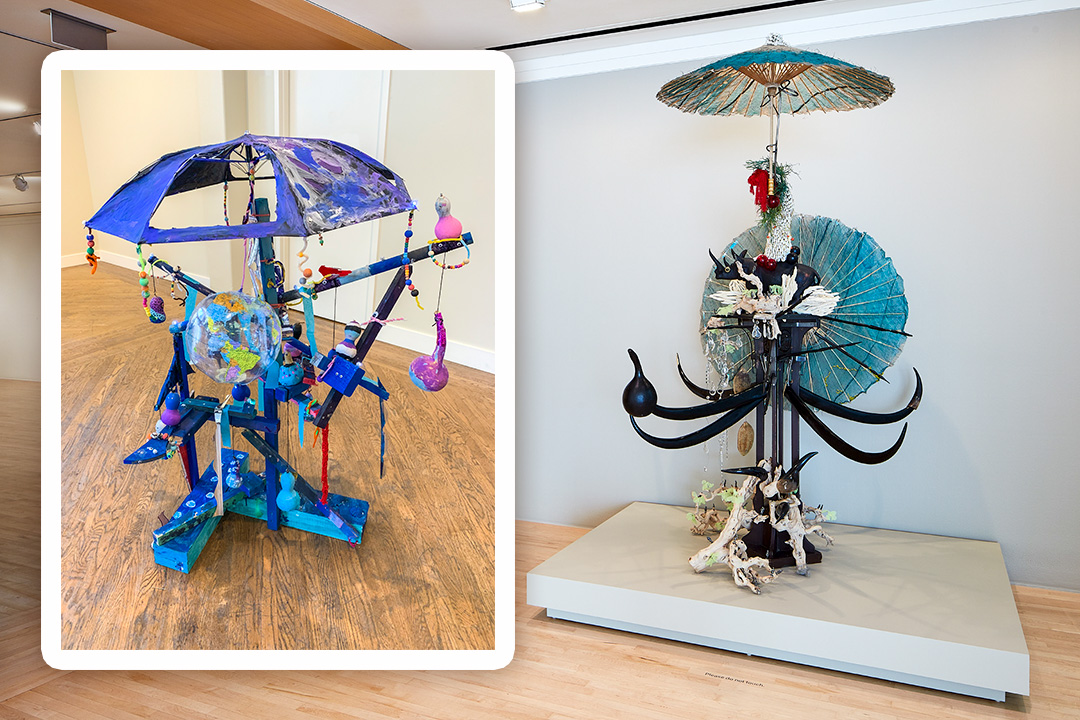 The sculpture on the left was created by Kids Summer Art Campers, ages 6–8 (2019). It was inspired by Banerjee's vibrant and mixed-media practice. Take a closer look at the camper's sculpture HERE.

KIDS ART CAMP – SUMMER 2020 [Live Online]
This year's Kid Summer Art Camp is moving online! Campers will participate in virtual tours of working artists' studios with live demos, tutorials, and #STEAM.

Weekly guest artists: Imen Yeh, Yojiro Imaska, Vanessa Marsh, Tony May, and Leslie Shows.
Make Art at Home | Artistic Styles: Rina Banerjee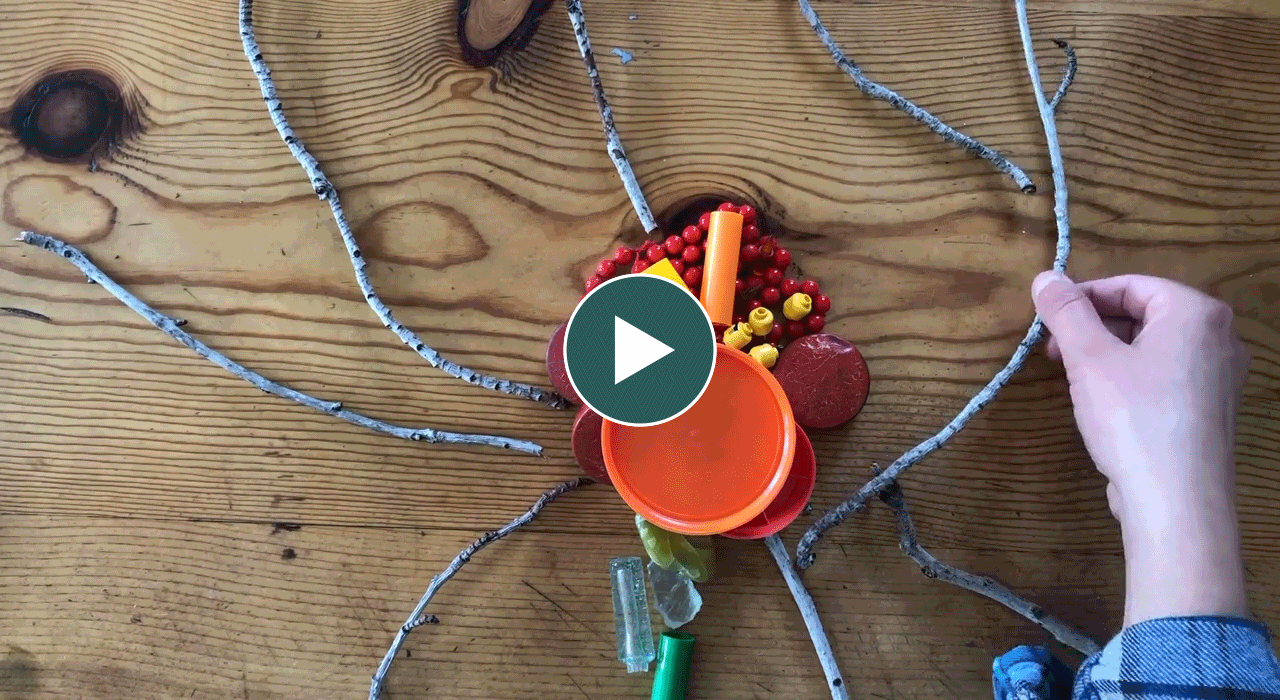 SJMA's Museum Experience and Education department looks at Rina Banerjee's sculptural work and the colorful, eclectic, and unexpected materials the artist uses. Learn how Banerjee's practice can serve as inspiration to create a found-object version of the California Golden Poppy. Watch the tutorial video HERE.
#SJMAED | #ArtAtHome | #FoundObjectArt
↑ top
< Newer Posts | Older Posts >

San José Museum of Art | 110 South Market Street, San José, CA 95113

© 2020 San José Museum of Art.