↖ Museum from Home
Content Stream
Curators' Dashboard | Downloads | Exhibitions | Online Education | Public Programs | Social Media | Video
Announcing the launch of a brand-new section of #MuseumFromHome on our website! Welcome to Curators' Dashboard! A new space where the SJMA curators can reflect on current events, past exhibitions, or upcoming shows and/or artists they are researching, and so much more! Some entries will be polished and edited while others will be candid and spontaneous in response to our dynamically changing world.
Essay | When will the bells ring?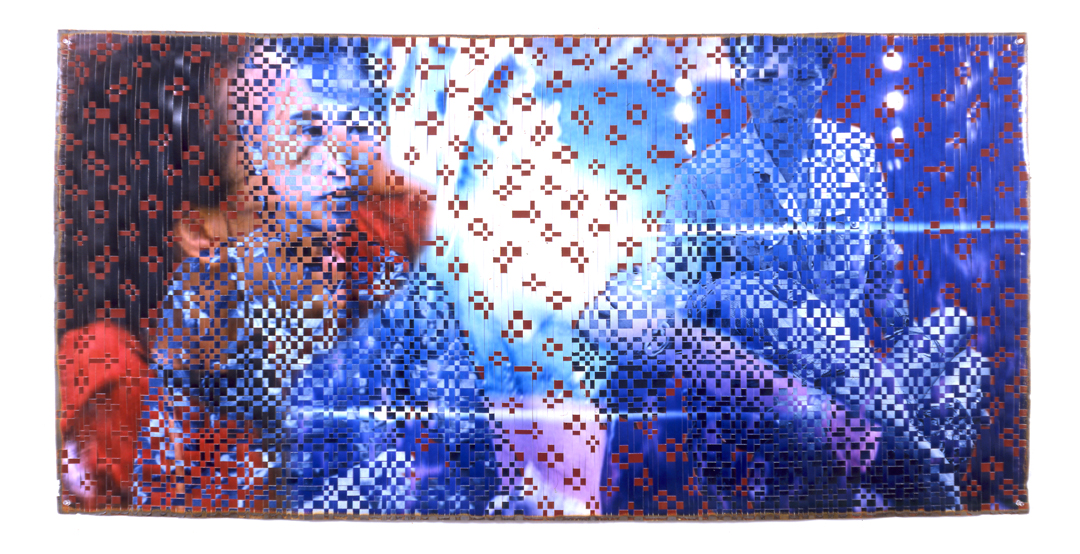 When will we give them their flowers? SJMA curator Rory Padeken reflects on the world-wide pandemic and protests against police brutality to address how, when, and who we mourn. He asks how can we mourn together when we are being torn apart by systemic racism and violence.

Click HERE to read the whole piece.
↑ top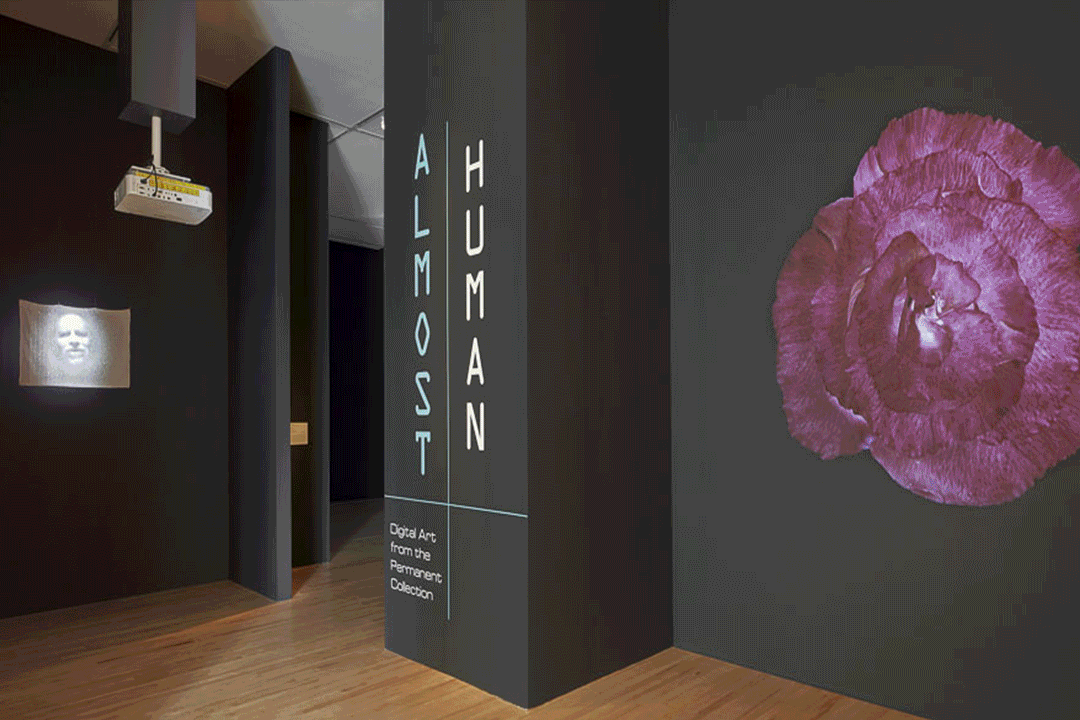 Almost Human: Digital Art from the Permanent Collection (through Sunday, September 27, 2020) highlights artists who use digital and emergent technologies from custom computer electronics and early robotics to virtual reality and artificial intelligence. Almost Human seems to posit the question, what makes us human? Works are connected to our physical and emotional experiences while others record human connection and longing. Exhibition artists: Andrea Ackerman, Jim Campbell, Ian Cheng, Petra Cortright, Mark Hansen and Ben Rubin, Zara Houshmand and Tamiko Thiel, Tony Oursler, Alan Rath, Jacolby Satterwhite, Jennifer Steinkamp, Diana Thater, and Bill Viola.
Video | The Listening Post by Mark Hansen + Ben Rubin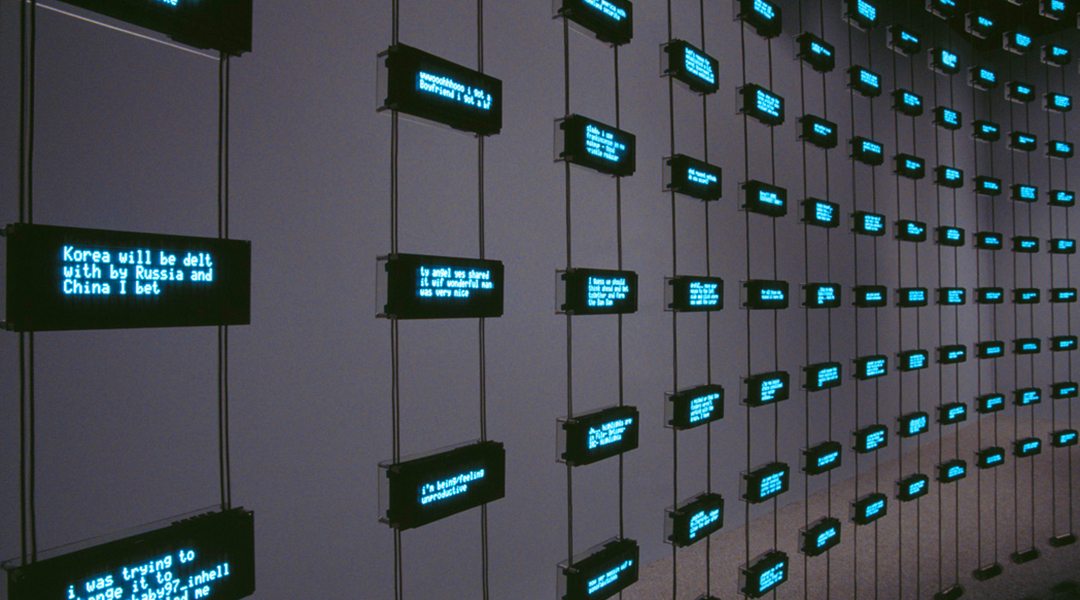 You enter a dark room, filled with clicking sounds, hundreds of mini-screens, and a computerized voice reading text culled from the internet almost 20 years ago. Mark Hansen and Ben Rubin's The Listening Post is comforting and unsettling in its repetitiveness and gradual build to crescendo. Comprised of words and chatter from online message boards and chatrooms, the mixed media sculpture stands alone, isolated, while reading words of physically disconnected people attempting to connect online. While reading and listening to The Listening Post, one wonders, did these people connect with a listener? And twenty years later, are they still seeking to connect online? Their words live on, dancing and disappearing in movements created by Hansen and Rubin. Watch the video HERE.
Make Art at Home | An Ode to Listening Post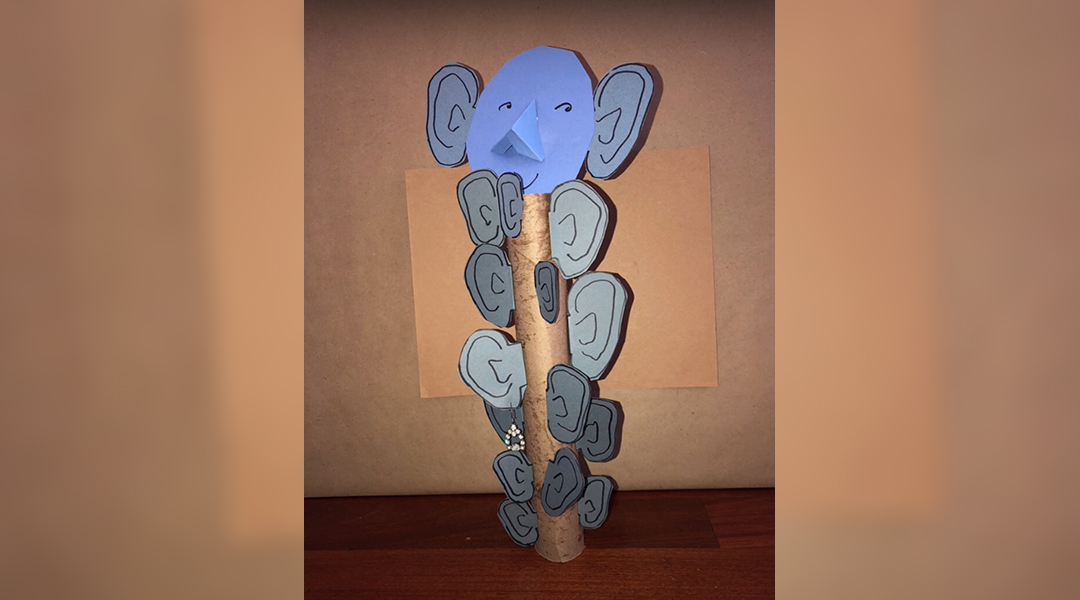 There's an earful of puns at play in this project inspired by Mark Hansen and Ben Rubin's The Listening Post. Make your own listening post, with some paper, a pen, tape, and scissors! Visit the Online Education page for videos on art-making activities based on SJMA permanent collection artists and art lesson plans, and more! See the video HERE.
Artist Spotlight | Jennifer Steinkamp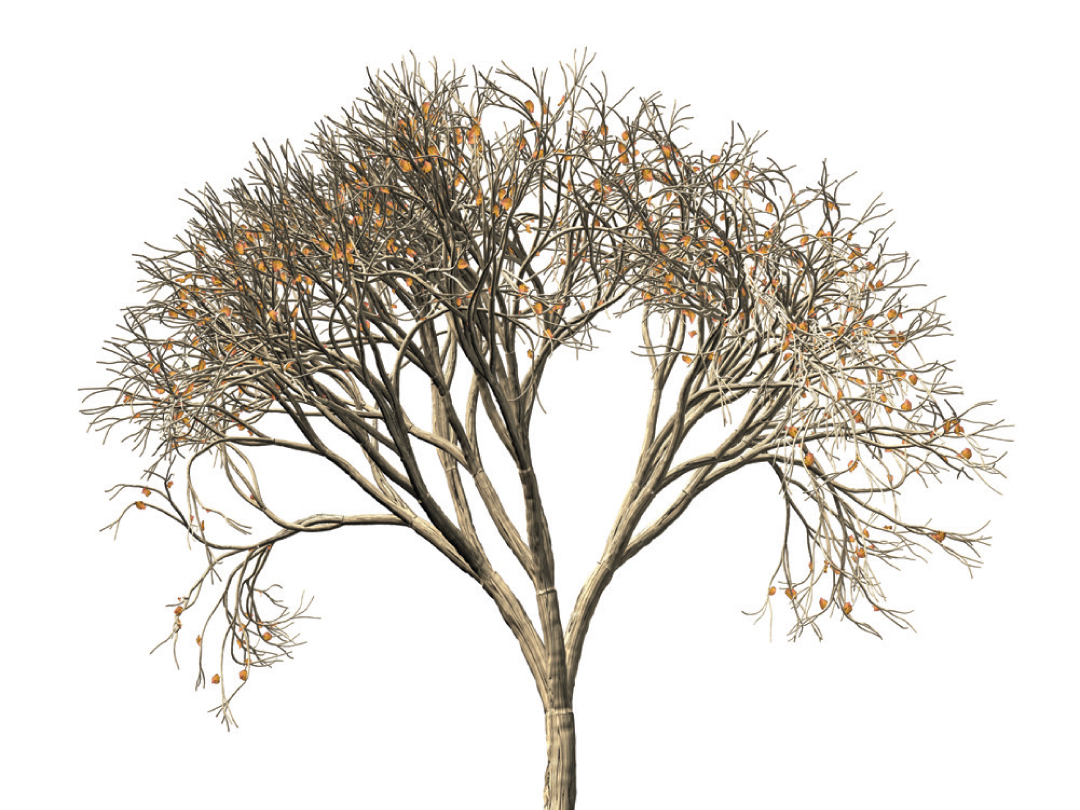 Jennifer Steinkamp 's Fly to Mars (no. 1) features a tree that undulates to a fictious breeze. Her hyperreal digital animation tree cycles through the seasons without beginning or end. Rather than immerse the viewer in a narrative world, the tree's abstract movement mimics our own bodily experience of living, breathing, and dying. It awakens sensations of our physical being in relation to the projected image.  Watch the video HERE.
Artist Spotlight | Alan Rath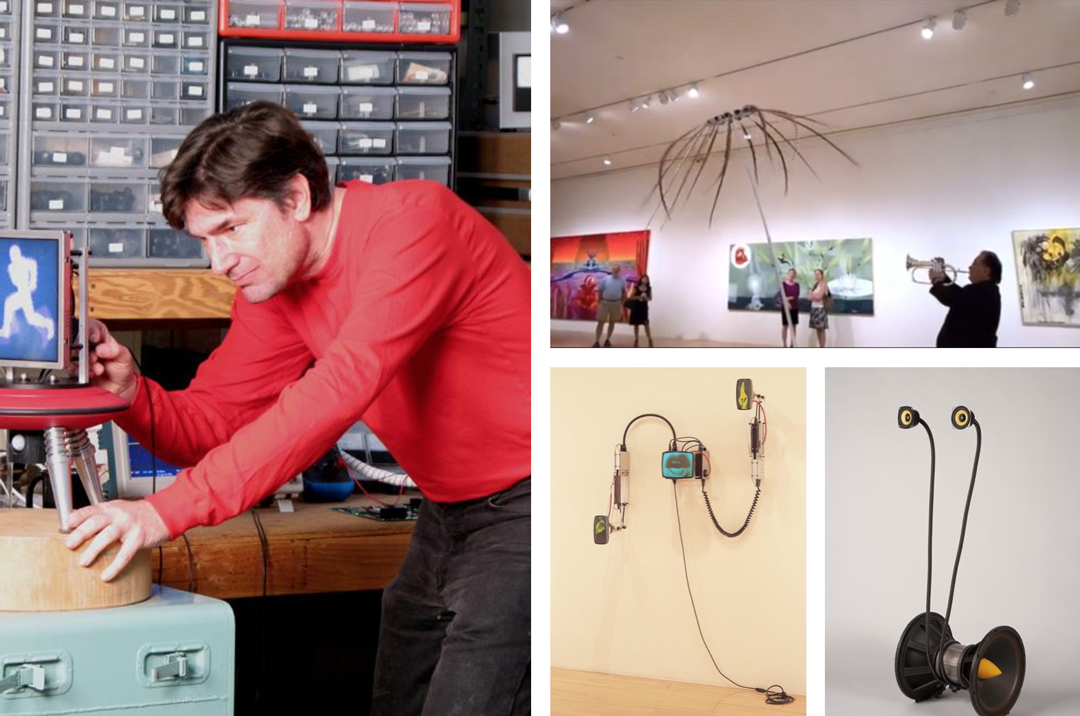 Bay Area artist Alan Rath creates art that evokes laughter and delight. His interactive art invites the audience to view his works as living, breathing creatures. His robots move with the viewer and suggest a life beyond human. Watch this video of jazz musician John Worley playing the trumpet and fluegelhorn with Rath's kinetic sculpture dances. READ more in SJMA's digital publication, 50X50: Stories of visionary Artists from the Collection at 50X50.sjmusart.org
↑ top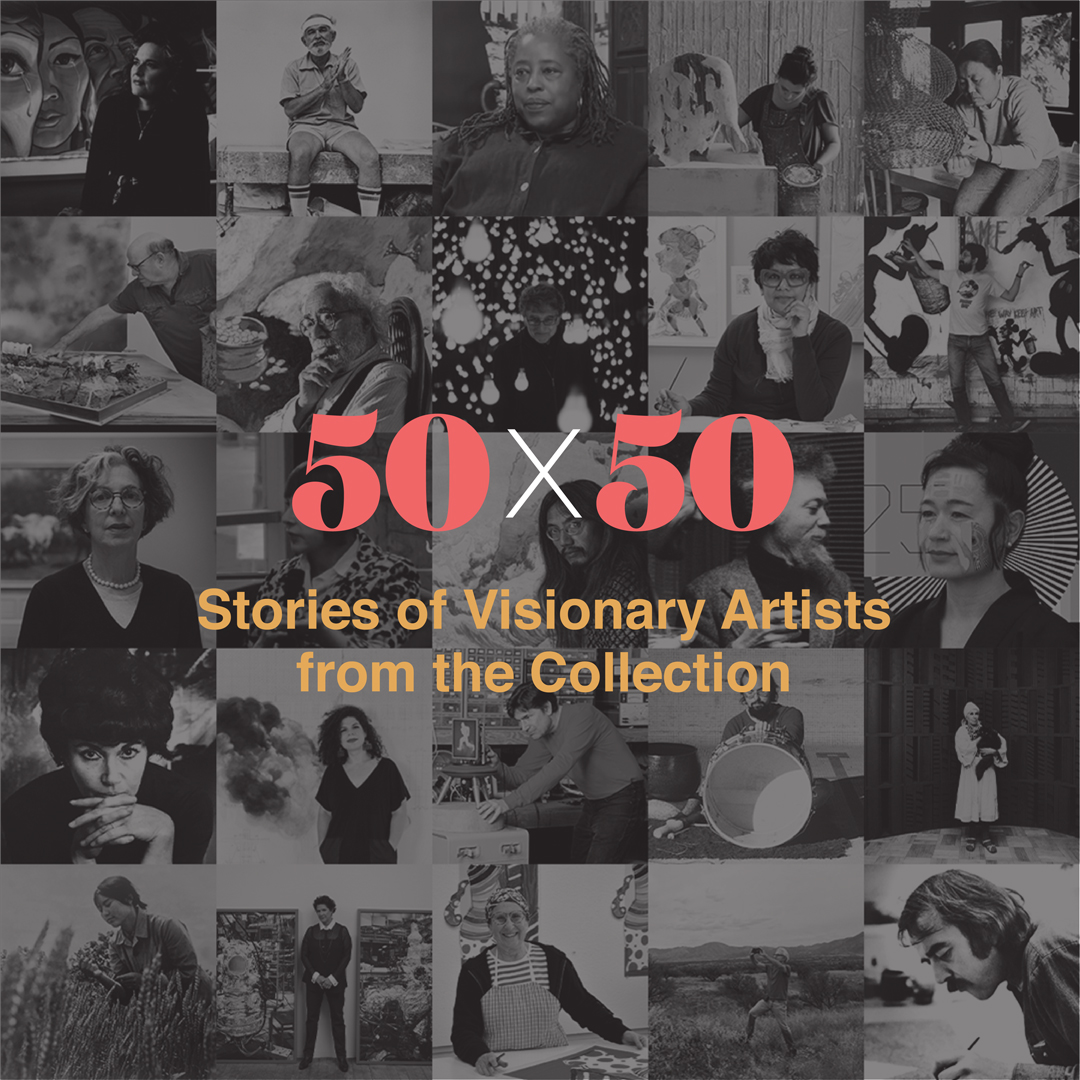 Published on the occasion of SJMA's 50th anniversary, 50X50: Stories of Visionary Artists from the Permanent Collection focuses on 50 artists, providing new scholarship for free while making it accessible to all. The publication launched spotlighting 15 artists: Ruth Asawa, Firelei Báez, Barbara Bloom, Mary Corse, Jay DeFeo, Doug Hall, Tim Hawkinson, Lee Mullican, Tony Oursler, Alan Rath, Jennifer Steinkamp, Hito Steyerl, Diana Thater, Leo Villareal, and William T. Wiley. Learn about the artists, their processes, and their work through research, interviews, and more!

Read SJMA's digital publication now at 50x50.sjmusart.org!
VIDEO | 50X50 Video Demonstration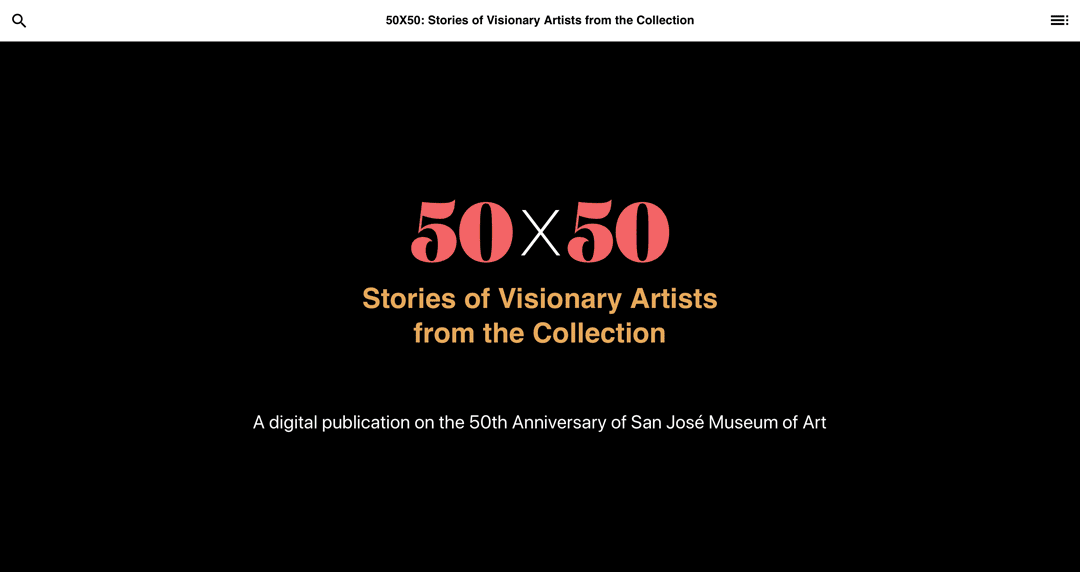 50X50 is interactive, user-friendly, and created for optimal user experience. See how fluid the publication is HERE.
SPOTLIGHT | Ruth Asawa
Ruth Asawa (1926–2013) created airy, hourglass-shaped sculptures that appear to float in space, though they are suspended from the ceiling. Created during the 1950s and 60s, these lobe sculptures are made of crocheted wire. They evoke traditional craft-like weaving and basketmaking, but their nonutilitarian forms demonstrate an interest in abstraction; their play with positive and negative space suggests both volume and weightlessness; and their attention to line, particularly evident in the shadows they cast, approaches drawing. Learn more about Asawa HERE.
SPOTLIGHT | Diana Thater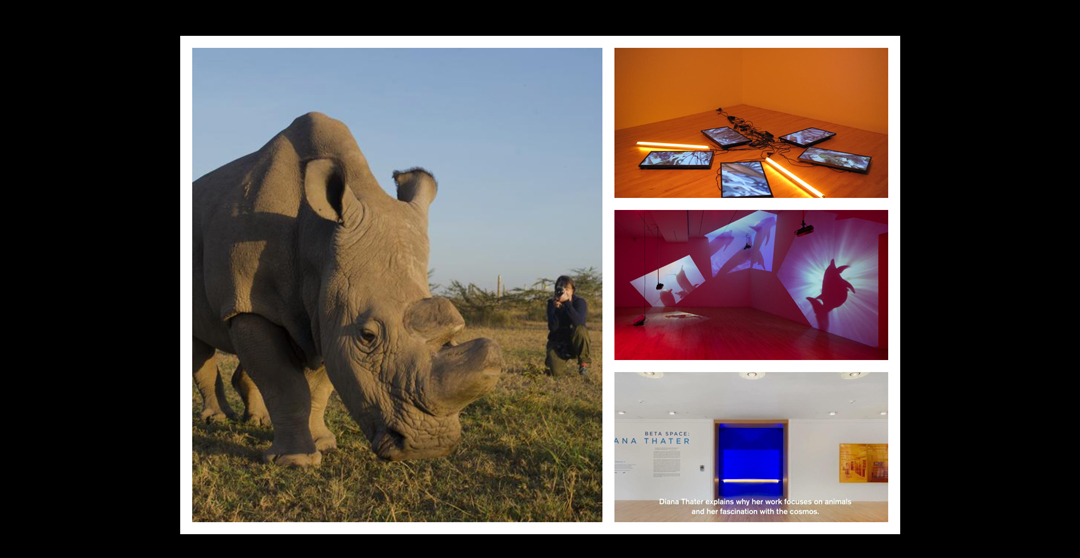 Diana Thater, a pioneer of video installation art uses digital media to create works that offer a perspective from nature, such as the monarch butterflies or dolphins. Watch this video to see what attracts Thater to focusing on animals and the space that we share with them. Learn more about Thater HERE.
SPOTLIGHT | Leo Villareal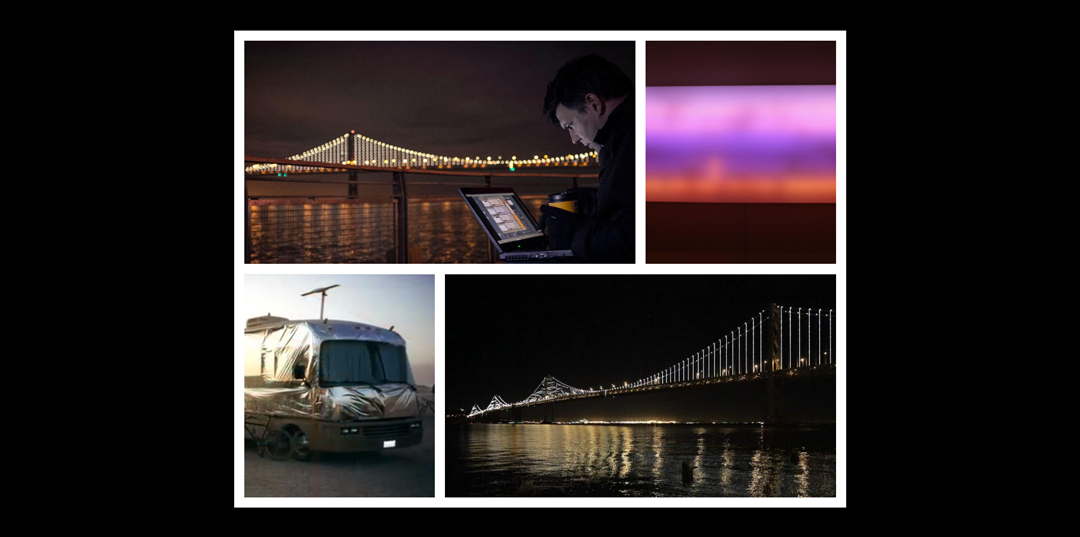 From getting lost at Burning Man to finding his way to the top of the Bay Bridge, artist Leo Villareal creates light sculptures beginning with a simple set of programming rules, like on and off, to build complex sequences of moving light—pulsating patterns, rippling waves, and starry clusters of glowing LEDs. Learn more about Villareal HERE.
SPOTLIGHT | Firelei Báez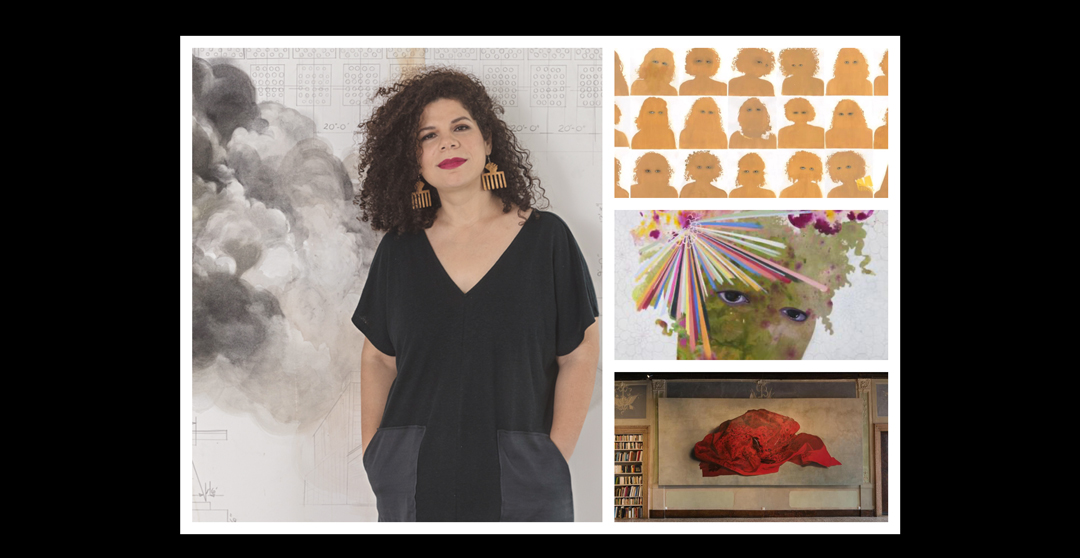 Firelei Báez centers her practice around identity. There is a futuristic, otherworldly quality to much of Báez's work, even when referencing the residue of colonial history and power. Keen on self-exploration, Báez creates self-portraits to underline the inherent racism and bias she and others experience based on the color of their skin. This image is a self-portrait that references the artist's earlier "Can I Pass?" (2011–13) series, only instead of depicting herself in muted skin tones, she's rendered in neon pinks and greens, decorated with a bursting prism of light. The artist's use of fantastical color activates a space "beyond the walls" of persistent structures of oppression. Learn more about Báez HERE.
Acknowledgments
This publication is made possible in part by the Institute of Museum and Library Services (IMLS grant #MA-10-16-0002-16).

Sponsored by the John S. and James L. Knight Foundation, the Lipman Family Foundation, the Richard A. Karp Charitable Foundation, Cheryl and Bruce Kiddoo, Yvonne and Mike Nevens, Peggy and Yogen Dalal, Evelyn and Rick Neely, Rita and Kent Norton, Elizabeth and Byron Ryono, Marge and Ken Nissly, Elaine Cardinale, George Crow in honor of Susan Crow, Toby and Barry Fernald, Tad Freese and Brook Hartzell, Elena Lebedeva and Alvin Smith, Marsha and Jon Witkin, and the SJMA Docent Council Alumni.

Programs at the San José Museum of Art are made possible by generous support from the Museum's Board of Trustees, a Cultural Affairs Grant from the City of San José, the Lipman Family Foundation, Yvonne and Mike Nevens, Facebook Art Department, the Richard A. Karp Charitable Foundation, The David and Lucile Packard Foundation, Adobe, Yellow Chair Foundation, the SJMA Director's Council and Council of 100, the San José Museum of Art Endowment Fund established by the John S. and James L. Knight Foundation at the Silicon Valley Community Foundation, and The William Randolph Hearst Foundation.
↑ top
< Newer Posts | Older Posts >

Almost Human
Installation photo of Almost Human: Digital Art from the Permanent Collection through September 27, 2020 at San José Museum of Art. Photo by JKA Photography.

Video | The Listening Post by Mark Hansen + Ben Rubin
Mark Hansen and Ben Rubin, The Listening Post, 2002-06. Screen modules on support beam, connective wire; 8 audio speakers and software, 233 x 146 x 31 inches. Collection of the San Jose Museum of Art with funding provided by: Deborah and Andy Rappaport, Lipman Family Foundation, Council of 100. Additional support provided by Rita and Kent Norton. 2005.28.

Filmed onsite at San José Museum of Art, as part of Almost Human: Digital Art from the Permanent Collection.

Artist Spotlight | Jennifer Steinkamp
Jennifer Steinkamp Fly to Mars (no. 1), 2004. Digital projection. Gift of Linda Besemer and the Museum's Collection Committee, in honor of the San José Museum of Art's 35th anniversary. 2004.12.

SPOTLIGHT| Ruth Asawa
Photo: Ruth Asawa works on a crocheted-wire sculpture in her living room, ca. 1976. Photo by Allen Nomura.

SPOTLIGHT| Diana Thater
Clip from Diana Thater's Creative Minds artist talk on the occasion of the exhibition "Beta Space: Diana Thater," San José Museum of Art, April 23, 2015.

SPOTLIGHT| Leo Villareal
Leo Villareal, Untitled (for San José), 2012. LED lights, custom software, and electrical hardware, 32 x 68 x 6 inches. San José Museum of Art. Commissioned and purchased with funds contributed by the Acquisitions Committee, 2012.06.