The Wonder Ball: SJMA's 2016 gala in honor of Yvonne and Mike Nevens
Saturday, September 17, 2016
Space is limited; sponsorships are available now. (PDF)
Please call Kelsey Lee at 408.291.5372 or email klee@sjmusart.org for additional information.
| | |
| --- | --- |
| Stay the night with special rates available at Fairmont San Jose. | |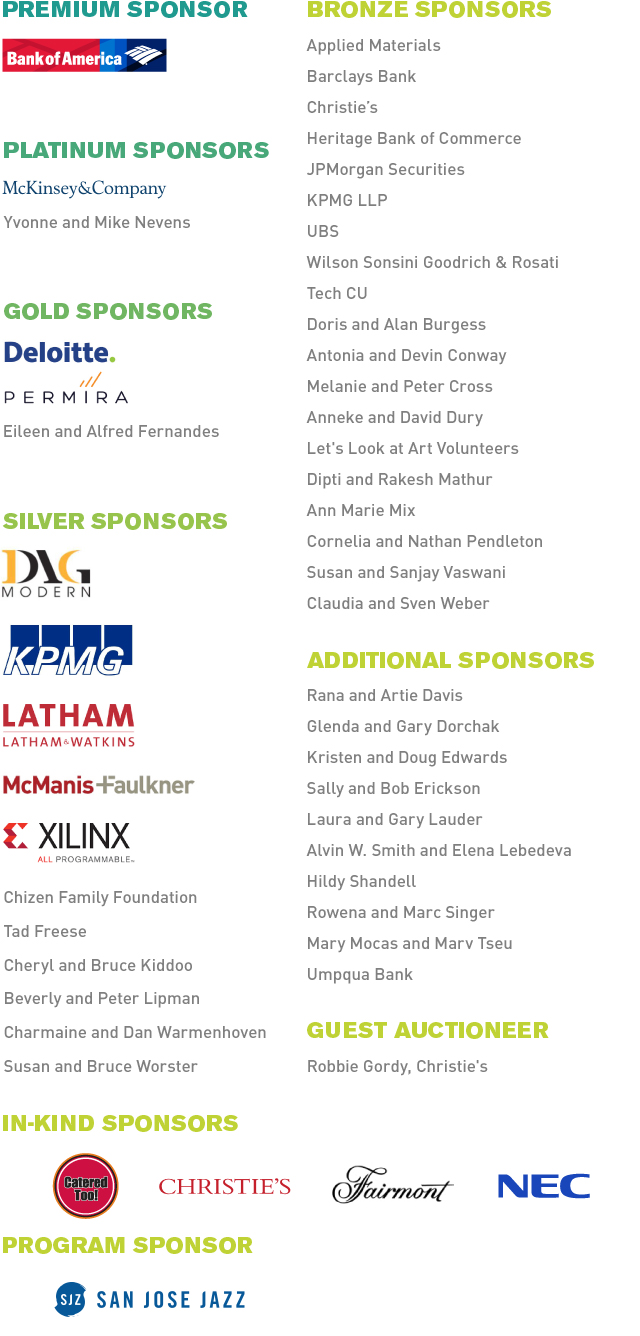 Auction Committee
Tad Freese, Chair
Susan Krane, Oshman Executive Director
Susan Sayre Batton
Cheryl Kiddoo
Peter Lipman
Mary Mocas*
Mike Nevens*
Host Committee
Rena Bransten
Trish Bransten
Doris* and Alan Burgess
Elaine Cardinale
Lisa Dolby Chadwick
Catharine Clark
Brooke and Drew Corradini
Melanie and Peter Cross
Margaret and Russell* Daulton
Rana Davis
William J. Del Biaggio Jr.
Glenda and Gary Dorchak
Anneke Dury
Kristen and Doug Edwards
Elyssa and Justin Evans
Jacquie and William Faulkner
Toby* and Barry Fernald
Raquel González
Cheryl Haines
Todd Hosfelt
Siobhan Kenney
Peter and Beverly Lipman
Pat Malone
James McManis and Sara Wigh
Ann Marie Mix
Mary Mocas* and Marvin Tseu
Patty Nation
Wendi Norris and Alex Tourk
Carol* and Gerhard Parker
Cornelia and Nathan Pendleton
Barbara Shapiro* and Mark Lewis
Jessica Silverman and Sarah Thornton
Ervie L. Smith
Lisa and Tom Stephenson
Alberto Torres and Lydia Itoi
Sanjay and Susan Vaswani
Charmaine and Dan Warmenhoven
Claudia and Sven Weber
Honorary Committee
Teresa Alvarado and Jess Moreles
Maureen Ellenberg
Katie and Drew* Gibson
Barbara Goldstein and John Pastier
The Honorable Raul Peralez, Councilmember, City of San José, and Victoria Ramirez
Vickie Scott Grove
Susan* and Phil Hammer
Daniel T. Keegan*
Cathy Kimball*
Let's Look at Art Volunteers
Hung Liu and Jeff Kelley
Angela McConnell*
Deb Norberg*
Barbara Oshman
Kim Walesh and Stephen Polcyn
* - Board and Staff Alumni of SJMA
Lists in formation as of as August 15, 2016
Board of Trustees
Hildy Shandell
President
Tad Freese
Vice President
William Faulkner
Treasurer
Cornelia Pendleton
Secretary
Roger Bowie
Peter Cross
Thang Do
Glenda Dorchak
Anneke Dury
Eileen Fernandes
Cathy Fraser
Lys House
Richard A. Karp
Michele Kelly-Jones
Cheryl Kiddoo
Peter W. Lipman
Dipti Mathur
Evelyn Neely
Rita Norton