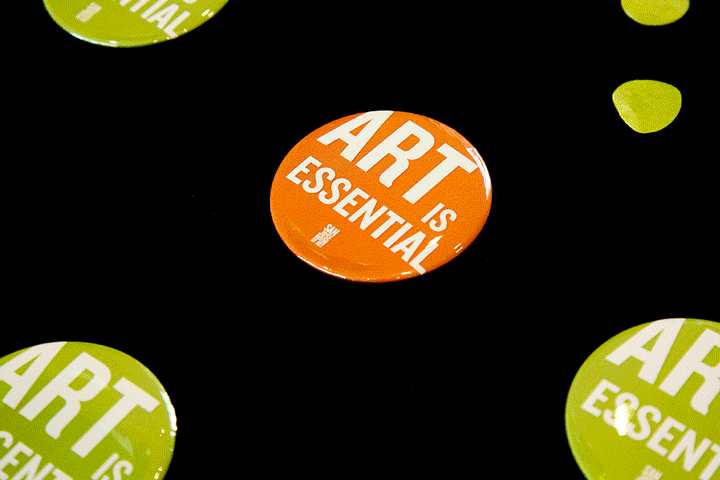 Beginning March 12, 2021, SJMA will be open 3 days a week, Friday through Sunday, 11am–5pm.*
To ensure the safety of visitors, volunteers, docents, and staff, SJMA has devised a comprehensive health and safety plan that is compliant with Santa Clara County Health Department and CDC guidelines. Please review these changes before you visit and thank you for helping us make your Museum visit easy, enjoyable, and safe. We will carefully and continually monitor the efficacy of these guidelines in real time and make further adjustments as needed.

Order Tickets
KNOW BEFORE YOU GO!
PERSONAL PROTECTION
- Visitors ages 6 and up are required to wear a face mask.
- Social distancing of 6 feet must be practiced by all visitors except members of the same household.
- Hand-washing and/or sanitizing is requested before and after touching your face and/or public spaces.
- Coat check will be closed. Travel light as large bags and backpacks are not permitted in the galleries.
- And remember, if you're feeling ill, please stay home.
*DEDICATED HOURS FOR SENIORS AND THOSE WITH COMPROMISED IMMUNE SYSTEMS
SJMA has implemented a dedicated hour of each day for our most vulnerable guests to enjoy the galleries. We invite seniors, those who are pregnant, and those with underlying health concerns as determined by CDC guidelines, to visit SJMA Friday–Sunday, 11am–12pm.
ONLINE TICKETING
To reduce physical contact, SJMA encourages purchasing tickets in advance, or using a credit card upon arrival. To expedite the check-in process, reduce lines at admissions, and assist with "low touch" entry, please have your eticket pre-printed or ready to be scanned on your phone. Have your ID ready for tickets requiring ID.

Order Tickets
CROWD LIMITATIONS
To allow for proper social distancing, SJMA staff and security will monitor the number of visitors in and out of our galleries and other public spaces.
NEW SIGNAGE
Galleries will be clearly marked with signage to indicate traffic flow to reduce visitor jams.

Floor signage has also been implemented, indicating where visitors should stand while waiting: to be checked in, to enter the elevator, the Store, Oshman Sculpture Court, etc. Directional signage has also been implemented, to create single use entries and exits to galleries and other common space areas.
ELEVATORS
Only a single household or individual may ride the elevator at a time, again with signage indicating where visitors should wait. Additionally, there will be hand sanitizer outside the elevator; and we encourage all visitors sanitize their hands after pushing the button.
SANITATION AND CLEANING
The cleaning frequency has been increased with special attention to high-traffic and high-touch areas. Doorways, buttons, etc. will be disinfected throughout the day.
INTERACTIVE SPACES
To reduce high-touch point areas, our interactive educational resource spaces are temporarily closed. Interactive installations are also suspended.

While not available at this time, there will be interactive digital content accompanying the exhibitions throughout that is easily accessible on mobile devices through QR codes.
QR CODES
Be on the lookout for QR codes while onsite to access Museum information available digitally from the convenience of your mobile device.
MUSEUM STORE
The Museum Store will have dedicated doors to entry and exit. It has also been reconfigured so that there is a single direction throughout the shop, preventing accidental crowding and maintaining social distance guidelines.

Note: the Store will limit capacity to maintain City + County guidelines for health and safety regulations.
OTHER SAFETY MEASURES
To reassure you that we consider the safety of all visitors and staff a priority, we have instituted one-way use of doors, stairs, and paths. Rooms will only be used if social distance rules can be adhered to. Common-use areas will also be marked with waiting spots to ensure a 6-foot distance. Shared-use items such as the copier will be wiped down after every use. Hand sanitizer dispensers are available in several areas throughout the Museum for visitors and staff. Museum staff in direct contact with visitors will maintain safe distances in all spaces while wearing face masks. Further, we have installed Plexiglass screens at the admissions desk to serve as an additional protective measure for visitors and staff.