As the San José Museum of Art approaches its 49th anniversary, I want to personally thank you for being a part of the Museum. Your support is vital to help us reach this new strategic vision for SJMA's future: "to become a borderless museum, essential to creative life throughout the diverse communities of San José and Silicon Valley."
Art Portal at the Têt Festival at the Vietnamese American Community Center.
This year, SJMA launched its new Art Portal, a mobile art studio that brings hands-on art activities into the community. As part of the Museum's outreach initiative to engage multi-generational audiences within the Vietnamese community, our Portal is making the rounds in San José to support visual, literary, and performing arts activities by Vietnamese artisans.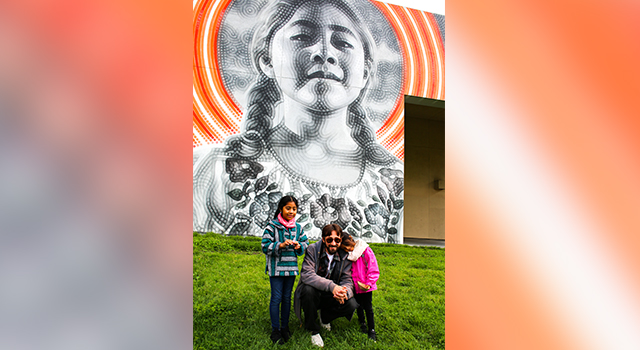 Sophie, El Mac, and Sophie's sister at the celebration of Sophie Holding the World Together.
In March, SJMA celebrated the new mural Sophie Holding the World Together by the internationally acclaimed muralist El Mac. A unique collaboration with The Propeller Group, Children's Discovery Museum, Empire 7 Studios and Kickstarter, SJMA commissioned this permanent, public artwork of nine-year-old immigration-reform activist Sophie Cruz for the City of San José. She attended the mural celebration with her family, leading the crowd at Discovery Meadow in a chant, "No walls, more museums!"

Your support gives people access to art and its power to inspire change, and provides them with meaningful art encounters beyond the Museum's walls. We couldn't be more grateful, and I hope you'll help us continue with a gift to the Annual Fund before SJMA's fiscal year-end on June 30.

Donate Now
Thank you for being a part of SJMA. I hope to see you in the galleries this summer!

Sincerely,




S. Sayre Batton
Oshman Executive Director

P.S. If you have any questions about the Museum of the Annual Fund, please contact Adrianna Nuñez at anunez@sjmusart.org or 408.521.4012.