ABOUT THE HONOREES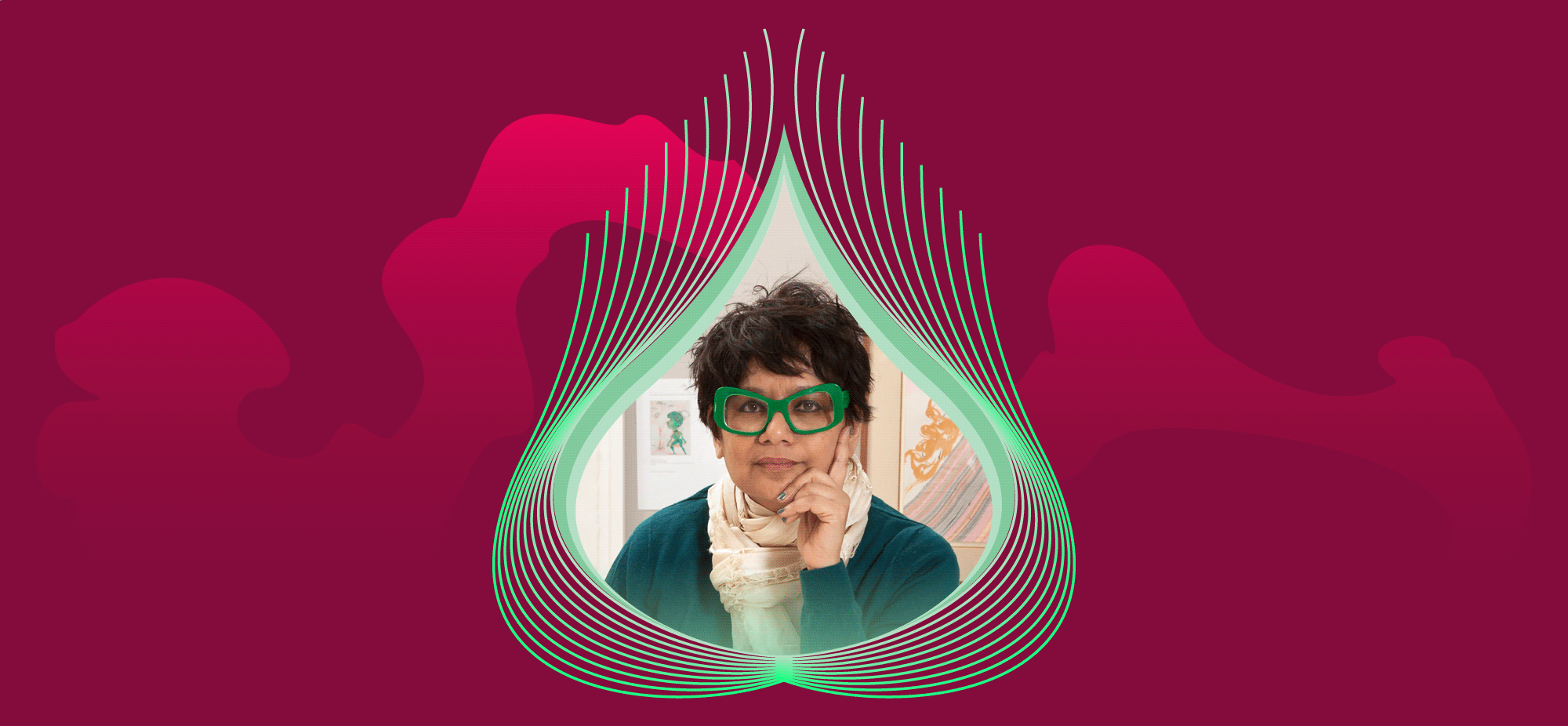 ARTIST HONOREE
RINA BANERJEE
Born in Calcutta and raised in London, artist Rina Banerjee challenges and redefines conceptions of art making, identity, and citizenship. Reflecting her multicultural upbringing, she creates vivid sculptures and installations made from materials sourced throughout the world. Trained as a scientist, the New York and Philadelphia–based artist left her position as a polymer research chemist to pursue her MFA from Yale University in 1995. Her visionary work was on view at SJMA in the 2019 exhibition Rina Banerjee: Make Me a Summary of the World, the artist's first mid-career retrospective, and has been included in such prominent group exhibitions as Viva Art Viva at the 2017 Venice Biennale and Prospect.4 in New Orleans (2021). Her work can be found in many private and public collections such as those of the Whitney Museum of American Art, New York; San Francisco Museum of Modern Art; Centre George Pompidou, Paris; and the Brooklyn Museum, New York.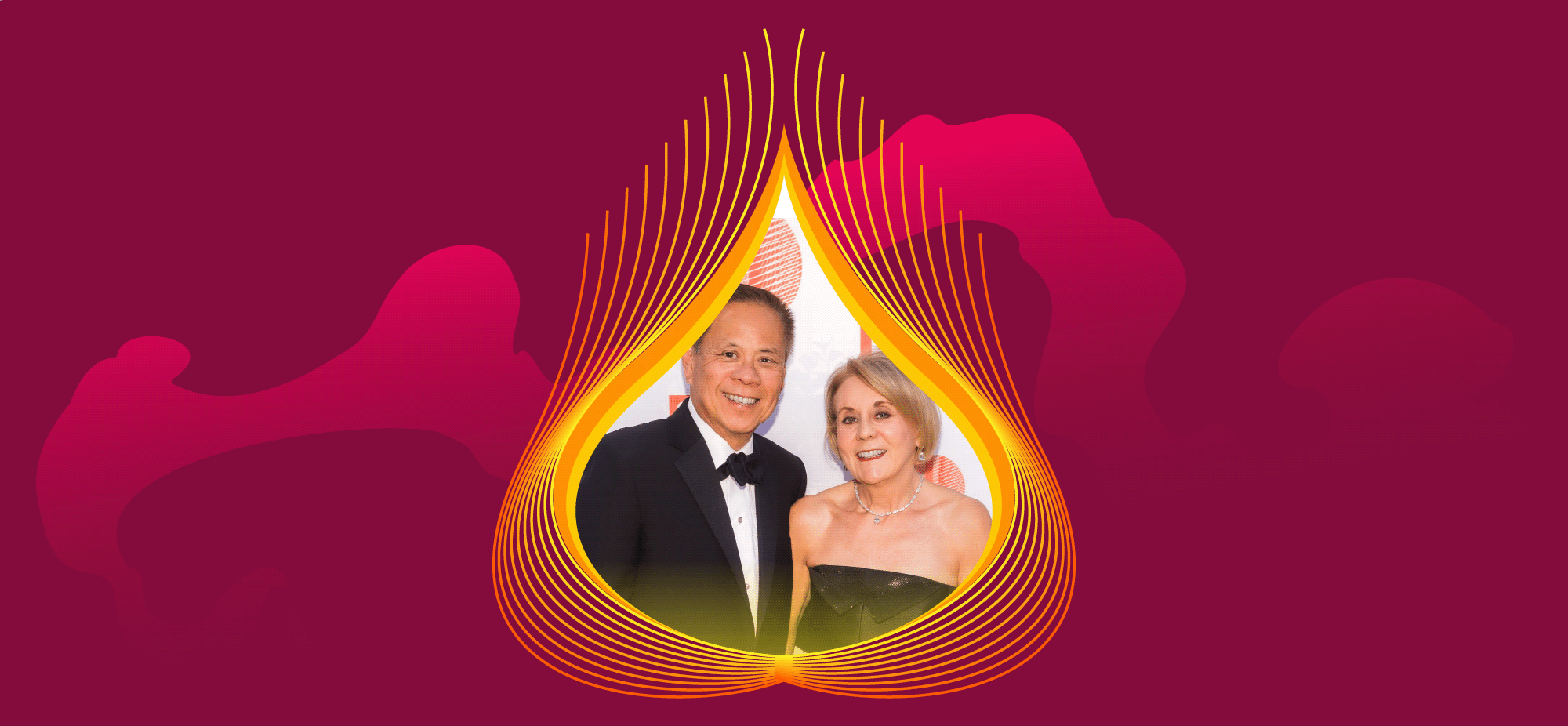 PATRON HONOREES
MARY MOCAS + MARV TSEU
Mary Mocas and Marvin Tseu's philanthropy is rooted in their awareness of the countless ways that art has enriched their lives, and in turn, their ability to foster an ecosystem where the arts can continue to flourish. Dedicated to supporting emerging artists, particularly women, Mary and Marv share the San José Museum of Art's commitment to equity. Since first joining the Museum as members in 1997, they have enthusiastically devoted their time and financial resources to championing SJMA.

For Mary and Marv, the story of their relationship is closely tied to their involvement with art. When Mary met Marv on a flight from Hong Kong to San Francisco, she had recently started the art consultancy firm The Mocas Group. Her passion for art would spread to Marv as well. In their joint quest to learn more about art, they joined SJMA's Council of 100 in 1998 and the Director's Council in 2001. Their involvement with SJMA deepened as they took on volunteer roles at the Museum. Mary and Marv co-chaired the Council of 100 in the early 2000s, and their underwriting of Councils' events during the Great Recession helped the Museum stay afloat financially. Mary continued to serve on the Councils Committee through 2018. She was a Trustee from 2002 to 2010 and a member of the Acquisitions Committee from 2005 to 2014. She has consistently supported SJMA's auctions by providing in-kind art transportation services through The Mocas Group.

In addition to her work as an art consultant, Mary is a mixed media artist who has exhibited at institutions such as Berkeley Art Center; Minnesota Street Project, San Francisco; Institute of Contemporary Art, San José; and Southern Exposure, San Francisco. In 2016, she earned her MFA from California College of the Arts in San Francisco, an institution that is now another beneficiary of Mary's and Marv's patronage.

An influential figure in the digital media and telecommunications landscape, Marv served as chief executive officer at Propel Media prior to his retirement in 2020. He remains active as a board member of the telecommunications firm Poly, and since 2008, he has been managing director at Waypoint Strategies, which provides management consulting and coaching to businesses and executives. Marv also shares his expertise with companies focused on social impact. He is an advisor to Vertical Harvest, an urban farm that addresses food insecurity and provides employment in inner city environments. In addition to supporting SJMA, Marv is a member of the Foundation Board of the Fine Arts Museums of San Francisco. He is also a member of the board of California College of the Arts.

Not only do Mary and Marv collect work by women artists, but they also help SJMA provide a platform for them. They contributed funds to acquire works by artists such as Ruth Asawa, Linda Besemer, and Patssi Valdez for the Museum's permanent collection. In 2018, Mary and Marv graciously opened their Los Altos home to their fellow SJMA supporters for an intimate fundraising salon to herald the Museum's exhibition series Visionary Women Artists, which featured Jay DeFeo, Catherine Wagner, Pae White, and Rina Banerjee, in honor of SJMA's 50th anniversary. Their sponsorship of Beta Space: Pae White (July 18, 2019—January 19, 2020) led to the major commission of White's Noisy Blushes for the Museum's atrium in 2020. Their support for female artists extends beyond San José, too—Mary is a board member of the San Francisco Advocacy for the National Museum of Women in the Arts, Washington, DC.

Mary and Marv embody the idea that the arts are fundamental to both personal and collective wellbeing, and nowhere is that clearer than in their wholehearted backing of SJMA. With immense appreciation for their dedication to the Museum, it is our privilege to celebrate Mary Mocas and Marv Tseu as the 2021 Gala Patron Honorees.
↑ top